Alabama People 40% Vaccinated, Alabama Football 90% Vaccinated
A study in contrasts.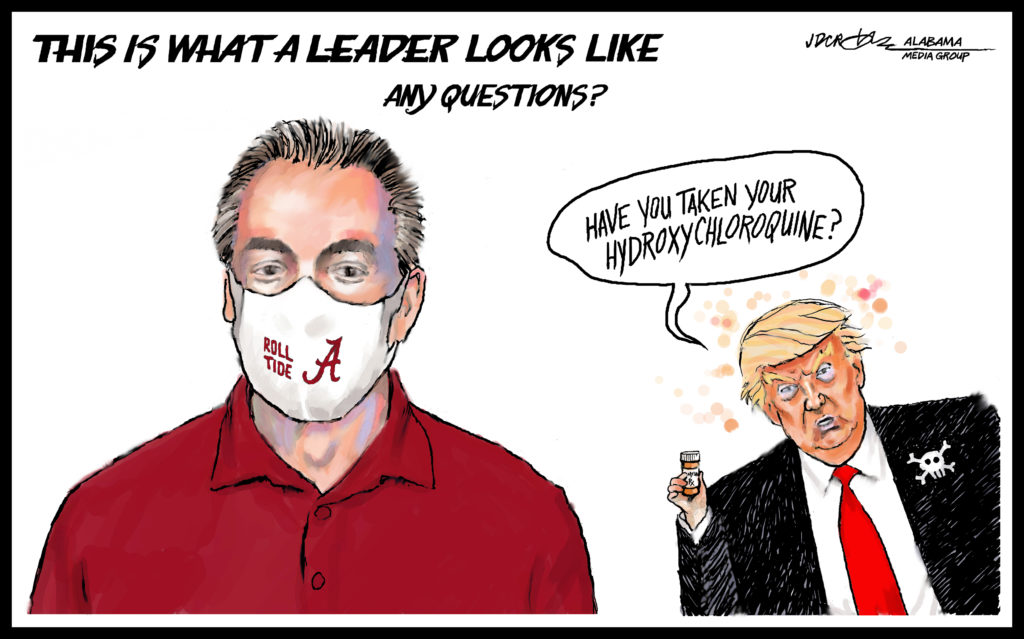 Kay Ivey, the Republican governor of my former home state of Alabama, is furious about the rapid spread of the COVID-19 Delta variant there and rightly blames people who won't get vaccinated.
A fiery Gov. Kay Ivey made her most forceful statements yet today encouraging Alabamians to get the COVID-19 vaccine, saying "the unvaccinated folks are letting us down" in the fight to control the pandemic.

She also signaled she would not mandate students to wear masks when classes resume in Alabama's public schools, saying that decision should be left up to school districts.

"Let's be crystal clear about this issue," Ivey said.

"Media, I want you to start reporting the facts. The few cases of COVID are because of unvaccinated folks. Almost 100% of the new hospitalizations are unvaccinated folks. And the deaths certainly are occurring with unvaccinated folks. These folks are choosing a horrible lifestyle of self-inflicted pain. We've got to get folks to take the shot."

[…]

Calling the vaccines "the greatest weapon we have to fight COVID," Ivey admitted some frustration in response to questions on what she can do to encourage more Alabamians to get vaccinated. Alabama is the only state in the nation with fewer than 40% of eligible residents vaccinated against COVID-19. Data from the U.S. Centers for Disease Control and Prevention shows just 39.6% of people 12 and older in Alabama are fully vaccinated.

In response to the question of what will take it get more people to take the vaccine, Ivey said, "I don't know. You tell me."

"Folks are supposed to have common sense," she said. "It's time to start blaming the unvaccinated folks, not the regular folks. It's the unvaccinated folks that are letting us down….I've done all I know how to do. I can encourage you to do something, but I can't make you take care of yourself."
She's mostly right here. And, despite being a Trumpist in many ways, she's been comparatively responsible on this issue. While she dragged her feet on issuing a stay-at-home order, she finally did so in early April 2020. While she prohibited venues from requiring proof of vaccination to enter back in May, she has been vocal in advocating for vaccination.
But there's simply no way around the fact that, when fewer than 40% of the eligible population is vaccinated, the refusniks are the "regular folks."
And it's worth noting the Nick Saban, the wildly successful head coach of my graduate alma maters' football team, has not only been a vocal leader for masking, social distancing, and other mitigation measures from the outset of the pandemic, his players and coaches are among the most vaccinated of any program in the country. It's not an accident:
The Crimson Tide is "pretty close to 90%," Saban said in terms of players who've received the vaccination entering the Aug. 5 report date for preseason practice.

The conversation is two-fold, Saban said while noting they've had three different doctors speak to the team to "give lectures to our team about the pros and cons of the whole COVID circumstance."

"First of all, you have a personal decision, which comes down to risk — risk of COVID, relative risk to the vaccine," said Saban who recorded a May PSA encouraging Alabamians to get the vaccine. "It's the same thing. We don't really have a lot of knowledge about how this stuff is going to affect people in the future, so that's a personal decision that everybody has the right to make."

The team component also factors in here.

Saban mentioned the NC State baseball team whose run in the College World Series ended when there was an outbreak in the locker room. The New York Yankees has had two such incidents including one last week with All-Star right fielder Aaron Judge.

"Players have to understand that you are putting your teammates in a circumstance and situation," Saban said. "We can control what you do in our building. We cannot control what you do on campus and when you go around town, who you're around, who you're associated with, and what you bring into our building."

With [Southeastern Conference Commissioner Greg] Sankey saying Monday that games wouldn't be rescheduled if rosters were hit by COVID-19 outbreaks, that discussion takes on another degree of urgency.

"So every player has a personal decision to make to evaluate the risk of COVID relative to vaccine, and then they have a competitive decision to make on how it impacts their ability to play in games, because with the vaccine you probably have a better chance," Saban said. "Without it, you have a lesser chance that something could happen, a bigger chance that something could happen that may keep you from being on the field, which doesn't enhance your personal development."
Saban, who contracted a mild case of the disease during his national championship season last year despite observing strict masking and testing protocols, is doing what makes him great: focusing on the details and what he calls "The Process."
The contrast with the rest of the states' population is just amazing. Oh, and ditto the cross-state rival.
[I]t's probably not the greatest sign of things to come from Auburn's new football coach that the most memorable thing he said on Thursday at his first SEC Media Days was that vaccines are a personal choice, and he's not encouraging anyone to get one.

Has [Bryan] Harsin received the COVID-19 vaccine? He no commented that question, and also said he wasn't going to discuss the vaccine with his team.

"It's deeply personal for a lot of people," Harsin said. "And so, that's how we approach it: here's the information, you make the decision."

Bryan Harsin, the maybe/maybe not anti-vaxxer. Just great. Wonderful. Is he planning to run for the U.S. Senate, or something?
On a more mundane level, this message from a Birmingham physician:
Dr. Brytney Cobia said Monday that all but one of her COVID patients in Alabama did not receive the vaccine. The vaccinated patient, she said, just needed a little oxygen and is expected to fully recover. Some of the others are dying.

"I'm admitting young healthy people to the hospital with very serious COVID infections," wrote Cobia, a hospitalist at Grandview Medical Center in Birmingham, in an emotional Facebook post Sunday. "One of the last things they do before they're intubated is beg me for the vaccine. I hold their hand and tell them that I'm sorry, but it's too late."

[…]

For the first year and a half of the pandemic, Cobia and hundreds of other Alabama physicians caring for critically ill COVID-19 patients worked themselves to the bone trying to save as many as possible.

"Back in 2020 and early 2021, when the vaccine wasn't available, it was just tragedy after tragedy after tragedy," Cobia told AL.com this week. "You know, so many people that did all the right things, and yet still came in, and were critically ill and died."

[…]

"A few days later when I call time of death," continued Cobia on Facebook, "I hug their family members and I tell them the best way to honor their loved one is to go get vaccinated and encourage everyone they know to do the same."

"They cry. And they tell me they didn't know. They thought it was a hoax. They thought it was political. They thought because they had a certain blood type or a certain skin color they wouldn't get as sick. They thought it was 'just the flu'. But they were wrong. And they wish they could go back. But they can't. So they thank me and they go get the vaccine. And I go back to my office, write their death note, and say a small prayer that this loss will save more lives."

More than 11,400 Alabamians have died of COVID so far, but midway through 2021, caring for COVID patients is a different story than it was in the beginning. Cobia said it's different mentally and emotionally to care for someone who could have prevented their disease but chose not to.
Indeed it is.