Allegations Of Murder Mar American Mission In Afghanistan
A US military platoon was apparently able to target innocent Afghans for murder. Without senior commanders suspecting a thing.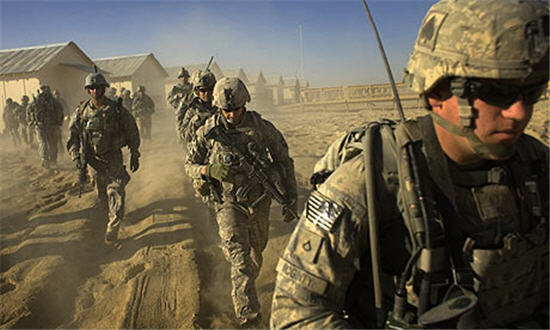 Stories like this, if true, can only undermine the war effort in Afghanistan:
The U.S. soldiers hatched a plan as simple as it was savage: to randomly target and kill an Afghan civilian, and to get away with it.

For weeks, according to Army charging documents, rogue members of a platoon from the 5th Stryker Combat Brigade, 2nd Infantry Division, floated the idea. Then, one day last winter, a solitary Afghan man approached them in the village of La Mohammed Kalay. The "kill team" activated the plan.

One soldier created a ruse that they were under attack, tossing a fragmentary grenade on the ground. Then others opened fire.

According to charging documents, the unprovoked, fatal attack on Jan. 15 was the start of a months-long shooting spree against Afghan civilians that resulted in some of the grisliest allegations against American soldiers since the U.S. invasion in 2001. Members of the platoon have been charged with dismembering and photographing corpses, as well as hoarding a skull and other human bones.

(…)

According to statements given to investigators, members of the unit – 3rd Platoon, Bravo Company, 2nd Battalion, 1st Infantry Regiment – began talking about forming a "kill team" in December, shortly after the arrival of a new member, Staff Sgt. Calvin R. Gibbs, 25, of Billings, Mont.

Gibbs, whom some defendants have described as the ringleader, confided to his new mates that it had been easy for him to get away with "stuff" when he served in Iraq in 2004, according to the statements. It was his second tour in Afghanistan, having served there from January 2006 until May 2007.

The first opportunity presented itself Jan. 15 in the Maiwand district of Kandahar province. Members of the 3rd Platoon were providing perimeter security for a meeting between Army officers and tribal elders in the village of La Mohammed Kalay.

According to charging documents, an Afghan named Gul Mudin began walking toward the soldiers. As he approached, Cpl. Jeremy N. Morlock, 22, of Wasilla, Alaska, threw the grenade on the ground, records show, to create the illusion that the soldiers were under attack.

Pfc. Andrew H. Holmes, a 19-year-old from Boise, Idaho, saw the grenade and fired his weapon at Mudin, according to charging documents. The grenade exploded, prompting other soldiers to open fire on the villager as well, killing him.
That wasn't the end, though:
On Feb. 22, Marach Agha, an Afghan civilian, was killed by rifle fire near Forward Operating Base Ramrod in Kandahar province, where the 3rd Platoon was stationed. The Army has released few details about the slaying but has charged Gibbs, Morlock and Spec. Michael S. Wagnon II of Las Vegas with murder.

Wagnon has also been charged with possessing "a skull taken from an Afghan person's corpse." He allegedly took the head sometime during January or February 2010, but court documents do not specify whether it belonged to the Afghan he is charged with killing.

An attorney for Wagnon, who was on his second tour in Afghanistan and also served in Iraq, did not return a call seeking comment.

More mayhem followed in March, when Gibbs, Wagnon and three other soldiers – Staff Sgt. Robert G. Stevens, Sgt. Darren N. Jones and Pfc. Ashton A. Moore – opened fire on three Afghan men, according to charging documents. The documents do not provide basic details, such as the precise date of the shooting, the identities of the victims or whether they were wounded.

Members of the 3rd Platoon found their next victim on May 2, documents show. Gibbs, Morlock and Adam Winfield – the son of the former Marine who said he tried to alert the Army three months earlier – are accused of tossing a grenade and fatally shooting an Afghan cleric, Mullah Adahdad, near Forward Operating Base Ramrod.
To be fair to the military in general, and the rest of the troops serving in Afghanistan, it's fairly obvious that the 3rd Platoon was a rogue unit led by someone who may have done stuff like this when he served in Iraq (a possibility worth investigating, by the way considering Gibbs is quoted as saying he "got away with murder" while serving there). However, there were warning signs that seem to have been ignored here — such as the father of one platoon member who tried, without success, to get word to his son's commanders that the platoon was under the leadership of a man who may appeared to be leading them to commit atrocities. None of those warnings got through until it was too late.
The major problem that stories like this create, of course, is that it's a fabulous propaganda tool for the enemy. Like Abu Gharib, it lets them tell the public that, regardless of what we may say in public, the U.S. military is an oppressor that targets innocent civilians. Obviously, this makes an already difficult, if not impossible, mission even more difficult.