SFC Leroy Arthur Petry, Medal of Honor Recipient
Army Sergeant First Class Leroy Arthur Petry will become the ninth Medal of Honor recipient for actions in Iraq or Afghanistan--and one of only two who lived to tell the tale.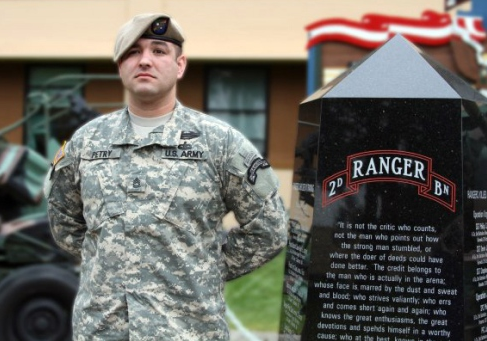 Army Sergeant First Class Leroy Arthur Petry will become the ninth Medal of Honor recipient for actions in Iraq or Afghanistan–and one of only two who lived to tell the tale.
Stars and Stripes ("Army Ranger to be awarded Medal of Honor"):
An Army Ranger who lost his right hand after throwing a live grenade away from fellow soldiers will be the second living Medal of Honor recipient from the conflicts in Iraq and Afghanistan, according to the Army.

On July 12, President Barack Obama will award Sgt. 1st Class Leroy Arthur Petry with the Medal of Honor for conspicuous gallantry, for his courageous actions during combat operations against an armed enemy in Paktia, Afghanistan, on May 26, 2008.

"It's very humbling to know that the guys thought that much of me and my actions that day, to nominate me for that," Petry was quoted in an Army news release. The Medal of Honor is the nation's highest military honor.

On the summer day three years ago, Petry and his soldiers participated in a rare daylight raid to capture a high-value target, the Army said. At the time Petry was assigned to Company A, 2nd Battalion, 75th Ranger Regiment based out of Joint Base Lewis-McChord, Wash.

Petry was to stay with platoon headquarters in a building already deemed safe, but he noted that one of the platoons needed help clearing a building and he made his way there, according to the Army's account. Once part of the building had been cleared, Petry and Pfc. Lucas Robinson moved to the outer courtyard, which had not been cleared by U.S. soldiers. The pair, both Rangers, encountered three enemy fighters.

Petry was wounded by a bullet that went through both of his legs. Robinson was hit in his side plate by another bullet. While wounded and under enemy fire, Petry led Robinson to cover in a nearby chicken coop and called for backup.

As team leader Sgt. Daniel Higgins began to inch his way to his wounded comrades, Petry threw a thermobaric grenade toward the enemy fighters, which resulted in a brief lull in the fighting. Higgins reached the chicken coop just as an insurgent-thrown grenade landed near the three Rangers, wounding Higgins and Robinson.

Another enemy-tossed grenade landed just a few feet from Higgins and Robinson. Petry – despite his wounds and with complete disregard for his personal safety – "consciously and deliberately risked his life to move to and secure the live enemy grenade and consciously throw the grenade away from his fellow Rangers," according to the release, citing battlefield reports.

As Petry released the grenade it detonated. He lost his right hand but continued fighting after managing to tie a tourniquet on his arm.

In the meantime, Staff Sgt. James Roberts and Spc. Christopher Gathercole reached the courtyard and joined the fighting. During the volley of gunfire, Gathercole was killed.

Higgins and Robinson returned fire and killed the enemy.

Moments later, Sgt. 1st Class Jerod Staidle, the platoon sergeant, and Spc. Gary Depriest, the platoon medic, arrived to help their fellow soldiers.

Higgins later wrote in a statement, "if not for Staff Sergeant Petry's actions, we would have been seriously wounded or killed," the release states.

Petry is the ninth servicemember named a recipient of the Medal of Honor for actions in Afghanistan and Iraq; all but Petry and Staff Sgt. Salvatore Giunta were awarded the honor posthumously.

Included among those recipients are Spc. Ross A. McGinnis, Sgt. 1st Class Paul R. Smith, Petty Officer 2nd Class Michael A. Monsoor, and Marine Corps Cpl. Jason L. Dunham, all for actions in Iraq.

Staff Sgt. Salvatore Giunta, Staff Sgt. Robert Miller, Sgt. 1st Class Jared C. Monti and Navy Lt. Michael P. Murphy were awarded the Medal of Honor for actions in Afghanistan.

Petry, 31, currently serves with Headquarters and Headquarters Company, 75th Ranger Regiment at Fort Benning, Ga., and as a liaison officer for the U.S. Special Operations Command Care Coalition-Northwest Region, providing oversight to wounded warriors, ill and injured servicemembers and their families.

He enlisted in the Army from his hometown of Santa Fe, N.M., in September 1999. After completing One Station Unit Training, the Basic Airborne Course and the Ranger Assessment and Selection Program , Petry was assigned to 2nd Battalion, 75th Ranger Regiment. Petry has served as a grenadier, squad automatic rifleman, fire team leader, squad leader, operations sergeant and weapons squad leader.

He has deployed eight times, with two tours to Iraq and six to Afghanistan.
I'm not sure what's more remarkable: His actions under fire that day or that he's done eight combat tours.