American Charged With Using Weapon of Mass Destruction that Isn't a Weapon of Mass Destruction
An American fighting with Syrian rebels faces life in prison for firing an RPG against a government we're trying to oust.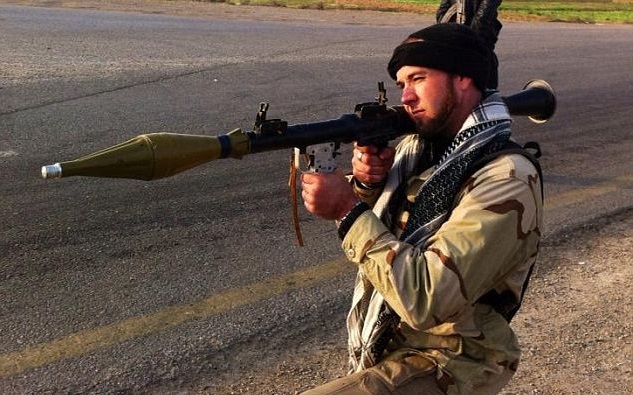 An American fighting with Syrian rebels has been charged with "conspiring to use a weapon of mass destruction" for firing an RPG against regime forces.
WaPo/AP ("US Army veteran charged with fighting with al-Qaida in Syria, using weapon of mass destruction"):
 A U.S. Army veteran, who boasted on Facebook of his military adventures with Syrian rebels, was charged Thursday with firing rocket propelled grenades as part of an attack led by an al-Qaida group against the government of Syrian President Bashar al-Assad.

Eric Harroun, 30, of Phoenix, was charged in U.S. District Court in Alexandria with conspiring to use a weapon of mass destruction — specifically, a rocket propelled grenade launcher — outside the U.S.

According to an FBI affidavit, Harroun, who served three years in the Army before being medically discharged, was engaged in military action in Syria, siding with rebel forces against the Syrian government, from January to March of this year.

Harroun told FBI investigators that he traveled to Turkey in November hoping to join the Free Syrian Army, a rebel group. In January, he crossed the border and made contact with the Free Syrian Army, which outfitted him two Russian rifles, according to the affidavit.

Within days, Harroun participated in an attack on a Syrian army encampment that was carried out jointly by the Free Syrian Army and the al-Nusrah Front, commonly known as "al-Qaida in Iraq" and designated a terrorist group by the U.S., according to the affidavit.

After that battle, Harroun retreated in the back of an al-Nusrah truck. Harroun told the FBI that at the al-Nusrah camp, he was initially treated like a prisoner but was later accepted by the other members and participated in several attacks with them, according to the affidavit.

Harroun said al-Nusrah fighters would ask him why the U.S. had designated them as terrorists, according to the affidavit.

Harroun used RPG launchers in the attacks and once, on his Facebook page, claimed credit for downing a Syrian helicopter. According to the affidavit, Harroun told the FBI that he shot an estimated 10 people in his various battles, though he was unsure if he had ever killed anyone.
Since when is an RPG a weapon of mass destruction? It's controversial enough that the definition includes low level chemical, biological, and radiological weapons that aren't actually capable of mass destruction; many prefer to limit the use to nuclear weapons. But, unless RPG technology has improved vastly since I last fired one, there's no possible way that it should fall into the category. Taking out a tank or a low-flying helicopter is destructive, no doubt, but it ain't massive.
Nor, according to 18 USC § 2332a, would an RPG seem to qualify as a WMD:
(2) the term "weapon of mass destruction" means—

(A) any destructive device as defined in section 

921

 of this title;

(B) any weapon that is designed or intended to cause death or serious bodily injury through the release, dissemination, or impact of toxic or poisonous chemicals, or their precursors;

(C) any weapon involving a biological agent, toxin, or vector (as those terms are defined in section 

178

 of this title); or
Alas, following the trail to section 921, we see that:
(4) The term "destructive device" means—

(B) any type of weapon (other than a shotgun or a shotgun shell which the Attorney General finds is generally recognized as particularly suitable for sporting purposes) by whatever name known which will, or which may be readily converted to, expel a projectile by the action of an explosive or other propellant, and which has any barrel with a bore of more than one-half inch in diameter; and
So, quite literally, the US Government has classified, for the purposes of criminal law, as a weapon of mass destruction virtually every military grade weapon.
Additionally, while I'm by no means an expert on terrorist networks,  al-Nusrah Front is not commonly known as "al-Qaida in Iraq;" that's a completely separate group (more commonly called al-Qaeda in Mesopotamia or AQIM) that, as the name implies, operates in Iraq and has been around for a decade. Al-Nusra front was founded a year or so ago in Syria as part of the anti-Assad movement. Aaron Zelin says there's "circumstantial evidence" that the al-Nusrah Front (he prefers Jabhat al-Nusra) iss affiliated with a completely different group called the Islamic State of Iraq. But he questions the degree to which it's a true al Qaeda faction, arguing that "The rebellion has been radicalized over time by the brutal tactics of the regime, creating a more Islamist fighting force than when the armed rebellion first started gaining steam."
Furthermore, I'm not exactly sure why Harroun's actions should be illegal. Yes, the US Government has designated Jabhat al-Nusra a terrorist group. But there's no evidence in the news reports that Harroun has engaged in terrorism or any anti-American activities; he's participating in a rebellion that that same government is tacitly training and supplying with weapons  (almost certainly including RPGs!) against a regime that same government is working to oust from power.  And there's actually a time-honored tradition of Americans fighting in other people's civil wars.
Now, Harroun may be a wacko. He's proclaimed "the only good Zionist is a dead Zionist" and has boasted of future plans to travel to Palestine to do somethingoranother about "Israeli atrocities " But–again, based only on the reporting I've seen—he doesn't appear to be an al Qaeda sympathizer, much less a terrorist. Indeed, the government tacitly acknowledges this.
Harroun is not charged with providing material support to a terrorist group, but instead conspiring to use a weapon of mass destruction outside the U.S., a law that applies to U.S. nationals operating anywhere in the world. The statute makes no distinction or exception for an individual who may be fighting a hostile regime.
He faces life in prison.