American Word Pronunciation Maps
A look at regional differences in American English.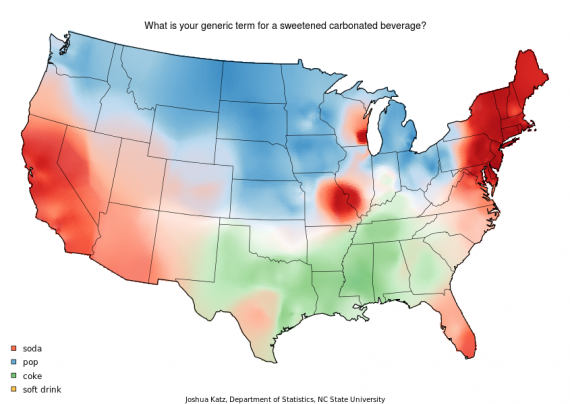 Business Insider has assembled "22 Maps That Show How Americans Speak English Totally Differently From Each Other," itself based on 120 maps produced by an NC State grad student.
Regional accents are a major part of what makes American English so interesting as a dialect.

Joshua Katz, a Ph. D student in statistics at North Carolina State University, just published a group of awesome visualizations of Professor Bert Voux's linguistic survey that looked at how Americans pronounce words. (via detsl on /r/Linguistics)

His results were first published on Abstract, the N.C. State research blog.
Having myself moved around a lot, first as an Army brat and later as an Army officer and academic gypsy, I use a lot of the pronunciations interchangeably or now pronounce words differently than I did as a kid in Texas.
I grew up calling sodas "Cokes" (What kind of Coke do you want? Orange.) which is stil commonplace in Texas and much of the Deep South but have long sense switched to calling them "sodas" or, more commonly, "soft drinks."
I grew up calling caramel "car-ml," which dominates every part of the country but the South and Eastern Seaboard, but now find the Southern "carra-mel" creeping in occasionally.
I pronounce the first word in "Bowie knife" as "Bo-wie," like everyone outside of North Texas and Maryland; given that Jim Bowie pronounced his name "Boo-wie," they're right and the rest of us are wrong.
I pronounce crayon as "cray-ahn," even though "cray-awn" is somewhat more common.
I say "loyer," not "law-yer," despite the latter pronunciation dominating the places I've mostly lived.  Ditto "may-uh-naze" rather than "man-aze."
Oddly, even though I grew up saying pa-jah-mas, which predominates the Southern and Eastern parts of the country, I now find myself saying pa-JAM-as more often.
More oddly still, I pronounce pecan as "pick-AHN," when almost everyone else in the country says "pee-KAHN" or "PEE-can."
Apparently, "roundabout," which I had always thought a Britishism, is much more common than "traffic circle," which I've always called them.
More oddly, virtually everyone in the country puts "SIR-up" on their pancakes rather than "SEAR-up" like I do.