David Bowie Dies At 69
David Bowie has passed away at the age of 69 after a long battle with cancer.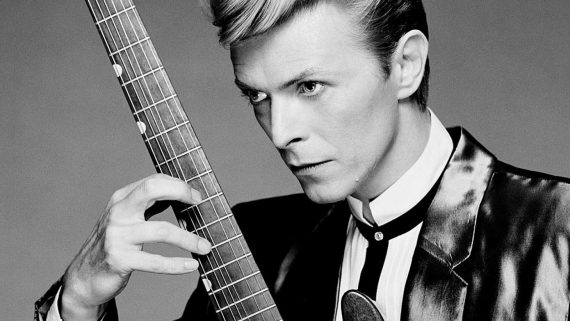 David Bowie, a musician and singer who transcended any one genre and at often times in his career defied easy description, has died at the age of 69 -just days after his birthday and the release of his latest album:
David Bowie, the infinitely changeable, fiercely forward-looking songwriter who taught generations of musicians about the power of drama, images and personas, died on Sunday, two days after his 69th birthday.

Mr. Bowie's death was confirmed by his publicist, Steve Martin, on Monday morning.

He died after an 18-month battle with cancer, according to a statement on Mr. Bowie's social-media accounts.

"David Bowie died peacefully today surrounded by his family," a post on his Facebook page read.

His last album, "Blackstar," a collaboration with a jazz quintet that was typically enigmatic and exploratory, was released on Friday — on his birthday. He was to be honored with a concert at Carnegie Hall on March 31 featuring the Roots, Cyndi Lauper and the Mountain Goats.

He had also collaborated on an Off Broadway musical, "Lazarus," that was a surreal sequel to his definitive 1976 film role, "The Man Who Fell to Earth."

Mr. Bowie wrote songs, above all, about being an outsider: an alien, a misfit, a sexual adventurer, a faraway astronaut. His music was always a mutable blend: rock, cabaret, jazz and what he called "plastic soul," but it was suffused with genuine soul. He also captured the drama and longing of everyday life, enough to give him No. 1 pop hits like "Let's Dance."

If he had an anthem, it was "Changes," from his 1971 album "Hunky Dory," which proclaimed:

"Turn and face the strange / Ch-ch-changes / Oh look out now you rock and rollers / Pretty soon now you're gonna get older."

Mr. Bowie earned admiration and emulation across the musical spectrum — from rockers, balladeers, punks, hip-hop acts, creators of pop spectacles and even classical composers like Philip Glass, who based two symphonies on Mr. Bowie's albums "Low" and " 'Heroes'."

Mr. Bowie's constantly morphing persona was a touchstone for performers like Madonna and Lady Gaga; his determination to stay contemporary introduced his fans to Philadelphia funk, Japanese fashion, German electronica and drum-and-bass dance music.

Nirvana chose to sing "The Man Who Sold the World," the title song of Mr. Bowie's 1970 album, in its brief set for the 1993 "MTV Unplugged in New York."

"Under Pressure," a collaboration with the glam-rock group Queen, supplied a bass line for the 1990 Vanilla Ice hit "Ice Ice Baby."

(…)

Born David Robert Jones on Jan. 8, 1947, in South London, Mr. Bowie was a person of relentless reinvention. He emerged in the late 1960s with the voice of a rock belter but with the sensibility of a cabaret singer, steeped in the dynamics of stage musicals. He was Major Tom, the lost astronaut in his career-making 1969 hit "Space Oddity."

He was Ziggy Stardust, the otherworldly pop star at the center of his 1972 album "The Rise and Fall of Ziggy Stardust and the Spiders From Mars."

He was the self-destructive Thin White Duke and the minimalist but heartfelt voice of the three albums he recorded in Berlin in the '70s, often considered his greatest work: "Low," " 'Heroes' " and "Lodger."

The arrival of MTV in the 1980s was the perfect complement to Mr. Bowie's sense of theatricality and fashion. "Ashes to Ashes," the "Space Oddity" sequel that revealed "we know Major Tom's a junkie," and "Let's Dance," which offered, "Put on your red shoes and dance the blues," gave him worldwide popularity.

Mr. Bowie was his generation's standard-bearer for rock as theater: something constructed and inflated yet sincere in its artifice, saying more than naturalism could. With a voice that dipped down to baritone and leaped into falsetto, he was complexly androgynous, an explorer of human impulses that could not be quantified.

He also pushed the limits of "Fashion" and "Fame," writing songs with those titles and also thinking deeply about the possibilities and strictures of pop renown.

Mr. Bowie was married for more than 20 years to the international model Iman, with whom he had a daughter, Alexandria Jones.

In a post on Twitter, the musician's son from an earlier marriage, Duncan Jones, said: "Very sorry and sad to say it's true. I'll be offline for a while. Love to all."

Mr. Bowie largely left the spotlight after a heart attack in 2004 brought an abrupt end to a tour supporting his album "Reality." The singer experienced pain during a performance at a German festival and sought treatment for what he believed was a shoulder injury; doctors then discovered a blocked artery.

The next year, he performed with Arcade Fire, a band he had championed. In 2006, he performed three songs in public for what would be the final time, at the Keep a Child Alive Black Ball fund-raiser at the Hammerstein Ballroom in New York.
More from The Washington Post:
David Bowie, the self-described "tasteful thief" who appropriated from and influenced glam rock, soul, disco, new wave, punk rock and haute couture, and whose edgy, androgynous alter egos invited fans to explore their own dark places, died Jan. 10, two days after his 69 th birthday.

The cause was cancer, his family said on official Bowie social media accounts. Relatives also confirmed the news but did not disclose where he died.

With his sylphlike body, chalk-white skin, jagged teeth and eyes that appeared to be two different colors, Mr. Bowie combined sexual energy with fluid dance moves and a theatrical charisma that mesmerized male and female admirers alike.

Citing influences from Elvis Presley to Andy Warhol — not to mention the singer Edith Piaf and writers William S. Burroughs and Jean Genet — Mr. Bowie was trained in mime and fine arts, and played saxophone, guitar, harmonica and piano. A scavenger of musical and visual styles, he repackaged them in striking new formats that were all his own, in turn lending his dramatic, gender-bending aesthetic to later performers such as Prince and Lady Gaga.

With "a melodic sense that's just well above anyone else in rock & roll," the singer Lou Reed once wrote, "David Bowie's contribution to rock & roll has been wit and sophistication." His output between 1969 and 1983 made up "one of the longest creative streaks in rock history," according to Rolling Stone magazine.

By the height of his fame in the early 1980s, Mr. Bowie had enacted his own death repeatedly, in the form of characters and ensembles he would create, inhabit and then discard. "My policy has been that as soon as a system or process works, it's out of date," he said in a 1977 interview. "I move on to another area."

The practice, which extended to friendships and professional partnerships, could be jarring. The Spiders From Mars, his band during his glitter-rock Ziggy Stardust years, learned that they were being fired when Mr. Bowie announced it onstage at the end of a 1973 tour.

To fans as well, Mr. Bowie's rapid transitions could feel like whiplash. In the space of half a decade he was a curly-haired folk singer; a Lauren Bacall look-alike in an evening gown; a vampiric creature with a red mullet, shaved eyebrows and a skintight, multicolored bodysuit; and a coked-up dandy in a tailored suit, suspenders, fedora and cane.

Some of these looks had alter egos associated with them, such as Ziggy Stardust, a fictional rock star who is ultimately ripped to pieces by his fans, or the Thin White Duke, a spectral, disaffected figure dressed impeccably in cabaret-style evening wear who throws "darts in lovers' eyes."

As much curator as inventor, Mr. Bowie lifted melodic motifs from blues, funk and standards and presented them in such a way that many fans had no idea that the catchy "Starman" was a version of "Somewhere Over the Rainbow" or that the melancholy "Life on Mars" was "My Way" in disguise. Other musical borrowings were more obvious, such as the opening bass line of "Jean Genie," taken from "I'm a Man," or the "On Broadway" reference at the end of the title track of the album "Aladdin Sane."

Stardom gave Mr. Bowie his pick of talent. He hand-selected virtuoso session players to help define each musical phase: Mick Ronson's guitar solos, Mike Garson's dissonant piano improv, Carlos Alomar's funky rhythms, and the techno sounds of guitarists Adrian Belew and Robert Fripp that permeated his work in the late '70s and set the stage for the European electronica of the 1980s.

Mr. Bowie's voice was similarly labile — gliding between ragged cackle and haunting croon as he sang about decaying cities and alienated rock stars. Fellow musicians marveled at his ability to seduce a crowd with a look or a gesture.
"He's the total artist," said Nicholas Godin of the duo Air. "The look, the voice, the talent to compose, the stage presence. The beauty. Nobody is like that anymore. Everybody is reachable; he was unreachable."
Bowie's career reached across so many genres, and drew from so many sources, that at some point he became hard to categorize. He started out, i suppose, as a rock musician not quite so different from others breaking onto the scene in the late 1960s and early 1970s, but he quickly forged his own identity and drew musical influences from rock, pop, jazz, blues, and so many other sources. He worked with artists across virtually all genres, including a seemingly unlikely Christmas duet with Bing Crosby that has become something of a standard over the years. Most importantly, though, he was an artist that just always seemed to be part of the musical conversation in some way or another, which is one reason why his death seems to have come as such a shock to so many people. Indeed, I for one was unaware that Bowie had been suffering from cancer and the fact that he had managed to produce and record a new album while undergoing treatment is perhaps the best example of how driven and talented he was.
As always, the best way to remember a musician is through their music, so here's just two examples of Bowie at his best:
And, from the 1980s: