Meat Loaf, 1947-2022
The singer and actor, born Marvin Lee Aday, is gone at 74.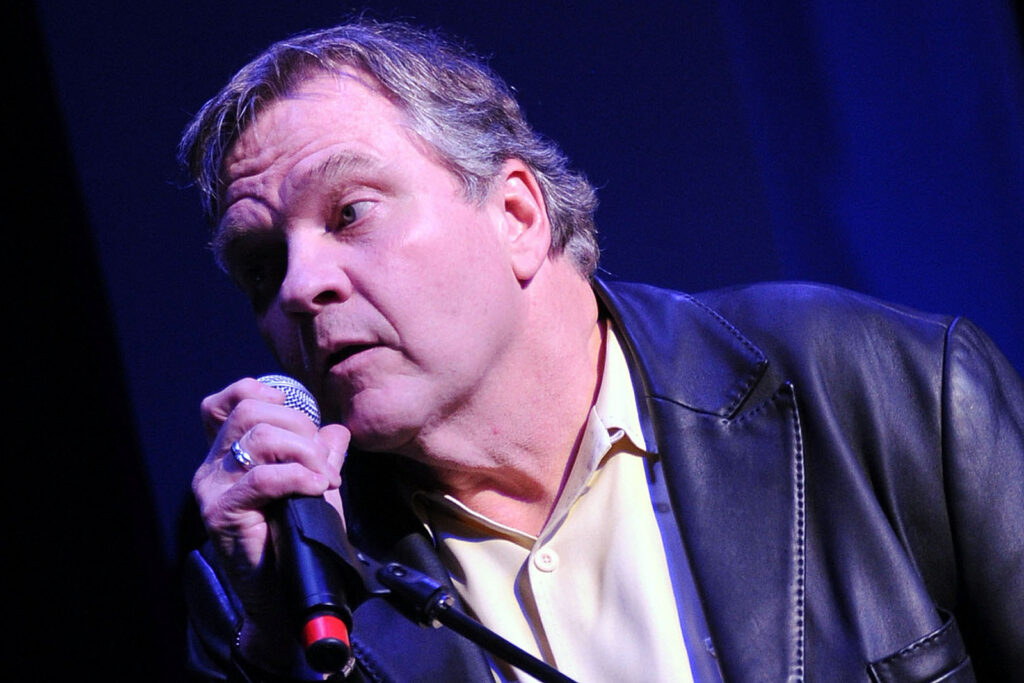 Washington Post ("Singer and actor Meat Loaf dies at 74, family says"):
Meat Loaf, a singer whose soaring, near-operatic rock anthems made him one of the most unexpected pop stars of the 1970s and 1980s, and whose many acting roles included an integral part in the cult movie classic "The Rocky Horror Picture Show," died Jan. 20. He was 74.

The singer died surrounded by his wife, Deborah, his daughters Pearl and Amanda and close friends, his family said in a statement. A cause of death was not released.

"We know how much he meant to so many of you and we truly appreciate all of the love and support as we move through this time of grief in losing such an inspiring artist and beautiful man," the statement added. "From his heart to your souls . . . don't ever stop rocking!"

Meat Loaf had collapsed onstage several times, including once in 2003 and again in 2016, when he stopped a performance in Edmonton, Alberta, from what was called dehydration. He resumed his tour after several days.

Meat Loaf, whose given name was Marvin Lee Aday, was an overweight character actor and second-rung rock singer before releasing his breakthrough album, "Bat Out of Hell," in 1977. In singing the overwrought songs about teen angst and lust, Meat Loaf created the persona of an uncertain, love-struck man-child whose theatrical vocal style took him to the edge of self-parody.

His best-known songs could be described as rococo rock. There was "Paradise by the Dashboard Light," "You Took the Words Right Out of My Mouth" and "Two Out of Three Ain't Bad" — all from "Bat Out of Hell" — as well as his later Grammy-winning hit, "I'd Do Anything for Love (But I Won't Do That)." All were written by Meat Loaf's longtime musical collaborator and occasional antagonist Jim Steinman, but it was Meat Loaf who was the vehicle for the music, delivering energetic, emotionally earnest performances with an almost heroic sincerity.

"Bat Out of Hell" was rejected by dozens of record companies before the album was finally released by Cleveland International, a small label associated with Epic Records. It received tepid, even hostile reviews at first.

But through relentless touring and a 1978 appearance on NBC's "Saturday Night Live," Meat Loaf found an audience, making "Bat Out of Hell" an enormous, if unexpected hit. It periodically returned to the pop charts for almost 40 years and sold an estimated 43 million copies worldwide, making it one of the Top 10-best-selling albums of all time.

Its signature tune, "Paradise by the Dashboard Light," which Meat Loaf performed with singer Ellen Foley, was an ornate melodrama about a teenage make-out session: "Though it's cold and lonely in the deep dark night, I can see paradise by the dashboard light."

"Paradise" clocked in at more than eight minutes long and even contained a long segment narrated by Hall of Fame baseball player and broadcaster Phil Rizzuto, describing a batter rounding the bases and sliding into home. (Rizzuto said he didn't realize his description was meant to be an elaborate sexual metaphor.)

His musical secret, Meat Loaf said, was that he approached every song like an actor preparing for a role.

"I can't sing unless there's a character," he told the London Observer in 2003. "Because I don't sing. It's almost like being schizophrenic — I don't sing, the character sings."

[…]

Then, almost as soon as Meat Loaf reached a career apex, everything collapsed. His next few albums after "Bat Out of Hell" were critical and box-office failures, and he lost his record contract. He struggled with vocal problems, had legal trouble and, for several years, descended into a haze of alcohol and cocaine. By 1984, he had declared bankruptcy.

[…]

With his supple tenor voice back in top form, Meat Loaf released "Bat Out of Hell II: Back Into Hell" in 1993, featuring 11 new bombastic tunes by Steinman. "Bat 2" rose to the top of the charts and became the year's top-selling album.

The epic-length hit "I'd Do Anything for Love (But I Won't Do That)" became a No. 1 single and earned Meat Loaf a Grammy Award for best rock vocal performance.

(The song's title led to considerable speculation about its meaning. On a VH1 program, Meat Loaf used a blackboard and a pointer to explain how the intricate lyrics were romantic, even innocent. One of the things he wouldn't do, for instance, is "stop dreaming of you every night of my life.")

Seventeen years after the original "Bat Out of Hell," the 46-year-old Meat Loaf had pulled off one of the most remarkable, and unlikely, comebacks in rock history.

"Everything on the album is overstated," Stephen Thomas Erlewine wrote for the All Music Guide website. "Yet that's precisely the point of this album, and is also why it works so well. No other rock & roller besides Meat Loaf could pull off the humor and theatricality of 'Back Into Hell' and make it seem real."

[…]

Meat Loaf won an audition for a part in a Los Angeles production of the then-radical musical "Hair" — in which the cast stripped bare. He later appeared in the Broadway version of the show.

In 1974, Meat Loaf was in the Los Angeles cast of the first U.S. performances of "The Rocky Horror Show," a campy musical spoof of science fiction and horror movies written by Richard O'Brien and starring Tim Curry as a gender-bending mad scientist, Dr. Frank-N-Furter.

Meat Loaf had two parts in the musical and sometimes wore high heels and fishnet stockings in his portrayal of Eddie, a rock-and-roll singer returned from the dead. In 1975, he was in the original Broadway cast of "Rocky Horror."

When a filmed version of the musical was made later that year — adding a word to make it "The Rocky Horror Picture Show" — Meat Loaf played Eddie as a leather-clad, motorcycle-riding menace. His erotically charged version of the song "Hot Patootie — Bless My Soul" proved to be a highlight of the film, which ran for years as a midnight-movie cult favorite.

Among his more than 70 film and television credits, Meat Loaf appeared in the 1992 comedy hit "Wayne's World," with Mike Myers and Dana Carvey, and the Antonio Banderas-directed film "Crazy in Alabama" (1999). He also played a cancer-stricken onetime steroid abuser in the 1999 film "Fight Club," starring Brad Pitt and Edward Norton.

Throughout his career, Meat Loaf balanced music and acting, sometimes in unexpected settings. In 1995, he held his own in a duet with opera star Luciano Pavarotti at a charity benefit in Italy. The same year, he released the album "Welcome to the Neighborhood," which included the hit single "I'd Lie for You (And That's the Truth)."

After a legal dispute with Steinman over the "Bat Out of Hell" trademark, Meat Loaf released the final album in a trilogy, "Bat Out of Hell III: The Monster Is Loose," in 2006. The only contributions from Steinman were songs written years earlier. The lavishly produced album reached No. 8 in the United States and No. 3 in Britain and led to a successful stage production, "Meat Loaf: Bat on Broadway."

In 2011, Meat Loaf finished third in the Donald Trump-hosted NBC show "The Celebrity Apprentice." In a wildly profane on-screen outburst that became an Internet sensation, Meat Loaf accused actor Gary Busey of stealing supplies needed to complete a task for the show.
New York Times ("Meat Loaf, 'Bat Out of Hell' Singer and Actor, Dies at 74"):
Meat Loaf, the larger-than-life rocker whose 1977 album "Bat Out of Hell" was one of the best-selling albums of all time, died on Thursday. He was 74.

[…]

Meat Loaf's death comes just a year after that of Jim Steinman, the songwriter who wrote "Bat Out of Hell," a record that brought operatic rock to audiences at a time when, in the face of disco and punk, it couldn't have been more unfashionable. The pair met when Mr. Steinman was commissioned to co-write a musical called "More Than You Deserve," which ran at the Public Theater in New York in 1973 and 1974. Meat Loaf was in the cast.

Later, Mr. Steinman was trying to write a post-apocalyptic musical based on "Peter Pan," but, unable to secure the rights for the tale, he turned the work into "Bat Out of Hell," bringing in Meat Loaf to give them the style and energy that made them hits. The title track alone is a mini-opera in itself, clocking in at nearly 10 minutes and featuring numerous musical breakdowns.

[…]

Some critics could be sniffy about Meat Loaf's music and spectacle. John Rockwell, reviewing a 1977 live show for The New York Times, started by remarking that "Meat Loaf is the rather graceless name that a large rock performer has chosen for both himself and for the band built around his singing." Despite that, Mr. Rockwell was soon convinced that Meat Loaf was worthy of being the center of attention. "He has fine, fervent low rock tenor, and enough stage presence to do without spotlights altogether," he wrote, adding that, "one had to admire the unabashed intensity with which he was willing to wallow in such soap‐opera silliness."
Not many folks have been both rock and roll hitmaker and Broadway star, let alone do both over the course of decades. To say that he was one of a kind is an understatement.
UPDATE: Several British tabloids and the gossip site TMZ are attributing the death to COVID-19.