Americans Divided On Complete Repeal Of ObamaCare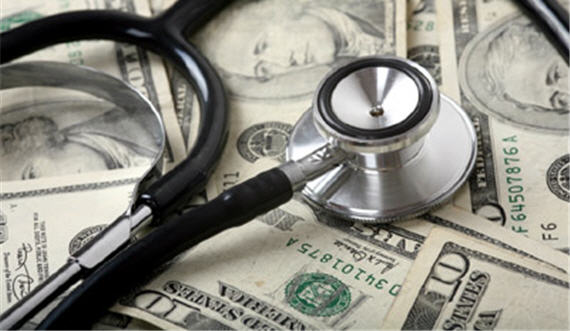 Two new polls seem to indicate that, while most Americans aren't happy with the Affordable Care Act for one reason or another, there isn't broad support for the complete repeal of the law which the House will vote on later today.
First, a new Quinnipiac poll shows a bare plurality supporting repeal:
A slim majority of Americans want Congress to repeal the Obama administration's healthcare reform law, a new poll reported Tuesday.

The poll by Quinnipiac University Polling Institute, released today, found that 48 percent of Americans want the Republican-controlled Congress to repeal the reform legislation, while 43 percent want the law to stay in place.

According to Quinnipiac, the slight over-all support for repeal is because of independents. Fifty-four percent want the law repealed, 37 percent do not. Among Democrats and Republicans the divide is much wider — 76 percent of Democrats support the healthcare reform law and 83 percent of Republicans oppose it.
However, when presented with different options in a new Washington Post poll, the results are somewhat different:
Overall, Americans' views of the sweeping health-care overhaul, again under debate on Capitol Hill, remain firmly entrenched, with little change in stiff partisanship on the issue. Some 45 percent of those polled support the law, and 50 percent oppose it, numbers that exactly match their averages in Post-ABC polls going back to August 2009.

(…)

Despite the relative popularity of the detractors' arguments, there is still little consensus among opponents about the right approach to amending the legislation.

Those who do not support the law are split about evenly between advocating for its complete repeal (33 percent), a partial repeal (35 percent) and a wait-and-see approach (30 percent). Fully two-thirds of all Republicans say they want the law repealed, at least partly.
In other words, the public still doesn't really know what it wants when it comes to health care reform and, as this chart shows, the numbers haven't really changed much since the law was passed: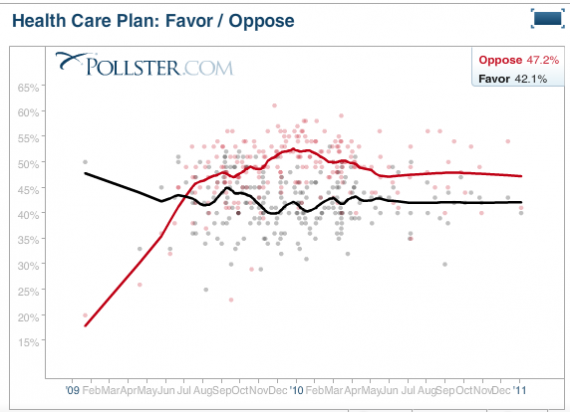 Politically, this suggests that Republicans should tread lightly when it comes to health care reform.