Americans Don't Have Much Confidence In The News Media
Public trust in the news media, along with many other institutions, continues to fall. That's troublesome for many reasons.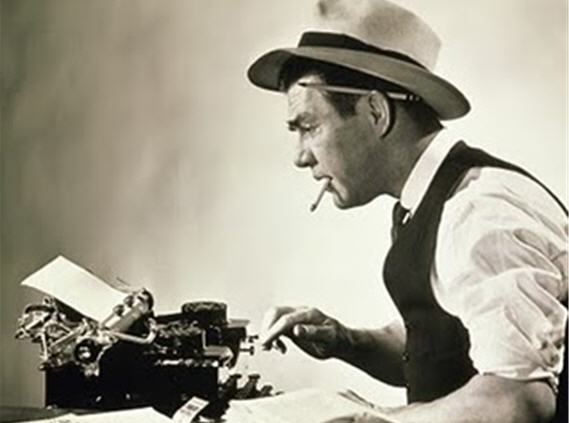 Whether it's newspapers or television news, a new Gallup poll finds that Americans don't have very much confidence in the news media:
WASHINGTON, D.C. — Americans' confidence in newspapers fell slightly to 23% this year, from 25% in 2012 and 28% in 2011.

The percentage of Americans saying they have "a great deal" or "quite a lot" of confidence in newspapers has been generally trending downward since 1979, when it reached a high of 51%.

Newspapers rank near the bottom on a list of 16 societal institutions Gallup measured in a June 1-4 survey. Television news is tied with newspapers on the list, with 23% of Americans also expressing confidence in it. That is up slightly from the all-time low of 21% found last year. The only institutions television news and newspapers beat out this year are big business, organized labor, Health Maintenance Organizations (HMOs), and Congress.

Americans' confidence in television news was highest, at 46%, in 1993, when Gallup first asked about it. The question does not indicate the specific type of television news, meaning respondents could be thinking about anything ranging from cable news channels to local news when answering the survey.
Not surprisingly, there are some differences when it comes to ideology:
Conservatives' confidence in newspapers, at 15%, is down from 21% in 2012 and 2011. Moderates' confidence has been trending downward for the past two years, and is now at 25%. Liberals remain the most confident in newspapers — although not by much — with 31% putting a great deal or quite a lot of confidence in them this year.

Confidence in newspapers by party mirrors the ideological findings. Democrats are most confident, at 33%, while independents are less so, at 19%, and Republicans, at 16%, are least confident.

Conservatives' confidence in television news, at 18%, is tied for the lowest for the group on record and is down from 22% last year. Liberals' and moderates' confidence improved this year after tumbling in 2012. Now these groups express more confidence in television news than do conservatives; last year the groups had similar confidence. Last year's survey was conducted amid a heated re-election campaign for President Obama, which may be one reason liberals' and moderates' confidence dropped at that time.
Measured broadly, though, it's quite clear that the American public has lost significant confidence in the news media has fallen greatly over the years. As the poll points out, there isn't a single demographic group where this isn't true. Even among groups where you might expect to find more confidence, such as people 65 years of age and older, less than a third of those asked said that they had confidence in the news media as an institution. As this chart of Gallup's polling about news papers, which goes back some 30 years, this low level of confidence wasn't always the case: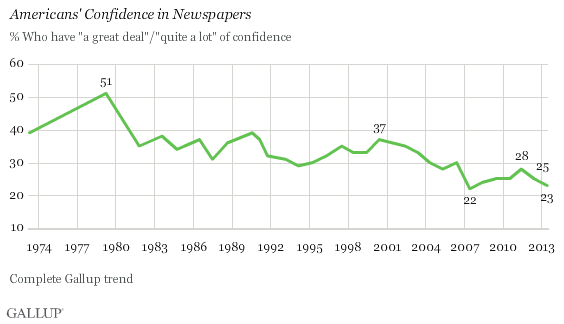 Gallup's polling of the question including television news only goes back about 20 years, but shows a similar downward trend: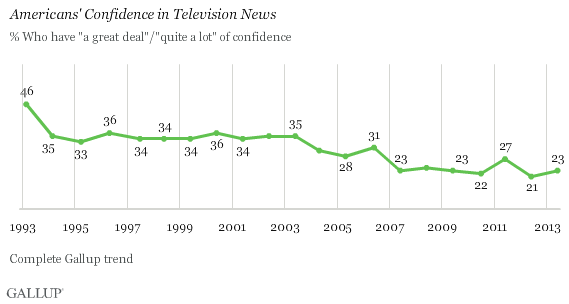 One assumes that if these surveys had been taken earlier in time, they would have shown much higher numbers than we see at the peak in both charts. Go back to the days of Edward R. Murrow and the height of popularity of men like Walter Cronkite and David Brinkley, for example, and you'd likely find that Americans had a high degree of confidence in television news. Go back to the era when newspapers were part of nearly everyone's daily news diet, and you would likely find the same thing.  Over the years, though, confidence in both institutions has fallen in general, but it's worth noting that this has happened over a period of time that has seen a drop in public confidence in almost every public institution, both government and private, across the board. Indeed, as this chart shows, there are only three institutions, the military, small business, and the police, that a majority of the public has confidence in: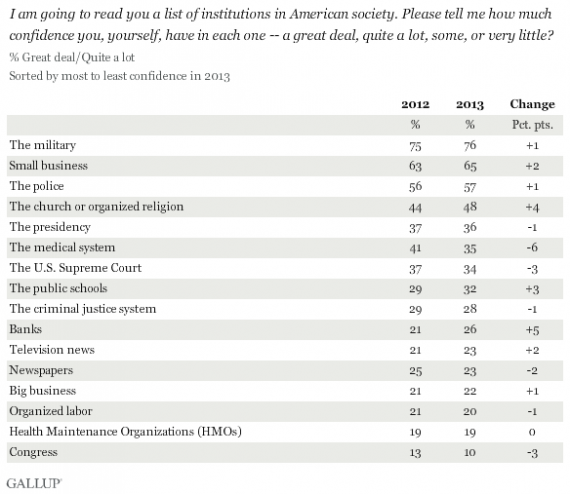 This whole "decline in confidence" issue, whether its regarding the news media specifically or public institutions as a whole, is nothing new.  As I noted when I wrote about last year's version of the poll, there has been a general decline in confidence of many public institutions that stretches back to the 1970s at least, and perhaps earlier. What we're seeing today is simply the continuation of a trend that's been around for a very long time.
That doesn't mean it's something that ought to be ignored, though. There's something just a little disconcerting about the fact that large segments of the public have almost no confidence in the major public and private institutions in the country, while at the same time expressing a high degree of confidence in the military and the police, two institutions that represent the use of force rather than the peaceful resolution of disputes in a democratic country. The lack of confidence in the news media, meanwhile, suggests that people are essentially giving  up on the idea that they are getting any kind of objective truth about what's going on in their country. That doesn't bode well for the future either. Unfortunately, I cannot think of any way these institutions can win public trust back at this point.