Public Confidence in Military Lowest in Decades
There has been a steady decline the last five years.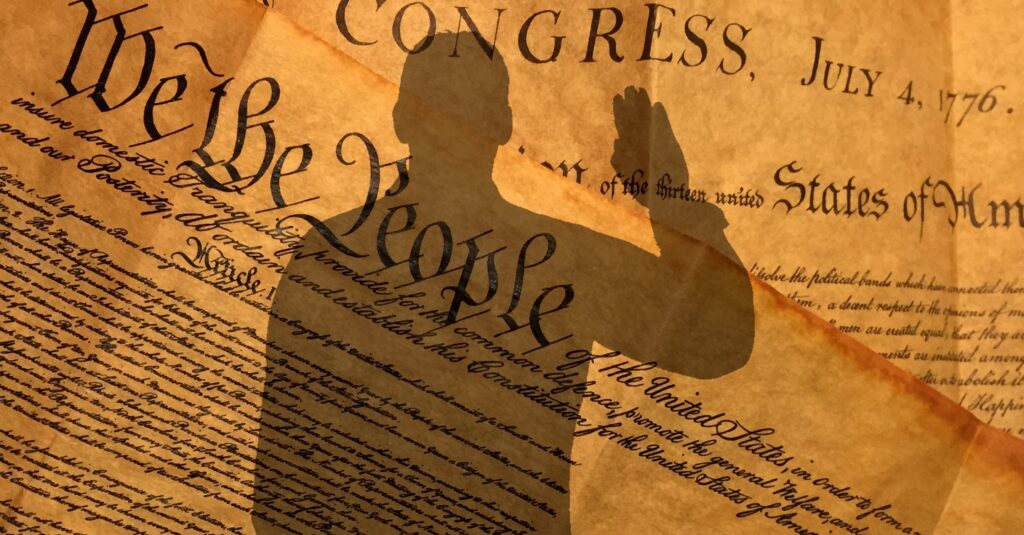 Gallup ("Confidence in U.S. Military Lowest in Over Two Decades"):
Americans are now less likely to express "a great deal" or "quite a lot" of confidence in the U.S. military, with a noticeable decline that has persisted for the past five years. The latest numbers are from a June 1-22 Gallup poll that also captured record lows in public confidence in several public institutions.
Here's the graphic (interactive at the link):
We're within the margin of era of post-Vietnam attitudes. Coincidence?
At 60%, confidence in the military was last this low in 1997, and it hasn't been lower since 1988, when 58% were confident. From the late 1970s to the early 1980s — during the Cold War and amid threats to U.S. power, including the Iran hostage crisis — between 50% and 58% of Americans were confident in the military. Confidence generally improved during Ronald Reagan's presidency in the 1980s. It then surged after the Gulf War victory (to a record-high 85% in 1991) and again after the 9/11 terrorist attacks. Confidence generally held above 70% for the next two decades, until dipping to 69% in 2021 and declining further since then, following the poorly executed exit from Afghanistan.
While losing two wars was bound to reduce confidence, I don't think that's the primary factor. It was 15 points higher after we pulled out of Iraq, a much costlier and bigger loss than the one in Afghanistan.
No, like pretty much everything else, this is a reflection of the political climate.
Throughout nearly all of the past 48 years, Republicans have been the most likely to express confidence in the military, and they remain so today — but the rate has declined by over 20 percentage points in three years, from 91% to 68%.

Independents' confidence has dropped nearly as much — by 13 points, from 68% to 55% — and now independents have less confidence than Democrats do. While Democrats' confidence rating did rise after President Joe Biden assumed office, those gains have disappeared in the past year.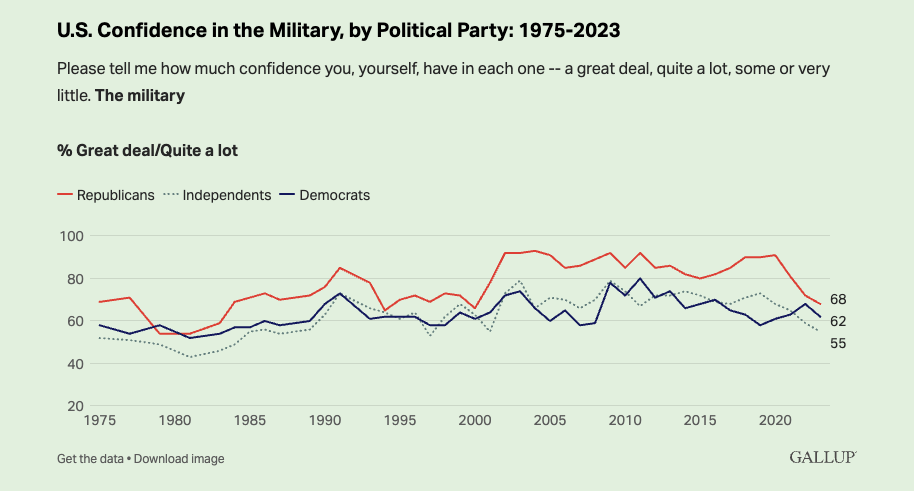 Gallup's Mohamed Younis looks at the numbers and concludes,
Public perceptions of the U.S. military have fluctuated dramatically over the past five decades. The aftermaths of the Gulf War and 9/11 were followed by resounding upticks in confidence in the military. The latter of these surges ushered in an era of elevated confidence lasting nearly two decades.

Now that the U.S. has completely withdrawn from both Iraq and Afghanistan, the two most significant military legacies of the 2001 terrorist attacks on the U.S., confidence in the military has continued to decline among the public. The declines this year were across all party identification groups, with Republicans remaining the most likely to express confidence and independents becoming the least likely.
As one who pays more than a little bit of attention to civil-military relations, I don't think this is a function of anything President Biden has done but rather owes to the effort by Republican partisans and the Republican Infotainment Complex (especially Fox News and Tucker Carlson when he was still on the network) to portray the military as having "gone woke."
The U.S. military is simultaneously one of the more conservative institutions in American society and a change agent. By its very nature, it demands loyalty to country and those higher in the chain of command. It demands putting duty to the mission and others above one's own interests, including personal safety. Institutionally, it's very resistant to changes that will impact esprit and disrupt its culture.
At the same time, both because it's subordinate to civil authority and has to compete with the civilian job market for talent, it has grudgingly accepted change. President Truman forced the integration of Blacks as equal members. While that change was met with resistance and caused plenty of strife in the barracks, it had massive positive effects on racial progress. A succession of Presidents forced the gradual expansion of the roles available to women. More recently, a combination of court rulings and Presidential action forced the armed forces to allow gay and transgender people to be allowed to serve openly.
The combination of these two seemingly contradictory impulses is interesting. The brass was, understandably, forced to make these changes kicking and screaming. Once they ran out of options, though, they did what leaders do and carried out the orders as if they were their own.
This gave them little choice but to take a stand during the Black Lives Matter movement. To remain silent would have been a failure to keep faith with some 17 percent of the force.
Similarly, whatever their personal feelings about trans servicemembers, they had to stand up for them when President Trump was disparaging them and trying to reverse their eligibility to serve. They were, at that point, full-fledged members of the team and it would have been shameful to abandon them when they were under attack.
Some leaders were a little too overzealous in pushing back against Carlson and others making fun of things like flight suits for pregnant women and the introduction (finally!) of flak vests that were designed to accommodate breasts. But their instinct was laudable.
And, while I think he likely exceeded his legal authority in doing so, Secretary Austin (a retired Army four-star) taking bold action to take care of female members suddenly stripped of abortion rights due to the happenstance of where they were ordered to serve was not only commendable but demanded by the ethos of the service.
Naturally, though, this puts the US military smack dab into the culture wars. And, going back to 2016, that has mostly meant that Republicans and Democrats alike have more confidence in the military when their guy is in the White House; their support levels have almost mirror imaged over this period.
What I can't explain, though, is why self-identified Independents—who have historically had the lowest confidence in the military—have fallen off so precipitously since 2019. That group does seem to more closely track our performance in wars than the two partisan groups.
Returning to a point Younis mentioned but didn't circle back to, the same survey showed rather stark drop in confidence in institutions across the board.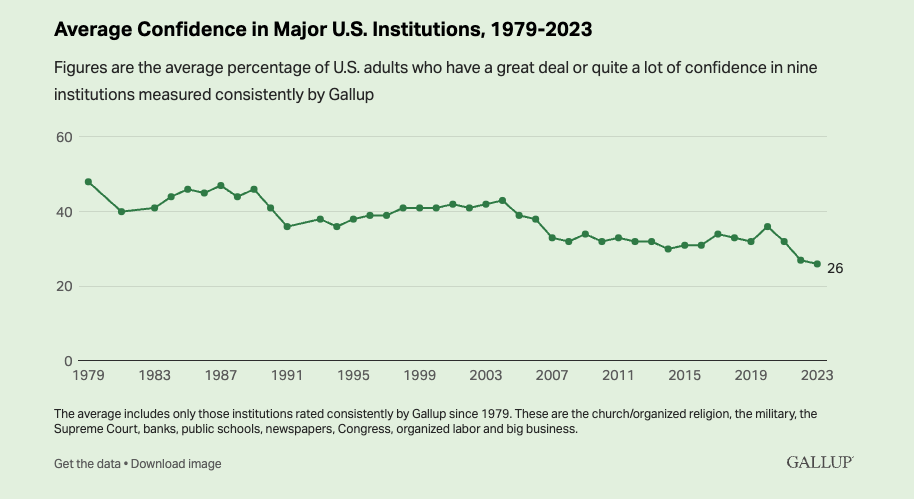 Indeed, we're approaching the lowest levels of confidence in the period Gallup has been asking these questions.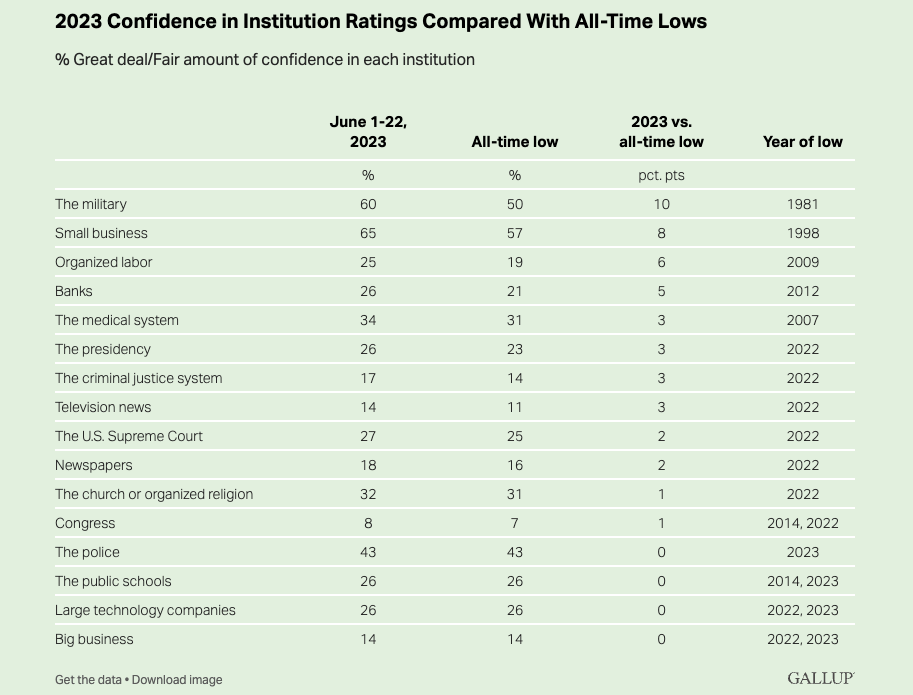 There's a certain chicken-egg quality to all of this. It's not surprising that the public has low confidence in these institutions, all of which are smack dab in the middle of the culture war fight. Then again, part of the reason that the polity was so ripe for Trump (and, for that matter, Bernie Sanders, AOC, and the populist left) was a sense that the system has failed us.