Three Years After Obergefell, Two-Thirds Of Americans Support Same-Sex Marriage
As we approach the third anniversary of the Supreme Court's landmark decision in Obergefell v. Hodges, a new poll finds that two-thirds of Americans support same-sex marriage.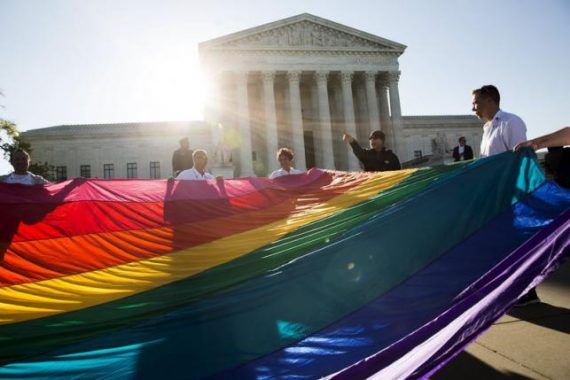 A new Gallup poll finds that two-thirds of Americans support same-sex marriage: 
Sixty-seven percent of Americans support same-sex marriage — the highest level in Gallup's trend. In each of the past three annual polls, Gallup has recorded three-percentage point increases among Americans who say same-sex marriages should be legally valid. The current figure is up 40 percentage points from the 27% who supported gay marriage when Gallup first polled on the question in 1996.

These data are from Gallup's annual Values and Morals poll, conducted May 1-10.

Some of the increases in support may be due to greater numbers of lesbian, gay, bisexual and transgender (LGBT) adults getting married in the U.S. Using data for all of 2017, Gallup has found that more than 10.4% of LGBT adults are married to a same-sex spouse. This means that Americans are more likely to know someone who has married a same-sex partner, and the visibility of these marriages may be playing a role in overturning some folks' previously held opposition to their legal status.

Gay marriage became legal nationwide in 2015 upon the Supreme Court's Obergefell decision. This came more than a decade after the first state, Massachusetts, had legalized gay marriage. In the years leading up to the decision, a patchwork of state laws were created for and against same-sex marriage.

(…)

With the third anniversary of the Supreme Court's decision nearing and no formidable opposition trying to undo gay marriage's legality, it's likely that the percentage of married LGBT adults in the U.S. will continue to grow as new generations of same-sex couples enjoy their newfound rights.

The trend toward increased public support for same-sex marriage could very well continue, given that there is still room for increased support among Democrats and independents. Reaching a national consensus on the issue would depend more on greater acceptance among Republicans, who remain mostly opposed to legally recognized same-sex marriages.

In addition to the general trend toward greater acceptance of gay marriage, the same-sex weddings taking place across the country may be softening opposition among some Americans who once feared for what legalization would bring. But now that it's been legal for nearly three years — and even longer in certain states — some opponents to gay marriage may be rethinking their previous opposition.
These numbers are consistent with others that we have seen over the years, and while these numbers aren't necessarily as relevant as they were prior to the Supreme Court's ruling in Obergefell v. Hodges, they do reflect the extent to which public opinion has changed so rapidly on an issue that, as recently as 2004, was seen as a wedge issue for Republicans and conservatives to use against Democrats. Just over twenty years ago, public opinion was clearly and emphatically opposed to the idea of same-sex marriage when the issue first started becoming part of public consciousness thanks to legal rulings by state courts in Hawaii and Massachusetts that found that laws barring same-sex marriage were barred by the Federal and/or applicable State Constitution(s). The blowback that those cases and other aspects of the movement in favor of same-sex marriage generated led to measures such as the Federal Defense of Marriage Act and, at the state level, legal bars on same-sex marriage, many of which became part of that state's Constitution.
Slowly but surely, though, public opinion began to change. Within just five or six years after the 2004 election, support for marriage equality had passed the fifty percent mark and, after that, the poll numbers moved steadily upward. At this point in 2015, just about a month before the Supreme Court's decision in Obergefell, this same Gallup poll showed that 60% of Americans supported marriage equality. And, as the chart below shows, that support has only increased in the years that have followed: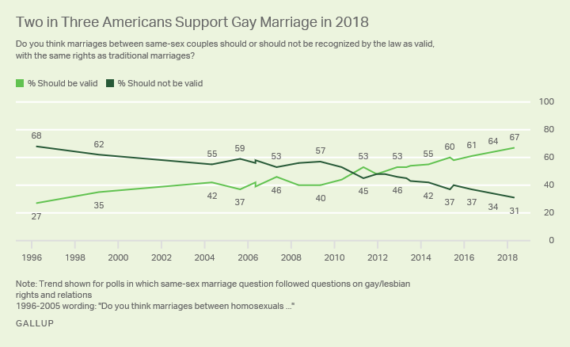 By way of comparison, it's worth noting that this same Gallup poll found that public support for interracial marriage didn't reach majority support until the mid-1990s, some 25 years after the Supreme Court's decision in Loving v. Virginia.
Of course, it's worth noting that support for marriage equality still varies based on political party, with Republicans still lagging behind Democrats and Independents in their support for something as seemingly simple as marriage equality: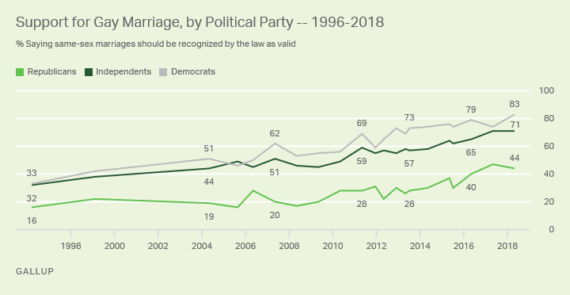 The Gallup article at the link does not provide a further breakdown for other demographic but one suspects that those numbers would show what we've seen in past polling. For some time now, support for marriage equality has been stronger among younger Americans than older Americans, a fact which in part explains the reason why Republicans as a whole continue to lag behind Democrats and Independents on this issue. Indeed, by the time of the Obergefull decision support for marriage equality among Republicans other than those in the 65 and older category was at a majority level. What this suggests, of course, is that we'll see more movement in a positive direction from Republicans in the years that come and that there is little actual danger that there will again be majority support for a ban on same-sex marriage that would challenge the Supreme Court's holding in Obergefell.
In a separate part of the poll, Gallup finds that a majority of Americans now say that homosexuality is something that people are born with rather than something that happens as a result of upbringing:
WASHINGTON, D.C. — Half of Americans in Gallup's 2018 Values and Beliefs poll say that being gay or lesbian is a trait from birth, easily eclipsing the 30% who believe it is a product of upbringing and environment. This is consistent with findings over the past few years. Another 10% say both explanations play a role, while 4% attribute being gay to something else and 6% are unsure.

When Gallup first asked this "nature vs. nurture" question in 1977, a majority of U.S. adults (56%) said being gay or lesbian was due to people's upbringing and environment, and only 13% saw it as a birth trait. Attitudes didn't shift markedly until after 1989. Between 1989 and Gallup's next update in 1996, the percentage believing sexual orientation is determined at birth jumped from 19% to 31%, and reached 40% by 2001. Opinion remained steady for the next 12 years, as Americans were roughly split between the two positions. Since 2012, the percentage assigning sexual orientation to nature rather than nurture has inched up another 10 percentage points.

This year's Values and Beliefs poll, conducted May 1-10, also shows 67% of Americans in favor of same-sex marriages being legal — a new high for that viewpoint. Separately, Gallup recently reported that the percentage of Americans identifying as lesbian, gay, bisexual or transgender has increased a full point since 2012 and is now 4.5%.
As with the marriage question, the chart accompanying the post is the best way to illustrate the extent of change, and its pace: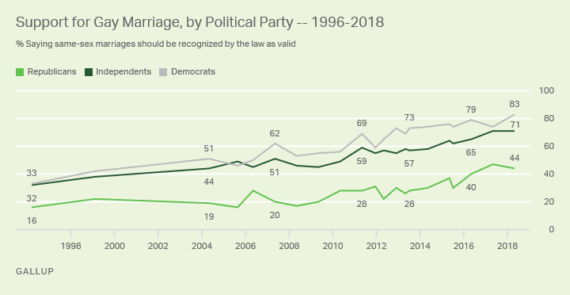 From a legal and political point of view, of course, this poll doesn't really mean very much. This issue has been decided by the Supreme Court and that precedent is likely to stand as securely as the Lovingpublic opinion regarding marijuana legalization decision has over the past 51 years. Nonetheless, it is interesting from a sociological point of view. Along with the massive change we've seen in, this is one area where the turnaround in public opinion has been remarkable and has happened over a remarkably fast period of time. Considering where we were on both issues just two decades ago, it's quite a transformation.