Americans' Confidence In Journalism Continues To Decline
Add journalism to the list of professions Americans don't seem to have much confidence in.
A new Gallup Poll says that Americans' confidence in television news has declined to its lowest level ever:
WASHINGTON, D.C. — Americans' confidence in television news is at a new low by one percentage point, with 21% of adults expressing a great deal or quite a lot of confidence in it. This marks a decline from 27% last year and from 46% when Gallup started tracking confidence in television news in 1993.

The findings are from Gallup's annual update on confidence in U.S. institutions, conducted June 7-10 this year. As such, the findings preceded the erroneous initial reports by cable-news networks CNN and Fox News regarding the U.S. Supreme Court's June 28 decision about the constitutionality of the U.S. healthcare law.

Among 16 U.S. institutions tested, television news ranks 11th, following newspapers in 10th place. The 25% of adults who express a great deal or quite a lot of confidence in newspapers is down slightly from 28% last year. Confidence in newspapers is now half of what it was at its peak of 51% in 1979.
Here's the chart for television news: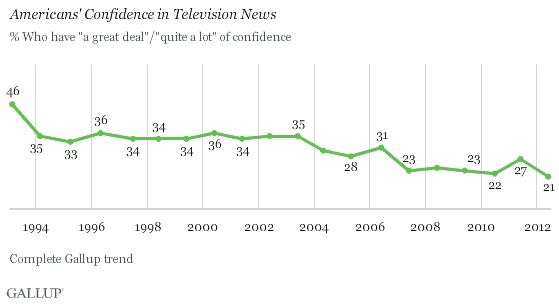 And here's the chart for newspapers: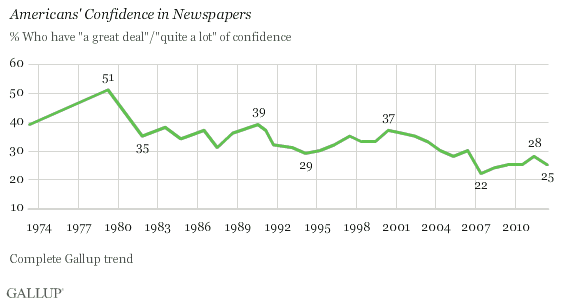 As Gallup points out these numbers coincide with other poll results that show that Americans are dissatisfied with the direction of the country in general and, indeed, other polls have shown that large segments in the country believe that the nation is headed in the wrong direction and has changed for the worse over the past three to four years. The poll also shows that the decline in confidence occurred across pretty much all demographic and ideological groups, with self-identified liberals seemingly losing more confidence in the news media than conservatives or moderates, although the actual differences among the three are really rather marginal. So, this isn't a rebellion against the media for being too "liberal" or too "conservative," it's a rebellion against the media per se.
So, what we're liking looking at here is a reflection of the general decline in confidence in American institutions, public and private, in general rather than something specific to the media. Additionally, there's no question that the news media itself has become more obsessed with sensationalism and scandal than with actual journalism and, while that may draw eyeballs, it hardly does anything to increase public confidence in the quality of the information that they're getting from these so-called "journalists." Factor into this the fact that, on cable, the line between "news" and political advocacy, on both the left and the right, is essentially non-existent, and you've got the perfect recipe for people to say "the hell with all of them" and switch over to ESPN.
The exit question, though, is with Americans losing confidence in so many institutions, what are the odds that it will ever return?