Americans Unhappier—and Happier—Than Ever
Fewer people are very happy and more are not too happy than any time in a longstanding survey.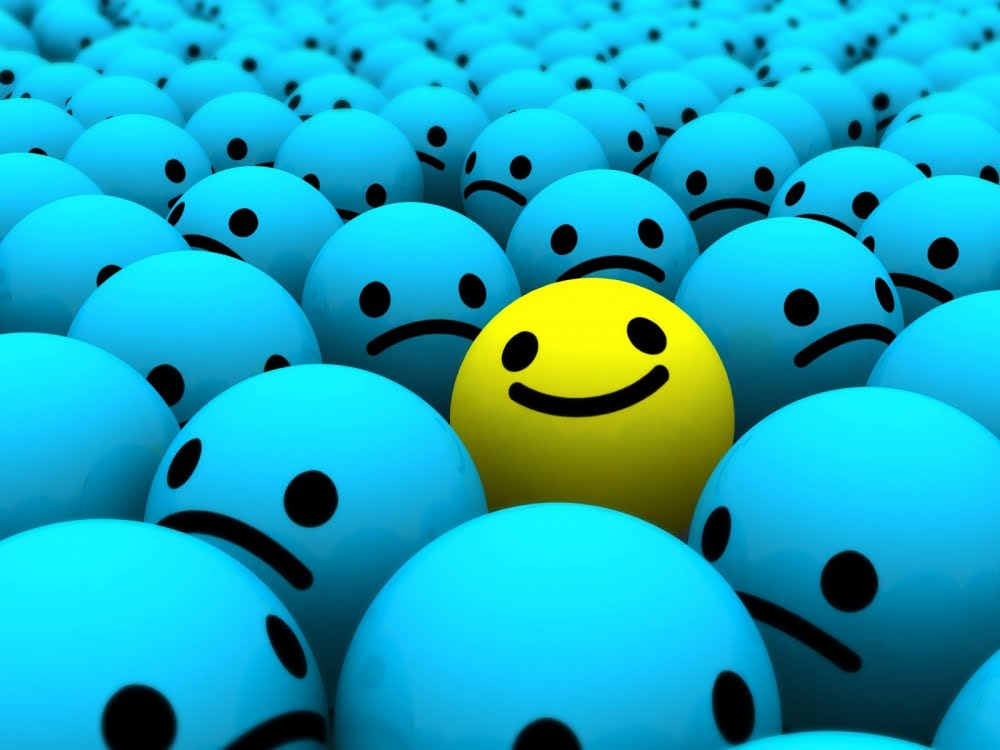 A weird story from the Associated Press. Or, at least, a weird interpretation.
The headline: "Poll: Americans are the unhappiest they've been in 50 years."
It's been a rough year for the American psyche. Folks in the U.S. are more unhappy today than they've been in nearly 50 years.

This bold — yet unsurprising — conclusion comes from the COVID Response Tracking Study, conducted by NORC at the University of Chicago. It finds that just 14% of American adults say they're very happy, down from 31% who said the same in 2018. That year, 23% said they'd often or sometimes felt isolated in recent weeks. Now, 50% say that.
Well, yeah. That's literally what social distancing is.
The survey, conducted in late May, draws on nearly a half-century of research from the General Social Survey, which has collected data on American attitudes and behaviors at least every other year since 1972. No less than 29% of Americans have ever called themselves very happy in that survey.

How sad.
So, I get where the headline comes from.
But, from the headline and description, you'd get this impression:
Very-happiness has plummeted while not-too-happiness has spiked. And, indeed, more people are not-too-happy than very happy.
But the results actually look like this: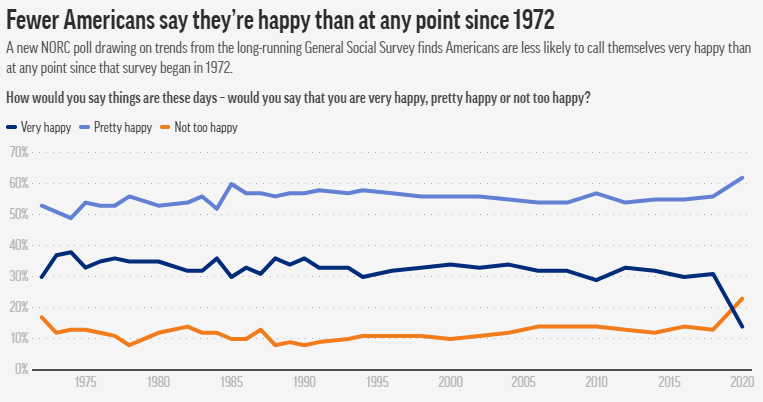 In the fifty years surveyed, the majority of Americans have been pretty happy. The only exception was 1974—in the midst of the post-Vietnam hangover, Watergate, and stagflation—when only 49 percent were pretty happy. And, looking at the chart with the full range of responses included, you immediately see that, not only is "pretty happy" by far the biggest response but pretty-happiness is actually at an all-time high. The interactive version shows it at 62 percent, breaking the previous record of 60 percent set in 1985.
Focusing on the not-too-happies—a mere 23 percent of respondents—seems a weird interpretation of the survey when nearly triple that number are pretty happy.
The caveat is that it's certainly conceivable that "not-too-happy" people are at higher risk for suicide and other issues. But the story doesn't make that claim, much less any support for it.