America's One-Child Policy?
The high cost of raising children is making it difficult for many Americans to have multiple children.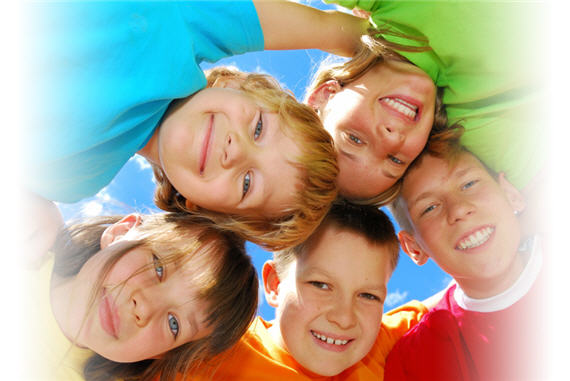 Under the provocative headline "America's One-Child Policy," Brandy Zadrozny argues that the high cost of raising children makes having more than one unaffordable for most Americans.
Turns out you don't necessarily have to go to China to find a one-child policy.

Right here in the U.S., many working-class women are being forced to give up their larger domestic ambitions due to the crippling costs associated with raising a family with more than one child.
Let's stipulate at the outset that this formulation is outrageous, if effectively attention-grabbing. It being hard to afford a middle-class lifestyle while juggling two careers and child care expenses is world's apart from a state policy of forced abortions, female infanticide, and other draconian pressures to enforce a law against having a second child for urban dwellers.
Forty years ago, a third of American families with kids had just one child. Today, 43 percent do. That adds up to some 16 million one-child families in the U.S., or one of every five homes. Some 18 percent of married women have only one child by the end of their childbearing years, double what it was 30 years ago.
But forty years ago, most middle class families with kid could afford to have mom stay at home with the kids and it was socially normal to do so. That changes the calculus considerably and not mostly for economic reasons.
To be sure, explanations for declining family sizes are complicated. The end of the 1960s Baby Boom accounts for some of it, as does "a delay of child-bearing for educational and career opportunities," says Jamie Lewis Thomas, a statistician at the U.S. Census Bureau.

But the increasingly prohibitive cost of parenting can't be ignored, and the middle class is getting particularly squeezed.

The USDA estimates middle-income parents can expect to spend over $15,000 a year to raise a single child. Add another and the bill soars to $26,000. Keep in mind, though: this number takes into account parents who report "some child care," including after-school programs or babysitters, so the figure for working parents with kids in full-time daycare would be much higher. Even the study's author, Mark Lino, tells me, "All my friends with kids say this [estimate] is way too low."
Well, most of his friends are probably highly educated professionals living in the northeast corridor. Not only is the cost of living higher there but the social expectations are much different. Sending the kids off to KinderCare in Des Moines is cheaper than sending them to Montessori in Manhattan.
Apart from housing, child care is indeed the priciest item on the baby receipt. In 35 states and Washington, D.C., it's cheaper to send your kid to an in-state university than it is to put an infant in daycare, according to Child Care Aware of America (CCAA), an advocacy group that tracks daycare costs. The organization pegs the average annual cost of full-time infant child care in the thousands—from a low of $4,600 in Mississippi to almost $15,000 in Massachusetts.
That is indeed exorbitant. Note, though, that this is the rate for infants. Costs go down considerably for toddlers. Still, it's high enough that, for families with two or more children, it often costs so much to put the kids in childcare that it makes little economic sense for the lowest earning parent to continue working.
And for middle-class families, the burden of this cost falls solely on the parent. About $10 billion in federal money goes into a funding stream to states that then assist low-income families with child care. But only one out of every six eligible children is getting the subsidies; according to the Government Accountability Office, many states lack the resources to serve all eligible families and some who would receive benefits just don't apply. Not a single program offers relief for middle-income earners.
On the face of it, that hardly seems unreasonable. And I say that as a widowed middle-income earner with two pre-school children.
That's unfair for working parents above the poverty line who are also suffering from the "unsustainable" costs, says Michelle Noth McCready, senior state-and-local-policy adviser for CCAA. "This is not just a low-income issue. It's a middle-class issue." she says. "If you aren't a wealthy person, this is definitely going to affect you."
The state doesn't subsidize most of my living expenses; I'm not sure why taking care of my kids should be any different. We've decided as a society to help out the very poor. The rest of us are expected to feed ourselves and our kids.
A closer look at the data shows just how much of a middle-class issue it is. The two groups that are still having lots of babies according to Census data? The very rich and the very poor. Americans in the lowest income quintile are having the most children, followed by earners in the top 5 percent.
The link goes to a series of links, so I'm not sure how the data are being weighed. But I suppose it wouldn't be shocking if there's a modest bimodal tendency in the number of children. Presumably, those near the bottom of the distribution are less well educated and have less family planning support. And, certainly, there are fewer constraints on having children for those who are very well off. But where's the evidence that there's a critical mass of people desperately yearning for a second and third child but are forgoing that experience for economic reasons?
Parents who fall into the middle have to hustle to find affordable care for their children, of which the quality can suffer. Policymakers, McCready argues, don't relate to that struggle. "They think, 'Why don't you just stay home or find a friend?'" she says. "They don't understand the challenge for working women and families."

Some families are forced to either spend less time with families or work more hours to supplement the cost difference. For others, especially those with two children, it makes more economical sense to drop out of the workforce entirely and join the stay-at-home ranks—now 5 million strong, or a quarter of married women.
No doubt. But it's not immediately clear why that's a bad thing. Presumably, the overwhelming number of these are people who, to use Chris Rock's formulation, have jobs rather than careers. So, it makes sense for them to shift to raising their kids rather than taking outside employment from which they derive little satisfaction if there's no significant monetary upside. But, of course, there will be exceptions.
McCready, herself a parent to a 4-year-old, can relate to the sacrifice a mother would have to make to add a second: "I can't imagine having another child. What is it worth? Do I stay home and give up everything I've ever worked for?"
This choice disproportionately impacts women, particularly those in the early stages of careers. That is, they're at the point where they've invested significant time and money in obtaining formal education and are still in the phase of their trajectory where earnings are low. Taking five or six years off—or longer, with multiple children—to care for children before they transition to school full time is indeed a major sacrifice.
But what is it that we're supposed to do about all this? A massive federal subsidy to families with children, regardless of income level, in addition to the existing tax credits? Apparently, yes.
There may be a silver lining in three federal policies currently under consideration: the reauthorization to the Child Care and Development Block Grant and a proposed rule from Health and Human Services that would both improve the quality of child care and President Obama's recently unveiled early-learning agenda. Obama's proposal aims to make child care and education more affordable and available for kids from birth to age 5, and encourages states to expand services to middle-class parents.

These moves are positive, but if past is prologue, any real change could take years to enact. The only measure that currently supports all working families is the Family Medical Leave Act, signed into law in 1993 by President Bill Clinton after a decade-long fight.

These hard-won incremental steps prompt the question: at a time when women have become the primary breadwinners in this country, why not just institute sensible policy that includes affordable child care and universal preschool—like most of the rest of the industrialized world enjoys?
But FMLA only supports those working for large companies; small businesses are excluded. And, while I don't necessarily object ideologically to the notion of some sort of universalized preschool and/or child care program, I'm highly skeptical that what works in Norway is scalable to a continental land mass that's, especially in the parts of the country where the needs are greatest, sparsely populated.