Social Class and Higher Education
A rich child is 45 percent more likely to earn a four-year college degree than a poor one.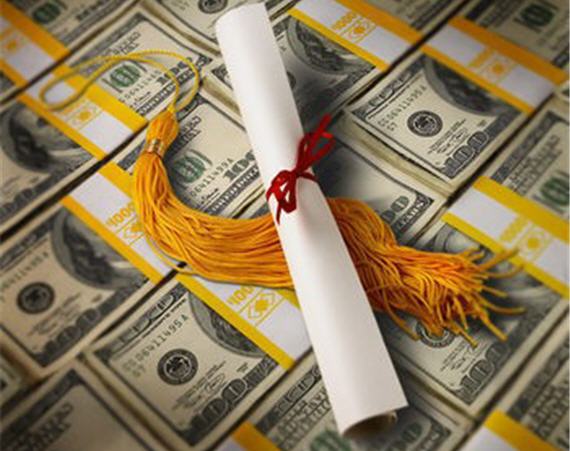 Most of the discussion of education and social inequality in America is over the advantages well off families have at getting their children into elite schools that perpetuate their advantage. Given the degree to which those schools control access to some of the most prestigious and financially rewarding careers, that's a real issue. But it's one that by definition impacts only a fraction of one percent of the population. Even if every seat to the top ten universities in the land were awarded solely on the basis of merit, the other 99-plus percent of students would go on to other schools or no school at all.
A long NYT feature, "For Poor, Leap to College Often Ends in a Hard Fall," focuses on the obstacles that smart kids from impoverished backgrounds have in getting ahead through higher education. It's extremely anecdotal, focusing on three girls from a Galveston, Texas high school, but points to larger trends.
Angelica, a daughter of a struggling Mexican immigrant, was headed to Emory University. Bianca enrolled in community college, and Melissa left for Texas State University, President Lyndon B. Johnson's alma mater.

"It felt like we were taking off, from one life to another," Melissa said. "It felt like, 'Here we go!' "

Four years later, their story seems less like a tribute to upward mobility than a study of obstacles in an age of soaring economic inequality. Not one of them has a four-year degree. Only one is still studying full time, and two have crushing debts. Angelica, who left Emory owing more than $60,000, is a clerk in a Galveston furniture store.

Each showed the ability to do college work, even excel at it. But the need to earn money brought one set of strains, campus alienation brought others, and ties to boyfriends not in school added complications. With little guidance from family or school officials, college became a leap that they braved without a safety net.

The story of their lost footing is also the story of something larger — the growing role that education plays in preserving class divisions. Poor students have long trailed affluent peers in school performance, but from grade-school tests to college completion, the gaps are growing. With school success and earning prospects ever more entwined, the consequences carry far: education, a force meant to erode class barriers, appears to be fortifying them.

"Everyone wants to think of education as an equalizer — the place where upward mobility gets started," said Greg J. Duncan, an economist at the University of California, Irvine. "But on virtually every measure we have, the gaps between high- and low-income kids are widening. It's very disheartening."

The growing role of class in academic success has taken experts by surprise since it follows decades of equal opportunity efforts and counters racial trends, where differences have narrowed. It adds to fears over recent evidence suggesting that low-income Americans have lower chances of upward mobility than counterparts in Canada and Western Europe.

Thirty years ago, there was a 31 percentage point difference between the share of prosperous and poor Americans who earned bachelor's degrees, according to Martha J. Bailey and Susan M. Dynarski of the University of Michigan. Now the gap is 45 points.

While both groups improved their odds of finishing college, the affluent improved much more, widening their sizable lead.

Likely reasons include soaring incomes at the top and changes in family structure, which have left fewer low-income students with the support of two-parent homes. Neighborhoods have grown more segregated by class, leaving lower-income students increasingly concentrated in lower-quality schools. And even after accounting for financial aid, the costs of attending a public university have risen 60 percent in the past two decades. Many low-income students, feeling the need to help out at home, are deterred by the thought of years of lost wages and piles of debt.

In placing their hopes in education, the Galveston teenagers followed a tradition as old as the country itself. But if only the prosperous become educated — and only the educated prosper — the schoolhouse risks becoming just another place where the fortunate preserve their edge.

"It's becoming increasingly unlikely that a low-income student, no matter how intrinsically bright, moves up the socioeconomic ladder," said Sean Reardon, a sociologist at Stanford. "What we're talking about is a threat to the American dream."
In the case of the well-off preserving their children's place in the upper tier, it's a function of having eh means, know-how, and connections. In the case of the poverty trap, the problem is a self-perpetuating cycle wherein the markers of failure passed on.
Melissa also wanted to get off the island — and more immediately out of her house. "When I was about 7, my mom began dating and hanging around a bunch of drunks," she wrote on the Upward Bound application. For her mother, addiction to painkillers and severe depression followed. Her grandparents offered her one refuge, and school offered another.

"I like to learn — I'm weird," she said.

By eighth grade, Melissa was at the top of her class and sampling a course at a private high school. She yearned to apply there but swore the opposite to her mother and grandparents. Protecting families from their own ambition is a skill many poor students learn. "I knew we didn't have the money," Melissa said. "I felt like I had no right to ask."
Of course, this barrier exists even for kids in the lower middle class. My family couldn't have afforded to send me to private school, either. But the local school was merely mediocre, not lousy. And I had a reasonably stable home life, with both of my parents under one roof.
Melissa now marvels at what a good parent her mother has become to her younger brother after she stopped drinking and was treated for her depression. But when she returned from the high school trip to Chicago, the conflicts grew so intense that Miss G. took her in one night. "I really put her through a lot," said Melissa's mother, Pam Craft. "Everything she did, she did on her own — I'm so proud of her." Miss G.'s notes variously observed that "there are limited groceries," "student is overwhelmed" and "she's basically raising herself."

While faulting her mother's choices in men, Melissa made a troubling choice of her own with her ambitionless boyfriend. Among the many ways he let her down was getting another girl pregnant. Yet as many times as they broke up, they got back together again. "He is going to bring her down," Miss G. warned.

Despite the turmoil, Melissa earned "commended" marks, the highest level, on half her state skills tests, edited the yearbook and published two opinion articles in the Galveston newspaper, one of them about her brother's struggle with autism. Working three jobs, she missed so much school that she nearly failed to graduate, but she still finished in the top quarter of her class. It was never clear which would prevail — her habit of courting disaster or her talent for narrow escapes.
Obviously, the children of upper middle class and even wealthy parents make these kinds of mistakes. But they're less likely to do so. More importantly, their parents are in a position to drastically mitigate the consequences.
Outside school, Angelica's life revolved around her boyfriend, Fred Weaver, who was three years older and drove a yellow Sting Ray. Fred was devoted — too devoted, Mrs. Lady thought, and she warned Angelica not to let the relationship keep her from going to college. Fred's father owned a local furniture store, and everyone could see that Fred's dream was to run it with Angelica at his side.

Senior year raced by, with Miss G. doing her best to steer frightened and distracted students though the college selection process. Despite all the campus visits, choices were made without the intense supervision that many affluent students enjoy. Bianca, anchored to the island by family and an older boyfriend, chose community college. Melissa picked Texas State in San Marcos because "the application was easiest."

Angelica had thought of little beyond Northwestern and was crestfallen when she was rejected. She had sent a last-minute application to a school in Atlanta that had e-mailed her. Only after getting in did she discover that she had achieved something special.

Emory cost nearly $50,000 that year, but it was one of a small tier of top schools that promised to meet the financial needs of any student good enough to be admitted. It had even started a program to relieve the neediest students of high debt burdens. "No one should have to give up their goals and dreams because financial challenges stand in the way," its Web site says.
In many ways, this mirrors my own experiences and many of my first-generation-college peers. My parents had no insights into the college process and my high school guidance counselors, while friendly, had no real clue. Few of the graduates went on to college and most who did went on the the local teaching college; the best tended to go to Alabama or Auburn. Even though Georgia was right next door, I don't know that I knew Emory existed when I was a high school junior. And that was a decade before the World Wide Web came along, so the only way to research schools was the local library and/or mailing away for catalogs. Further, while I didn't decide which schools to apply to based on "which application was easiest," I didn't bother to apply to schools with rigorous application processes that were obviously too expensive for me to attend.
Compared to these girls, though, I had the advantages that come from family stability and parental judgment. High school boys are probably less likely to make college decisions based on their girlfriends than vice versa, anyway. But, had I been a girl, there's no way in hell I'd have been dating a 20-something-year old boy; my parents simply wouldn't have allowed it.
Further—and this is something I think most middle aged and older folks haven't internalized—college is radically more expensive now than it was when I was an undergrad. When I transferred to Jacksonville State in 1986, full time tuition was $400 a semester for in-state students. In today's dollars, that's $840.22. For the 2012-2013 academic year, it's $265 per credit hour; that's $4770 for an 18-hour semester (and I took 21 or more since it was the same price, regardless). In constant dollars, then, it's nearly six times as expensive to get an undergraduate degree from a no-name regional college than it used to be. Which means the "work your way through school like I did" (and I did) plan isn't practical.*
Ultimately, then, the combination of money, parental time and attention, and related environmental considerations matter more than ever:
Income has always shaped academic success, but its importance is growing. Professor Reardon, the Stanford sociologist, examined a dozen reading and math tests dating back 25 years and found that the gap in scores of high- and low-income students has grown by 40 percent, even as the difference between blacks and whites has narrowed.

While race once predicted scores more than class, the opposite now holds. By eighth grade, white students surpass blacks by an average of three grade levels, while upper-income students are four grades ahead of low-income counterparts.

"The racial gaps are quite big, but the income gaps are bigger," Professor Reardon said.

One explanation is simply that the rich have clearly gotten richer. A generation ago, families at the 90th percentile had five times the income of those at the 10th percentile. Now they have 10 times as much.

But as shop class gave way to computer labs, schools may have also changed in ways that make parental income and education more important. SAT coaches were once rare, even for families that could afford them. Now they are part of a vast college preparation industry.

Certainly as the payoff to education has grown — college graduates have greatly widened their earnings lead — affluent families have invested more in it. They have tripled the amount by which they outspend low-income families on enrichment activities like sports, music lessons and summer camps, according to Professor Duncan and Prof. Richard Murnane of Harvard.

In addition, upper-income parents, especially fathers, have increased their child-rearing time, while the presence of fathers in low-income homes has declined. Miss G. said there is a reason the triplets relied so heavily on boyfriends: "Their fathers weren't there."
And, without that guidance dumb choices and general immaturity are not tend to be more prevalent but are more costly.
Just before her senior year, Melissa planned a trip to celebrate her 21st birthday. Preparing to leave, she discovered her money was missing. Only one person had her bank code. After finishing Job Corps, her boyfriend was jobless once again and acting odd — as if he were using drugs.

No one but Melissa was surprised. Although she returned the engagement ring, she could not return the $4,000 in credit card debt he had promised to help pay. With her finances and emotions in disarray, she started her senior year so depressed she hung up black curtains so she could sleep all day. She skipped class, doubled her work hours, and failed nearly every course.

"I started partying, and I was working all the time because I had this debt," she said.

If the speed of her decline stands out, so does her lack of a safety net. It is easy to imagine a more affluent family stepping in with money or other support. Miss G. sent her the names of some campus therapists but Melissa did not call. She waited for an internal bungee cord to break the fall. She came within one F of losing her financial aid, then aced last summer's classes.

She is now a fifth-year senior, on track to graduate next summer, and her new boyfriend is studying to be an engineer. At home, she had a way of finding the wrong people. "I haven't found any wrong people out here," she said.

With more than $44,000 in loans, she can expect to pay $250 a month for the next quarter century, on top of whatever she may borrow for graduate school. She hides the notices in a drawer and harbors no regrets. "Education — you can't put a price on it," she said. "No matter what happens in your life, they can't take your education away."
Then there's this:
Among the perils that low-income students face is "under-matching," choosing a close or familiar school instead of the best they can attend.

"The more selective the institution is, the more likely kids are to graduate," said Mr. Chingos, the Brookings researcher. "There are higher expectations, more resources and more stigma to dropping out."
I wound up under-matching as an undergraduate for financial reasons and under-matching, big time, for graduate school simply because I didn't know better. In my case, I didn't need much of a support system at school and I got excellent instruction and have no regrets about the educational experience itself. Nor am I sure that Chingos' analysis applies across the board. The community college where I taught was obsessed with helping students who frankly weren't college material make it, whereas Alabama took a sink-or-swim approach to undergrads.
And then there's the "don't get above your raisin'" phenomenon, which is apparently not confined to the rural South:
[Bianca's] grandfather's cancer, and chemotherapy treatments, offered more reasons to stay. She had lived with him since her father had died. Leaving felt like betrayal. "I thought it was more important to be at home than to be selfish and be at school," she said.

The idea that education can be "selfish" — a belief largely alien among the upper-middle class — is one poor students often confront, even if it remains unspoken. "Family is such a priority, especially when you're a Hispanic female," Miss G. said. "You're afraid you're going to hear, 'You're leaving us, you think you're better.' "
There's a lot more to the story and, again, it's mostly anecdotal. The bottom line seems to be that, aside from money constantly being an issue for poor students, even if they're getting financial aid, the biggest issue is that they're simply not prepared to do things that kids from a middle class background would take for granted: filling out the right forms, asking the right questions, communicating conflicts to professors and advisors, and the like. Even being first generation college, I either understood those things intuitively or managed to figure them out soon enough.
*UPDATE: Alan Jacobs, who graduated from Alabama in 1980 and got his PhD from UVA in 1987, makes this point more vividly.
I was one of those "low-income students" once. Not poor — we always had plenty to eat and toys at Christmas and decent if shabby cars to get around in — but not comfortably middle-class either. We lived primarily off my mother's income, and women didn't get paid a lot in those days. (My father was in prison for much of my childhood and inconsistently employed when he was home.) I doubt that my parents could have saved money to send me to college if they had wanted to, but they didn't want to: they saw no value in college education.

[…]

 If I didn't pay cash money for my education I wasn't going to get one. So that's what I did. And here's the key point: I could. UAB wasn't a great school, in the humanities anyway, but it wasn't a bad one at all — my teachers were all competent and in some cases excellent — and the tuition was low enough that even a part-time receiving clerk could write out a quarterly check to cover it.

My situation wasn't ideal: working that much, I struggled to keep up with my studies. Eventually I decided I wanted to take my education more seriously and transferred to THE University of Alabama, in Tuscaloosa, where the History and English departments were much better, and I cut back on work. But I only could do this after convincing my parents, finally, to sign those student loan forms.

In the end, I graduated with some debt, but it was manageable. And while as an academic I've never made much money — certainly not as much as I would have if I had gone into the law, the only other option I ever seriously considered — I've been able to provide a better life for my son than my parents were able to provide for me.

America is supposed to be about, in some fundamental way, just that possibility. But as the NYT story shows, the costs of higher education are making experiences like mine effectively impossible for young people who grow up today in the economic class I come from. And that's really, really sad.
We've discussed the reasons for the skyrocketing cost of higher ed in previous posts but the key factor is simply that tuition at state colleges and universities isn't backstopped by taxpayers like it used to be. Everything from health care to prisons is crowding out higher education funding in state budgets, so the costs are being passed on to the students. That's probably reasonable in the case of those whose families can afford it. But it creates a tremendous barrier that smart kids from families without means simply didn't have when Alan and I were coming through the system.