Shocking Audio From 1998 Reveals Barack Obama Is A Democrat
Republicans think they found the smoking gun of the 2012 election. They're kidding themselves.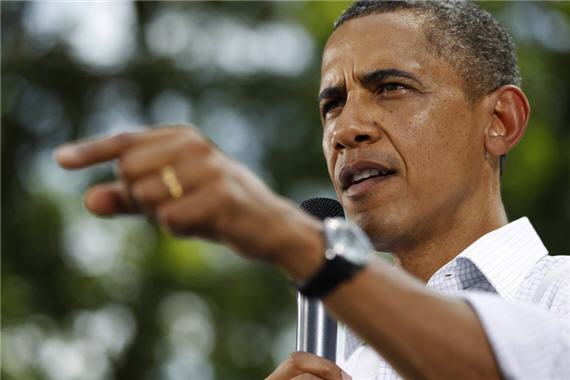 In an effort to push back on the controversy that has arisen in the wake of the video that showed Mitt Romney's "47 percent" comments, conservatives, joined by the Romney campaign, are trying to make something out of an audio recording of then State Senator Barack Obama at a 1998 conference at Loyola University:
(CNN) - After withstanding searing criticism from both rivals and fellow Republicans on his secretly recorded remarks at a fund-raiser in May, Mitt Romney and his campaign are mounting a counter-offensive with a recording they hope will go viral as well: then-Illinois state Senator Barack Obama speaking favorably of "redistribution."

The audio clip first surfaced Tuesday, as Democrats were seizing upon their own video of Romney speaking at a private fund-raiser in Florida. That event was held in May.

The clip of Obama was recorded in 1998 at Loyola University, according to Romney's campaign and fellow Republicans who are aggressively promoting it. It features the future president discussing what he calls a "propaganda campaign" against government funded entities, and suggesting better ways to make government more effective.

"There has been a systematic – I don't think it's too strong to call it a propaganda campaign – against the possibility of government action and its efficacy," he is heard saying in the audio clip. "And I think some of it has been deserved."

Later in the recording, Obama says he wants to "resuscitate this notion that we're all in this thing together, leave nobody behind, we do have to be innovative in thinking how – what are the delivery systems that are actually effective and meet people where they live."

He continues: "I think the trick is figuring out how do we structure government systems that pool resources and hence facilitate some redistribution – because I actually believe in some redistribution, at least at a certain level to make sure that everybody's got a shot."

It's those final words – "I actually believe in some redistribution" – that Republicans have latched onto, characterizing them as an endorsement of redistributing wealth, rather than making sure government agencies were well supported. Many conservatives argue redistributing wealth is akin to socialism.

(…)

When Romney appeared on Fox News later in the day, he made the "redistribution" video a central part of his first answer.

"The president's view is one of larger government," Romney said. "There's a tape that came out today where the president's saying he likes redistribution. I disagree. I think a society based upon a government centered nation where government plays a larger and larger role, redistributes money, that's the wrong course for America, that will not build a stronger America, or help people out of poverty."
Here's the audio in question (sound quality is not good, but you can get the point)
The attack continued this morning in the form of an Op-Ed under Mitt Romney's name in USA Today:
Efforts that promote hard work and personal responsibility over government dependency make America strong. When the economy is growing and Americans are working, everyone involved has a shared sense of achievement, not to mention the basic sense of pride that comes with the paycheck they earn.

However, over the past four years, those kinds of opportunities have been in short supply. We're experiencing the worst recovery since the Great Depression. Unemployment has been above 8% for 43 straight months; 47 million Americans are on food stamps. Nearly one in six Americans now live in poverty.

Under President Obama, we have a stagnant economy that fosters government dependency. My policies will create a growing economy that fosters upward mobility.

Government has a role to play here. Right now, our nation's citizens do need help from government. But it is a very different kind of help than what President Obama wants to provide.
Paul Ryan has worked the audio clip into his stump speech as of today, and the Republican National Committee gets into the game with a new ad that makes use of the newly available audio footage of a man who was still ten years away from becoming President:
Understandably, the revelation of this audio clip created a lot of excitement among conservatives. It received top billing at The Drudge Report late yesterday and was Tweeted and Re-Tweeted all across the conservative twittersphere, and it's been picked up by many conservative blogs. The right clearly thinks it has something here, and the Republican Party and the Romney campaign seem to agree. It's pretty easy to figure out the game plan here. You hit the President as a guy who wants to make everyone dependent on the government and wants to redistribute wealth. You don't even have to use the word "socialism," although it might come to that, but it will certainly be heavily implied. Then, the voters will finally see Barack Obama for what he truly is, and send Mitt Romney to the White House.
I'm sure they think it's a foolproof plan. The only problem is that the GOP tried it before, and it failed miserably.
It was just a little more than four years ago that, on a visit to the Toledo, Ohio area, Senator Barack Obama happened upon a guy named Samuel "Joe" Wurzelbacher. Wurzelbacher told the Presidential candidate that he was getting ready to buy a plumbing business and that Obama's tax plan would end up hurting him. Obama responded by saying that his tax plan would include tax credits for small businesses like Wurzelbacher was talking about, and then he uttered these lines:
"It's not that I want to punish your success. I just want to make sure that everybody who is behind you, that they've got a chance at success, too… My attitude is that if the economy's good for folks from the bottom up, it's gonna be good for everybody. If you've got a plumbing business, you're gonna be better off […] if you've got a whole bunch of customers who can afford to hire you, and right now everybody's so pinched that business is bad for everybody and I think when you spread the wealth around, it's good for everybody."
That conversation happened on October 12, 2008. The McCain/Palin campaign, and the conservative movement, jumped all over this comment and accused then Senator Obama of promoting redistribution of wealth and, yes, using the "socialism" word more than once. John McCain himself never used that word, to the best of my recollection, but Sarah Palin certainly did, and so did many surrogates on the right who spend the next three weeks in an unrelenting attack on Obama on this one issue. And guess what happened? Barack Obama won the election by a popular vote and Electoral College margin of victory that nearly rivaled Bill Clinton's in 1996.
In other words, Republicans have tried this line of attack on the President before, and it failed miserably. What, exactly, makes them think it's going to turn out any differently this time?
The bigger question, though, is what it is about Obama's 1998 remarks, or his comments to "Joe The Plumber" that are supposed to be so shocking. There's really no difference between what he said on these two occasions and what's he said on more than one occasion during the course of his Presidency, most especially in the past year or so as he has pushed the idea of increasing the tax burden on the wealthy as part of an overall deficit reduction package. Moreover, there really don't seem to me to be anything different between what Obama said in the 1998 tape, or in 2008, and what Democrats have been saying since the time of Franklin Roosevelt. Just take a look at what Roosevelt, or Harry Truman, or Lyndon Johnson, or Hubert Humphrey, or Ted Kennedy, or Bill Clinton have said in the past. I guarantee you that you'll find rhetoric remarkably similar to what the GOP is attacking Obama for today, or what he was attacked for in 2008. Barack Obama is a Democrat. Democrats believe in using the power of the government to help the poor, higher taxes on people with higher incomes, and using government resources to "give people a leg up." Anyone who is shocked by this has not been paying attention for the past 80 years or so.
Let me be clear about this, I do not agree with the President's views on "redistribution." That is one of the many reasons I won't be voting for him in November. However, the argument that there is anything radical about what he said in 1998, or what he said while walking down a street in a Toledo suburb in 2008, is quite simply absurd. Barack Obama is a Democrat. He thinks like a Democrat. The GOP is fooling themselves if they think this is the smoking gun that will win them the election.
H/T to regular OTB commenter Rob In CT for the idea that lead to the post title.