Republicans Getting Nervous About The State Of Romney's Campaign
Understandably, Republicans are becoming nervous about the way things are going for Team Romney.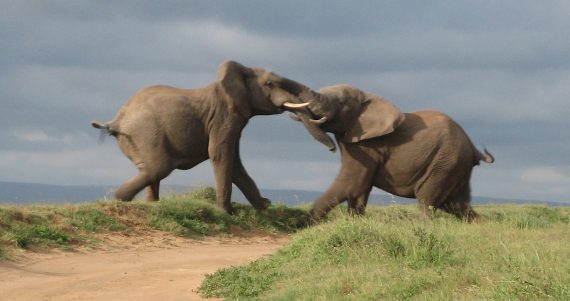 Just the other day we were noting signs of tension inside the Romney campaign itself and frustration over the lack of a clear direction during the final seven weeks of the campaign. Today, Politico is out with a report indicating that Republicans as a whole are starting to get nervous over the course of a Presidential campaign that appears rudderless and unlikely to change direction any time time:
If political campaigns have nine lives, nervous Republicans feel Mitt Romney has used up at least eight.

While insisting the party is still short of full-fledged panic, the video of Romney disparaging Americans who don't pay income taxes and the GOP nominee's consistently unsteady explanation of what he meant has prompted a chorus of fed-up Republicans to speak out about a campaign they see as badly in need of a jolt.

Elected officials, donors and operatives are irritated about facing yet another distraction, but the surreptitiously recorded clips have triggered a round of broader complaints over Romney's fundraising-focused schedule, lackluster candidate skills and a seemingly adrift campaign that trails in key battleground states with less than 50 days to go.

Another senior Republican who's also deeply involved in this cycle's campaign was more blunt about what many in the party are concluding about their standard-bearer this year.

"As a candidate, he is just not going to improve," said the source.

This Republican, looking at fresh polling showing President Barack Obama still in the lead in key states such as Ohio and Nevada, described the mood among GOP officials as: "Not panic, but a recognition that the way to get [to 270 electoral votes] is limited."

And that is what has Republicans more worried than Romney's latest stubbed toe: They're looking at grim swing-state numbers with the soundtrack of a ticking clock.

"We're losing," said veteran GOP strategist Jim Dyke. "And when that happens — it doesn't matter if it's a Republican or Democratic campaign or whether the campaign has been run masterfully or has been total crap — when the election gets closer, people start to get nervous."

The common refrain among Republican elites is that Romney still has the debates, and particularly the first one on Oct. 3 in Denver, to set his candidacy straight.

But GOP donors, especially, are growing nervous.

Several told POLITICO that concern has been on the rise over the past couple of weeks following the Republican convention, where Clint Eastwood's surreal performance left many questioning the direction of what had been a tightly controlled campaign narrative. As Romney slipped in the polls last week and continued to take heat from some over his handling of protests at U.S. foreign outposts and the death of a U.S. diplomat in Libya, the disquiet has intensified.

"There seems to be growing frustration," said one Romney bundler, who's spoken to other donors in recent days. "He fumbled the ball on the Libya response. … People are a little frustrated and they just feel like we do have an opportunity to win this cycle, and we're just … imploding."
As with the report from earlier this week regarding tensions inside the Romney campaign, it's always worthwhile to keep in mind when reading these reports of intra-party dissension that, quite often, what you're reading represents people trying to stake out their ground for what will happen after the campaign. Clearly there are a number of senior Republicans and, more significantly, Republican donors who are slowly coming to the conclusion that Romney is not going to be able to turn this campaign around, and many of them are speaking for different reasons. Some are doing so to try to send a message to both their fellow Republicans, and campaign headquarters, in the hope that it will lead to some kind of retooling before its too late. On the other hand, there are also those who are speaking out now in order to position themselves for what they see as the battle inside the GOP if indeed Romney does lose on November 6th. Their motives are pure self-interest, not necessarily what's best for the Republican Party or the Romney Campaign. Notwithstanding all of that, though, reports like this are important because they provide us with some idea of what Republicans are really thinking right now, as opposed to what they share for public consumption. Based on these reports, it seems pretty clear that there's a lot of demoralization going on right now.
The New York Times' Michael Barbaro seems to confirm that morale is fairly low at the moment:
A palpably gloomy and openly frustrated mood has begun to creep into Mr. Romney's campaign for president. Well practiced in the art of lurching from public relations crisis to public relations crisis, his team seemed to reach its limit as it digested a ubiquitous set of video clips that showed their boss candidly describing nearly half of the country's population as government-dependent "victims," and saying that he would "kick the ball down the road" on the biggest foreign policy challenge of the past few decades, thePalestinian-Israeli peace process.

Grim-faced aides acknowledged that it was an unusually dark moment, made worse by the self-inflicted, seemingly avoidable nature of the wound. In low-volume, out-of-the-way conversations, a few of them are now wondering whether victory is still possible and whether they are entering McCain-Palin ticket territory.

It may prove a fleeting anxiety: national polls show the race remains close, even though Mr. Romney trails in some key swing states.

Still, a flustered adviser, describing the mood, said that the campaign was turning into a vulgar, unprintable phrase.
All of this comes on the same day that Peggy Noonan posts a long piece in The Wall Street Journal arguing that it's time for an intervention over at Romney HQ:
It's time to admit the Romney campaign is an incompetent one. It's not big, it's not brave, it's not thoughtfully tackling great issues. It's always been too small for the moment. All the activists, party supporters and big donors should be pushing for change. People want to focus on who at the top is least constructive and most responsible. Fine, but Mitt Romney is no puppet: He chooses who to listen to. An intervention is in order. "Mitt, this isn't working."

Romney is known to be loyal. He sticks with you when you're going through a hard time, he rides it down with you. That's a real personal quality, a virtue. My old boss Reagan was a little colder. The night before he won the crucial 1980 New Hampshire primary—the night before he wonit—he fired his campaign manager, John Sears. Reagan thought he wasn't cutting it, so he was gone. The economist Martin Anderson once called Reagan genially ruthless, and he was. But then it wasn't about John Sears's feelings or Ronald Reagan's feelings, it was about America. You can be pretty tough when it's about America.

Romney doesn't seem to be out there campaigning enough. He seems—in this he is exactly like the president—to always be disappearing into fund-raisers, and not having enough big public events.

(…)

Time for the party to step up. Romney should go out there every day surrounded with the most persuasive, interesting and articulate members of his party, the old ones, and I say this with pain as they're my age, like Mitch Daniels and Jeb Bush, and the young ones, like Susana Martinez and Chris Christie and Marco Rubio—and even Paul Ryan. I don't mean one of them should travel with him next Thursday, I mean he should be surrounded by a posse of them every day. Their presence will say, "This isn't about one man, this is about a whole world of meaning, this is about a conservative political philosophy that can turn things around and make our country better."

Some of them won't want to do it because they're starting to think Romney's a loser and they don't want to get loser on them. Too bad. They should be embarrassed if they don't go, and try, and work, and show support for the conservative candidate at a crucial moment. Do they stand for something or not? Is it bigger than them or not?

Party elders, to the extent you exist this is why you exist:

Right this ship.
Noonan is largely correct, but as I noted yesterday, I'm not sure if it's even possible at this point to right the ship that is the Romney for President campaign. Yes, there are still seven weeks left until Election Day but, at the same time, there are only seven weeks left until Election Day. If this rebooting that everyone has been talking about, but not implementing, since Monday had taken place in June or July, or even in August before the conventions then it would be a different story. Now, with 14 days until the first debate and just about the same amount of time left until early voting starts in places like Ohio, it's a far different task.
Thanks in large part to the fact that the Romney campaign didn't respond at all to the Obama campaign/SuperPAC ad campaign during the summer that focused on Bain and tried to portray Romney's business record in a very negative light, there's a fairly large segment of the population that already has an impression of Mitt Romney that's going to be hard to change. That's why, even when Romney was scoring very high marks on the economic issues in polling, he still tended to trail the President in the topline numbers. People were buying his argument that Obama had done a sub-par job on the economy, but there was still something out there  preventing them from jumping on board with him, and that was likely due in large party to the negative ads that his campaign, bizarrely, chose not to respond to at all. The convention was supposed to have changed all that, but I think it's fairly clear that it didn't do so very effectively. Now, with the "47 percent" comments out there, and a new Gallup poll saying that they make 36% of voters less likely to vote for Romney (43% said no difference, 20% said more likely), the task of remaking Romney may have become even more difficult.  Mark McKinnon, who has been on the losing and winning side of Presidential campaigns in his career, notes that time is running out for Romney, and he's absolutely right.
So, yes, you bet Republicans are nervous about what's going on with Mitt Romney. They ought to be, and if they're not they're either lying to you or themselves.