Romney's Child Welfare Plan
An opportunity for unity and a restoration of normal order.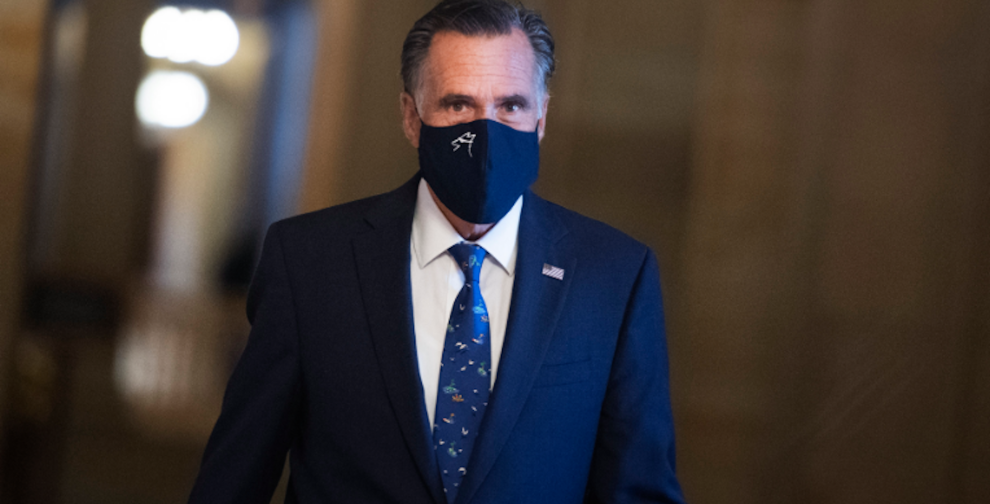 Utah Senator Mitt Romney, who has gone from 2012 Republican Party presidential nominee to near-pariah within that same institution, has proposed a bill that is earning praise form conservatives and progressives alike. Does it have any chance?
New York's Eric Levitz gushes, "Mitt Romney Has a Child Allowance Plan (and It's Better Than Biden's)."
On Thursday, the Utah senator introduced the Family Security Act, a bill that would provide all non-rich households in the United States with $350 a month for every child they are raising who is younger than 5 years old, and $250 a month for every child between the ages of 6 and 17, up to a maximum of $1,250 a month. In addition to these benefits, new parents would collect a $1,400 payment just before their child's birth.

Put differently: If Romney's bill passes, then the parents of a child born next year will receive $62,600 in child support from Uncle Sam by the time that kid turns 18.

Crucially, unlike every other child-welfare policy that the United States has entertained in the past quarter century, Romney's plan would not give less help to the very poorest children in America, so as to punish their parents for not working. And unlike the refundable child tax credit, the benefits in Romney's plan aren't delivered in a lump-sum rebate to the subset of low-income families who properly file for it, but rather, to all non-affluent parents in monthly installments, administered by the Social Security Administration (the allowance phases out starting with single parents whose incomes exceed $200,000, and joint filers with incomes above $400,000). This mode of administration enhances the policy's utility to families who can't wait until the end of the year to make ends meet, while also ensuring damn-near 100 percent participation in the program. That last bit is crucial: As is, roughly 22 percent of those eligible for the child tax credit do not receive it.

So what's the catch?

Generally speaking, when a conservative serves up a good-looking policy, there's a bottle's worth of poison pills buried inside (see: Charles Murray's proposal to establish a universal basic income … by liquidating the welfare state). And at first glance, Romney's plan appears to be no exception: The Utah senator's policy is funded primarily by cuts to other programs and tax credits that aid the poor. But these pay-fors are more benign than one might fear.

Romney's bill would eliminate the Child and Dependent Care Tax Credit (CDCTC) and the Head of Household (HoH) tax-filing status, while reducing the value of the EITC to workers with children, and ending federal funding for Temporary Assistance for Needy Families (TANF).

The child allowance makes the CDCTC largely redundant. And the same can be said of the HoH, which has a deeply regressive policy design (the poor derive no tax relief from the policy, and the more a worker earns, the more tax relief he or she receives). These realities, combined with the sheer size of the child benefit in Romney's plan, means that swapping out these tax benefits for the child allowance is a good trade for just about all U.S. families.

[…]

The biggest problem with Romney's pay-for scheme is that its revision to the EITC would leave a very small subset of working-class families worse off. For example, a single mother of one — who is eligible for the maximum EITC benefit under current law, and whose child is over 5 years old — would take home $1,420 less under Romney's plan, according to the People's Policy Project. But the number of people in this situation, or an analogous one, would not be large.

Finally, in addition to its cuts to various forms of aid to low-income families, Romney would also eliminate the state-and-local tax (SALT) deduction, a policy that delivers the vast majority of its benefits to upper-income households. There is a plausible progressive defense of the deduction on political grounds: SALT makes it a bit easier for Democrats to advance social democratic policies at the state level by effectively enabling blue states to finance a portion of their welfare programs through deficit spending (if you raise taxes on your rich residents — who then get to write some of those taxes off on their federal returns — you've essentially tapped Uncle Sam's sweet sweet money printer).

Nevertheless, if the choice before Congress were Romney's plan or the status quo, there's no question the former would leave the nation as a whole better off. To put that point more concretely, according to an analysis from the Niskanen Center, Romney's policy would lift 5.1 million Americans out of poverty, and slash the child poverty rate by one-third.
Meanwhile, NYT columnist Ross Douthat explains "Why the U.S. Needs the Romney Family Plan."
Family policy, the way that America supports (or doesn't) parenthood and child rearing, has always presented the best opportunity for serious bipartisanship in Joe Biden's presidency. It's an issue with real overlap between the left and right: Feminists and social conservatives, left-wing antipoverty activists and right-wing pro-natalists all agree that it's too hard to raise kids in America today. And it's an issue where the relevant interest group, the American family, isn't a partisan force or a pre-mobilized constituency — which is usually a weakness for its interests, but in a polarized moment might actually make legislation easier.

This week Mitt Romney put that theory to the test: His office rolled out a big proposal to reform the current hodgepodge of programs that help parents, the mix of tax credits and welfare benefits, by rolling them into a single family benefit that would provide $350 a month for kids 5 and under, and $250 a month for kids up to 17, up to a certain income level and benefit cap. (The cap effectively discriminates against large families, which means Romney can't be accused of Latter-day Saint self-dealing.)

In keeping with the opportunity described above, the Romney plan offers something to left and right alike. It would significantly reduce child poverty, a core left-wing ambition. At the same time it reduces the current system's penalties for marriage and its tacit bias against stay-at-home parents, both social-conservative goals, and raises the current subsidy for middle-class families, usually a Republican-leaning constituency. Finally, it's both deficit neutral and softly pro-life, with a benefit that starts while the child is still in utero.
Leaving aside whether public policy should aim to encourage Americans to have more babies, I agree that there is much for right, left, and center to agree on here. But Douthat rightly notes that, even aside from rank partisanship, there are ideological objections to be found.
The likely liberal objections will focus on how Romney pays for his plan. The cuts to existing welfare programs would be exceeded by the plan's big benefits for poor kids, but they would still reduce support for specific liberal priorities (the day care tax credit, for instance) and the antipoverty bureaucracy writ large. Meanwhile, Romney's other big pay-for is the full elimination of the state and local tax deduction, which is a good policy move — the deduction is a regressive subsidy to high-tax states — but one that blue-state politicians have strong incentives to oppose.

The conservative objections, meanwhile, will tend to fall into two categories. First, there's a conservatism that dismisses any kind of support for families as presumptuous right-wing social engineering, an attempt to bribe people into changing their personal preferences and intimate decisions.

As Ramesh Ponnuru points out, though, this argument is rather weakened by the gap between the number of kids that Americans say they want and the size of the families they have — a gulf between desire and reality that's pushing us toward population decline. To the extent that there's social engineering involved in Romney's plan, Ponnuru suggests, what's being "engineered" isn't a bribe to change people's preferences, but "a way of helping them to live out what they already want."

The other conservative objection is the one already offered by Romney's fellow Republican senators, Mike Lee and Marco Rubio, who have championed a larger child tax credit in the past. Their tax credit approach, they argue, doesn't encourage dependency and unemployment, because it's available only to parents who are already providing for their families. The Romney subsidy, on the other hand, looks more like the pre-1996 forms of welfare that conservatives believe effectively discouraged work.

The risk, from this perspective, would be that the Romney plan might encourage a retreat from marriage and the labor force in poor communities — a combination, warns Scott Winship of the American Enterprise Institute, that could impede the "long-term prospects" of the benefit's recipients "and, more important, the well-being of their children," even if they get an immediate financial boost.
There's a whole lot more but, again, Douthat's overriding concern is producing more babies.
While I haven't studied it closely, I like the broad outlines of Romney's plan. My general preference for social welfare programs is that they be streamlined, so I like the idea of getting rid of overlapping programs with the same overall goal and simply giving cash to families.
The big hit to state and local tax write-offs in the Trump tax bill hit our household pretty hard, in that we're solidly upper middle class and live in a high-tax locality. Still, while I can muster an argument about double taxation, there's really no good reason that the American taxpayer should subsidize my property taxes. I would, however, argue for a phaseout rather than an immediate ending of the policy on grounds of simple fairness. SALT write-offs have been around forever and are baked into housing prices and buying decisions.
In terms of the program itself, the amounts in question, $350 a month for kids 5 and under, and $250 a month for kids up to 17, strike me as rather meager. Still, lifting 5.1 million Americans out of poverty and reducing the child poverty rate by one-third are rather major achievements. And I can't imagine that this modest windfall is going to have much influence on the decision to marry or go to work.
It might, conceivably, encourage more parents, mostly women, to leave the workforce to stay home with their children. But, presumably, that would be almost entirely be people who wanted to do so, anyway, and simply couldn't afford to do so without the subsidy. And, frankly, it would be people in incredibly low-paying jobs, where childcare and commuting expenses were mostly eating up their earnings, anyway.
Relatedly, though, the phaseouts strike me as too high. Even in the affluent DC Metro area where I live, $200,000 for a single earner and $400,000 for a couple is big money. I would phase them out completely at half that and being the phaseouts earlier than that.
Otherwise, it's just a windfall for people who don't need the money and that will likely actually contribute to income inequality. That's a lot of disposable income to stash away in a tax-sheltered college fund or spend on camps and other enrichment programs that will help get already-affluent kids to compete for the "good" schools.
Conversely, I'm dubious of capping the household amount. Granting that few have more than four children, there's no obvious philosophical reason to subsidize the first four and not subsequent ones. And I don't understand stopping benefits at 17, since many are still in high school at that age.*
Regardless, as Levitz explains in some detail, this is actually more generous than President Biden's plan, which is a one-time relief to deal with the effects of the pandemic rather than an investment in children. If Biden's team sat down with Romney's to cobble together a "bipartisan" compromise, this thing could actually get substantial support from across the party lines.
For reasons Steven Taylor and I have both emphasized for quite some time, we're not likely to return to the "good old days" of routine bipartisanship, which was in many ways an artifact of a slow-folding realignment that got as to where we are today. So, even if a Biden-Romney bill got through, it could amount to a one-off. Still, parties fighting over legitimate differences in interest and philosophy is one thing; reflexively opposing anything proposed by the other side is another.
_______________________
*Regular readers will note that, by virtue of remarriage in 2019, we have five children in our combined household. But only my two are under 17.