Santorum on Suffering and Death
Rick Santorum has some extreme views on social welfare. Of course, he isn't alone.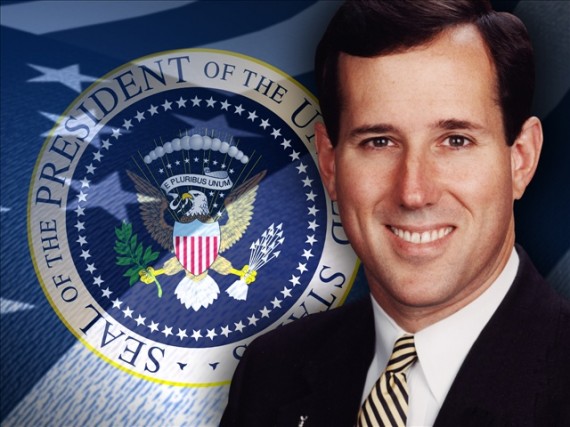 I will stipulate from the start that Rick Santorum is inconsequential to the question of the GOP nomination process.  He started the contest as toast and will leave it as naught but the crumbs at the bottom of  the toaster.
Having said that (and hopefully have forestalled comments along those lines), Santorum does keep saying things that I think a substantial portion of the population believes.  To wit:  he frequently makes moral claims that paint the picture of a universe in which all outcomes are justly generated by the actions of individuals.  In this universe, people are successful because they work hard and make good choices and people fail because they do not work hard enough and/or because of bad choices.
Now, let me stipulate another point:  it is doubtlessly true that hard work and good decisions are incredibly helpful to the generation of success whilst slothfulness and bad decisions frequently lead to bad outcomes.  This is not the issue.  The issue is the degree to which is it possible to neatly categorize the citizenry into nice, neat boxes of the good and hard-working (i.e., the successful) and the bad and slothful (i.e., those who have failed in one capacity or another).  Indeed, this issue is the crux of the social policy debate and is at the heart of contemporary partisanship (e.g., it is why Republicans frequently cast tax increases as "punishing achievers"—a phrase rife with normative judgments about the way the universe works).
Along these lines we can go back a few weeks to a town hall meeting in Iowa where Santorum extolled the value of "suffering" and apparently finds it problematic that various policies (e.g., food stamps, Medicaid, etc.) ameliorate suffering because, after all, "suffering is part of life and it's not a bad thing, it is an essential thing in life."
On the one hand, I have known people in my extended family, and have met others, who clearly think that they are entitled to government handouts and that their children do grow up with a distorted view of the purpose of the programs in question.  (But, of course, children frequently have distorted, entitlement orientations regardless from where the largesse that they enjoy is coming).  Further, there are example of people clearly abusing the social welfare system (e.g., Seattle welfare recipient lives in million-dollar home).
On the other hand, however, there are plenty of examples of people taking legitimate advantage of social welfare, using it as a means to sustaining themselves whilst working hard to successfully raise themselves out of poverty (a famous, albeit non-US example, would be J. K. Rowling, the author of the Harry Potter novels, but other, far more modest, examples can be generated).
Beyond anecdotes, however, there are also facts like the following:  the implementation of social security (a universal social welfare program) has significantly contributed to a substantial and important diminution of poverty amongst the elderly:
Elderly poverty in the U.S. decreased dramatically during the twentieth century. Between 1960 and 1995, the official poverty rate of those aged 65 and above fell from 35 percent to 10 percent, and research has documented similarly steep declines dating back to at least 1939. While poverty was once far more prevalent among the elderly than among other age groups, today's elderly have a poverty rate similar to that of working-age adults and much lower than that of children.

[…]

The authors estimate that a $1,000 increase in Social Security benefits is associated with a 2 to 3 percentage point reduction in poverty rates for elderly households. They also find no statistically significant effect of benefits on income inequality, suggesting that higher-income and lower-income elderly benefit similarly from increases in Social Security.

Applying this estimate to the change in Social Security benefits between 1967 and 2000 suggests that the increase in benefits can explain all of the 17 percentage point decline in poverty that occurred during this period. The authors also find that higher benefits lead some elderly to live independently rather than with family members, and conclude that the effect of Social Security on poverty would have been even more dramatic in the absence of these changes in living arrangements.
(Source:  NBER)
Of course, the purpose, on balance, of social welfare programs (e.g., food stamps, housing subsidies, Medicaid, and the like) exist to ensure that large numbers of citizens do not live in abject poverty (i.e., the alleviated suffering).
Santorum's notion that suffering is just part of life, or even something to be valued, is problematic when asserted by a person of obvious wealth and privilege.  In other words:  it is easy for Santorum to talk about suffering when he and his family are manifestly not suffering (and, likewise, have the means to deal far better with potential suffering than do most in the society).  Indeed, Santorum is sufficiently wealthy that he is able to run for president as a hobby (I am not sure what else to call it, as he clearly has not shot of even being Not Romney for an afternoon, let alone the nominee).
Along the same lines as the suffering position, Santorum (still campaigning in Iowa for some reason) made the following assertion:
"People die in America because people die in America. And people make poor decisions with respect to their health and their healthcare. And they don't go to the emergency room or they don't go to the doctor when they need to," he said. "And it's not the fault of the government for not providing some sort of universal benefit."
Now, I will stipulate (yet again) that yes, choices in life do matter. If one smokes, partakes of various substances (legal or illegal), overeats, etc. then one's choices may very well lead directly to death (of course it is worth noting, at least parenthetically, that in some cases, they won't:  there are plenty of people who overeat, for example, who live a good long time while there are other examples of people who eat well and exercise and who die prematurely—one cannot discount the gene lottery).  And while some suffering can be directly linked to choices made, others not so much (e.g., many forms of cancer, mental illnesses, etc.).
However, Santorum only has a point if, in fact, the only people who die or suffer because of bad choices (goodness, how easy would policy making be if that were true? In such a universe, welfar would be nothing be altruism).  However, we know that it isn't.  Many people make a plethora of good choices, and yet find themselves bankrupt over medical bills.  Likewise, some people make a host of really bad choices, and yet live to 90 in relative comfort.  The universe is not so simple as Santorum and his ilk make it out to be.  And even if we take his notion that suffering is a part of life (or ordained by the Heavens), there is the question of the degree to which the alleviation of that suffering is, in any way, a societal responsibility (btw, the Christian ethics that he supposedly lives by would say yes, it is).
So, why bring all of this up?  Well, public shame on Santorum is one motivation , I suppose (he is, in my estimation, a ridiculous figure), but the real reason is that these are kinds of issues that one has to take into account when considering the appropriate moves on fiscal policy.  As we talk about cutting spending, reforming entitlements, and raising taxes (all things that need to be done) we have to address the question of what kinds of societal obligations exists to persons who cannot adequately address the difficulties of life by themselves (a group that may include any one of us, given the wrong set of circumstances).   And, I bring this topic up knowing that many readers of this blog may be sympathetic to Santorum's point of view and therefore seek to spark consideration and discussion of the topic.
Really, Santorum aside (he is, again, not the ultimate point), I think that one of the major issues facing our politics at the moment is sorting out this question of the balance between personal and social responsibility.  Now, on the one hand, the public appears to have spoken (i.e., there is massive support for Medicare and Social Security in the populace), but (and this is a big but) a) the challenge of funding these programs is huge, and b) the Republican Party, in general, often speaks more like Santorum than not (which reflects a disconnect between the party and the vast majority of Americans).
This is an philosophical (and ultimately quite practical) issue that I, myself, have been working out over time (and I do not claim to have settled on a final answers).  I will confess that I find a basic philosophy of individualism to be attractive—it would be easier to make policy if, in fact, we all rise and fall on our own merits (certainly the universe would make more sense than it otherwise does).  But, alas, I am also attracted to the empirical, and an honest examination of society suggests that life is not so simple (the rain falls on the just and the unjust, dontcha know).  There is also the broader question of the degree to which the success or failure (especially of an extreme type) has broader social implications that government ought to seek to ameliorate.  To wit:  sure, I would make sure that my children were literate not matter what the government did, but what would life be like if the government did not ensure a literate society in general?
Ok, enough for now.  This is more a place to stop than it is a conclusion.  No doubt there people have their own views on the subject.