Could Tonight Be The End For Santorum?
When will Santorum bow to the inevitable?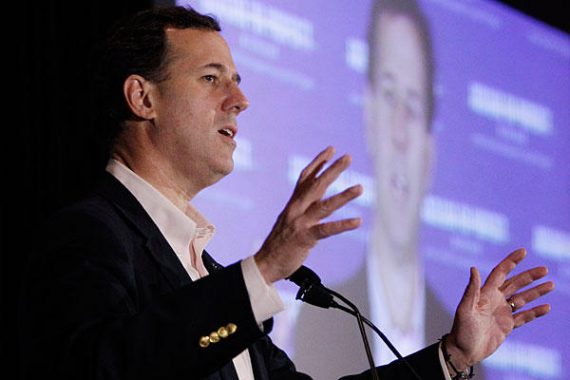 Even before we know the results of tonight's primaries in Wisconsin, Maryland, and the District of Columbia it's already apparent that Rick Santorum is not going to be the Republican nominee apparent. In order for him to even catch up to Mitt Romney in the delegate count between now and the last primary at the end of the primary, the former Pennsylvania Senator would need to win 75% of the remaining delegates, and that simply is not going to happen. Newt Gingrich, who is behind Santorum in the delegate count is already subtly bowing to reality, saying that he is now focusing his campaign on the President and on influencing the platform at the Republican convention, and Ron Paul, well, he's doing whatever it is Ron Paul does. But Rick Santorum is still acting as if he's a viable candidate for the Republican nomination, even though he clearly isn't, and he continues to level attacks at the man who will be the party's nominee for reasons that only he can understand.
Tonight, we'll see primaries in three states that Mitt Romney is likely to win. Maryland and the District aren't even a contest, and even is Wisconsin ends up being closer than the polls are indicating, Romney is likely to walk away with a substantial delegate haul from the Badger State. By any logical standard, a losing trifecta tonight should be the end for Santorum. If it happens, Santorum will have lost every single primary outside the Deep South since his "big win" in three caucus states that resulted in the awarding of no delegates at all and the sparsely atteneded North Dakota Caucuses. However, as Chris Cillizza points out, there's little evidence that Santorum will drop out no matter what happens tonight:
The death rattle is clearly audible in the race these days, as former Massachusetts governor Mitt Romney spars with the White House while former Pennsylvania senator Rick Santorum tries, in vain, to convince an ever-shrinking piece of the Republican electorate that this race is still a race.

Santorum has avoided calling Wisconsin, which is set to hold its presidential primary today, a must-win for his continued existence in the race (as opposed to the Pennsylvania primary later this month, which he acknowledges he has to win). On Monday, he told reporters that "I think in this primary, the longer it goes the better it is for the party."

(…)

Combine Santorum's dogged refusal to talk endgame and the strong desire among his supporters for him to stay in the race and it's tough to imagine a scenario by which Wisconsin brings a formal end to the contest.

"It would take a crushing defeat … 12 to 15 points, and even then he might hang on," said Paul Wilson, a consultant to Romney-supporting Wisconsin Rep. Paul Ryan.. "He holds out improbable hope that there will be a delegate miracle at the convention."
The current RealClearPolitics polling average shows a 7.5 point advantage for Romney, outside the range that Willson mentions. Combine this with the comments that Santorum has made for weeks now about Pennsylvania, which votes on April 24th, being "must win" for him, and it looks less and less like Santorum is dropping out any time soon. However, Pennsylvania is no longer a lock in his home state. Where he once led by double digits, Santorum now has just a 6.7 point advantage in the state, including a just-released Quinnipiac poll showing Romney within six points of Santorum there.
All of this raises a potential dilemma for Santorum, assuming that he cares about his political future:
Less than a month before the Republican presidential primary in Pennsylvania, some experts warn that Rick Santorum faces a second humiliating defeat in a state he represented for sixteen years in Washington D.C.

The campaign should end before the April 24 primary here if the former senator continues to slide in opinion polls and lose other primaries, said Ed Morrissey, editor of the widely-read conservative blog, Hot Air.

"Losing in Pennsylvania not only finishes him in the race, but it may finish him for good," said Morrissey, who caucused for Santorum last week in Minnesota.

(…)

Santorum's delegate gap with Romney is essentially insurmountable, said Josh Putnam, an expert at Davidson College in North Carolina.

"They could make the argument that better days are ahead in May in Arkansas, Texas and North Carolina," but that becomes decreasingly likely when and if he gets swept during the April contests," Putnam said.

"Which makes me wonder if the contest really ever gets to Pennsylvania," said Morrissey.
Starting with his loss in 2006, it's clear that Santorum has plenty of reasons to be worried about Pennsylvania despite his bravado:
Santorum's home-state connection notwithstanding, the makeup of the Pennsylvania GOP gives Romney a chance to win the state. Exit polls from the 2008 Republican presidential primary aren't available for Pennsylvania, but its demographics are similar to other Midwest states like Ohio and Michigan. Romney, the former Massachusetts governor, scored narrow wins in both.

"Clearly Pennsylvania is similar to Ohio, Michigan, Wisconsin," said Jake Corman, a state senator and one of Santorum's most prominent supporters in the state. "It's the Rust Belt area, where there's a lot of manufacturing."

Yet Pennsylvania's most populous region – Philadelphia and the suburbs tucked into its southeast corner – is chock full of the upscale, college-educated Republicans who have formed Romney's base throughout the primary. It's the region most critical to Romney's efforts in the state, and it accounts for 35 percent of the Republican vote statewide, according to Brian Nutt, a longtime GOP strategist in the state and Santorum's Pennsylvania director.

Because of the size of the Philadelphia media market – it includes Delaware and southern New Jersey – it's hyper-expensive, a potential challenge for the cash-strapped Santorum operation.

"If Rick Santorum doesn't commit substantial resources to the state, he'll lose," said Phil English, a former congressman from the state's northwest region and a Romney supporter. "And he may lose anyway."

Santorum's favorite-son status in Pennsylvania could give him an advantage he didn't have in either Michigan or Ohio. But on this front, the former statewide official might not reap the expected benefits.

There's visible ambivalence about Santorum's candidacy among both conservative activists and the state's GOP establishment. Romney has the support of many prominent Pennsylvania Republicans, including several members of Congress, former Gov. Tom Ridge and Republican National Committee member Bob Asher. Sen. Pat Toomey, a favorite of many fiscal conservatives, hasn't endorsed in the race, but praised Romney effusively on Friday.
Additionally, there's plenty of signs that Santorum has yet to mend fences with Republican and conservative activists in they Keystone State over his decision to endorse Arlen Specter over Pat Toomey in the 2004 Republican Senate Primary.
All of this adds up to an interesting question. Given that he's likely to lose big tonight, Santorum will limp into a three week battle in his home state damaged, and with Romney already gaining on him in the polls even before he's started spending big money in places like Philadelphia and Pittsburgh, would Santorum really be willing to risk a humiliating loss in his home state that would bring his campaign to a screeching halt? Or, would he consider it smarter to drop out before Pennsylvania and concede the inevitability of Romney's victory? The decision is up to him, really.