An Observation on Trump's Taxes
The story is shifting, which makes me even more suspicious.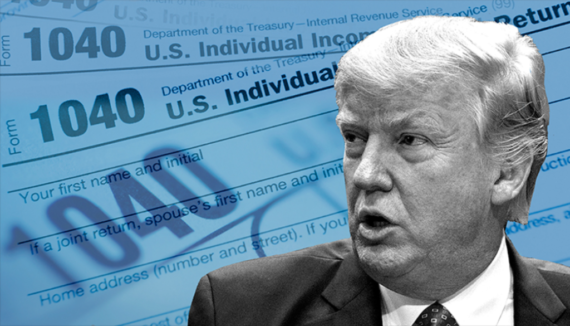 I am struck by the fact that the story keeps shifting over why Trump can't just hand over his taxes like, you know, all the presidents since Nixon have done. First, it was the implausible argument that he would love to hand them over, but you know, he's being audited. He is, in fact, constantly audited, it would seem. Second came the argument that since he was elected without handing them over that the matter was closed. After all, election makes all the questions go away, right? Inauguration Day is just one big reset button!
Now we have a new one: Congress is not 'smart enough' to examine Trump's tax returns, Sarah Sanders says. Sanders said the following on Fox News Sunday today:
"Frankly, Chris, I don't think Congress — particularly not this group of congressmen and women — are smart enough to look through the thousands of pages that I would assume that President Trump's taxes will be," Sanders said. "My guess is most of them don't do their own taxes, and I certainly don't trust them to look through the decades of success that the president has and determine anything."
While I think that Trump should turn over his taxes, if anything because a president (really, a candidate) ought to have to demonstrate basic transparency in terms of financial dealings and potential conflicts of interest, I am not necessarily assuming that his tax returns will be his undoing.
Still, the fact that he seems so unwilling to cooperate and, moreover, the fact that the story keeps evolving actually makes me all the more suspicious.
BTW, this is nonsense:
She added that the Democratic effort puts "every American" in jeopardy.

"If they can single out one, they can single out everybody," she said.
There are legitimate reasons for the public, and for Congress, to want to see the returns, including emoluments-related reasons that come straight out of the US Constitution. There is also a multi-decade norm being broken that should not remain broken. The request to see his taxes is, in no way, some broader threat to "every American" and Sanders should be embarrassed for her ongoing shilling for Trump (although I think it is firmly established that that is not an issue for her).