An Observation/Question on the Situation in Wisconsin
Why not include police, firefighters and state troopers in the ban on collective bargaining?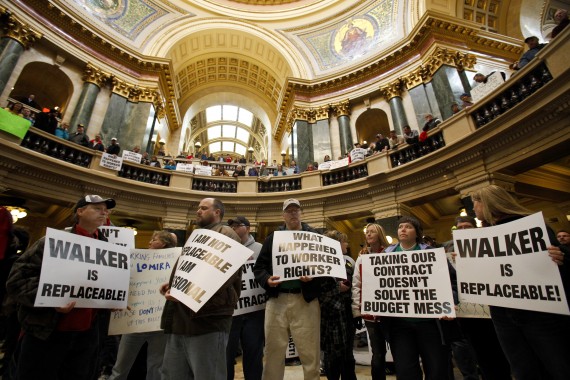 I have stayed out of the discussion about Wisconsin for a variety of reasons, with a main one being that I didn't want to jump into what is obviously an ideologically charged discussion without having thought through the situation.  I continue to ruminate, but here's an issue that I find interesting, especially given the number of pixels spilled of late over the question of public sector unions and their ability to collectively bargain:  if it is a fundamental principle that public sector employees ought not to have the right to collective bargaining, why are the police, firefighters and state troopers of Wisconsin not part of the package?  Why does Governor Walker and his allies believe that those workers ought to be able to retain their collective bargaining rights?
As Channel3000 notes:
Walker's bill would strip state and local government employees, including teachers, custodians and game wardens, of their ability to collectively bargain everything except their wages.

But the measure carves out a special exemption for local police officers, firefighters and the Wisconsin State Patrol.

[…]

Some police would lose union rights under the bill, including Capitol and University of Wisconsin police. Walker said their work can be covered in the event of a slowdown, while local protection can't.

When asked why union rights should be any different for police, fire and state inspectors, Walker said that overall there is a different expectation.

"Currently, we've had a long tradition and when it comes to fire and police service in the state of Wisconsin. Statutes are very different when it comes to whole series of rights and responsibilities," Walker said.
This strikes me as a nonsensical non-response.
Now, the fundamental criticism being leveled at Walker is that he is stripping rights from groups that did not support him and allowing groups that did support him to retain theirs.  This is not an unreasonable supposition.
However, I would go beyond that and not ask why Walker is doing what Walker is doing, but rather ask why we have not seen (or, at least, I have not seen) his ideological allies calling for him to include police, firefighters and state troopers in the bill?  If there is a fundamental philosophical issue here concerning public sector unions, what is the possible rationale for any exceptions?
This is not a trick question:  if this is a principled issue, why not complain that the bill doesn't go far enough?