An Open Letter to Sarah Palin Supporters
Comparing Bachmann and Palin in regards to managing the media.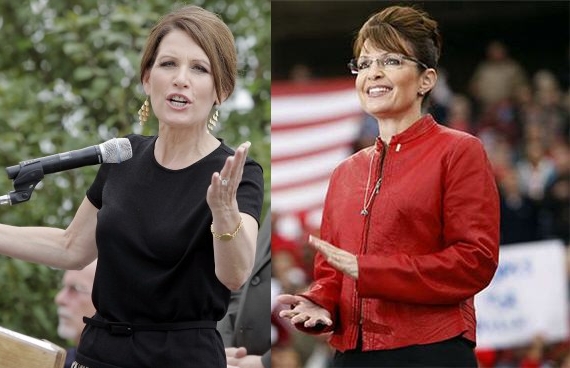 Back when Sarah Palin was named to be McCain's running mate, one of my main criticisms (and I was not alone) was that she appeared, as I said on several occasions "not ready for prime time" i.e., not really equipped for the national stage, especially in terms of dealing with the media.
This was demonstrated when she spoke to Charlie Gibson and it was demonstrated when she spoke to Katie Couric (also here).  It was, in fact, reinforced by the way the McCain campaign tried to manage her (also here).  And, in honesty, she hasn't done anything since that time to disabuse me of the basic assessment that she really cannot hold her own in a real interview.  I will say, however, she has managed to learn how to be a media personality (as long as she is in control of the situation).
At the time, and subsequently, Palin supporters would claim that criticisms of Palin along the lines of those outlined in the previous paragraph were driven by either pure politics or sexism (or both).  This was never the case, and I now have a comparative example to make the point:  Michele Bachmann.
Bachmann and Palin share both a gender and a relatively similar worldview.  Both, for me, are examples of politicians for whom I cannot see a reasonable scenario in wherein I could see myself casting a ballot.  As such, if my critiques of Palin's media performances were gender-based or ideological in some way, I ought to have the same reaction to Bachmann's.  However, this is not the case.
Having watched Bachmann in numerous interviews I can say, without a doubt, that she is capable of playing in prime time (to return to the phrase) in ways that Palin still is not.
The basic point:  people (and certainly myself, the only person for whom I can actually speak) who criticized Palin's ability to deal with the mass media had good reasons for doing so.  Indeed, those who defended Palin's interviews with Gibson and Couric were likely engaging in a bit of partisan blindness on behalf of a politician they like.
Bachmann does the following, that Palin never did (and still does not):
1)  Bachmann is willing to go wherever she needs to, media-wise, to get her message out.  She has been all over TV during the straw poll season.  Palin has always managed access, claiming that the lamestream media is out to get her, and therefore she ends up primarily hiding on Fox News Channel.  This is a rather fundamental difference.
2)  Bachmann takes a question that she does not like, smiles, thanks the person who asked the question, and then goes on to answer it.  Sometimes she directly answers, sometimes she answers the question she wants to answer.  She does not get defensive.  She does not bristle and act the victim.  She seems to recognize (unlike Palin) that running for national office means answering question that one does not want to answer and from people one would prefer to avoid.  Obvious examples include, Wallace's "flake" question and York's "submission" question.  Indeed, you can see it any interview, e.g., her MTP sit-down last Sunday.  This is a radical difference from Palin.
3)  Bachmann in prepared; she know what she wants to say and says it, and typically does so effortlessly.  Palin always sounded like a student who crammed the night before the test—as if she knew roughly what she was supposed to say, but not necessarily why or what the proper application of the thought was supposed to be.
4)  Bachmann has a fairly well-developed worldview, while Palin just doles out sound bites.   Or, perhaps it is just that Bachmann appears capable of speaking in paragraphs, while Palin has a hard time with sentences.
This is a long way of saying two things.  First, the general point:  it is wholly possible to assess the abilities of a politician without such an assessment being ideological in nature.  Second, and this is the specific point:  Palin is honestly not that good at dealing with the media in the way a politician who wants to compete in elections has to be and a direct comparison to Bachmann pretty well underscores this fact (especially #2 above).  Bachmann does not act the victim, whilst Palin's whole shtick vis-à-vis the media is based in the notion that she is that they are mean to her.*
So, to those who accused me of sexism or political bias in terms of my assessment of Palin and the media I say to you all:  the problem was not my ability to dispassionately judge Palin's media performance, it was yours.
*UPDATE:  I had not read Doug Mataconis' post on Palin's latest rant about the media when I wrote this post, but the contents of that post help underscore my point.