Sarah Palin's Media Paranoia Victimizes An Innocent Reporter
Sarah Palin's paranoia about the media was on full display during her recent visit to Iowa.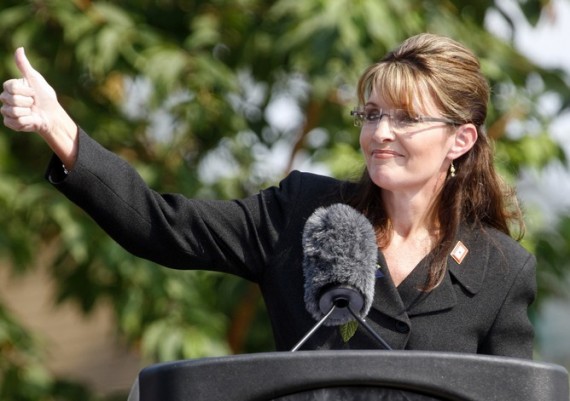 The American Spectator's Quinn Hillyer documents the story of how a young Washington reporter ended up becoming the focus of Sarah Palin's never ending war on the "lamestream media"":
Alex Pappas of The Daily Caller, one of the rising stars among political scribes and a meticulously careful and wonderfully polite, fair-minded young man (an aside: I've known him since he was in junior high school), wrote a perfectly fine story about Palin's current stances vis-a-vis the presidential race. In it, one of the things she said was that if Mitt Romney is the nominee, well, of course she would endorse him over Barack Obama.

Fox Nation picked up the story and, in its own headline (not Pappas', not the Daily Caller's, but its own headline completely apart from anything Pappas ever wrote) played up the "Romney endorse" angle in a way that apparently did not make it clear that the endorsement might be in the general election, rather than the primary campaign. (The headline is no longer available at Fox Nation, so I can't say exactly what the wording was.)

Anyway, the Palin team pounced. Specifically inviting over reporter Kasie Hunt from Politico so she could hear the exchange, Palin called Pappas' cell phone and began berating him in a very scolding manner for writing a headline suggesting she supports Romney. Pappas didn't even know what she was talking about. When he tried to say that neither he nor his editors had written such a headline, she said she didn't have time for this, that she needed to go back to the "real people" at the State Fair, and hung up on him.
Here's how Hunt described the incident in her report at Politico:
Sarah Palin, best known for blasting the "lamestream media," showed she's an equal opportunity critic today while at the State Fair, according to POLITICO's Kasie Hunt – she audibly called up a Daily Caller reporter to complain about a headline she felt suggested she was open to supporting Mitt Romney:

"So you're saying that I said that I support Mitt Romney?" she said to the reporter. "And what's your headline? You need to be clear, otherwise people really lose faith in the state of journalists today and that is, I said 'ABO'—anybody but Obama. And I would support the candidate who surfaces to take on Barack Obama. But no, your headline leads readers to believe that I'm supporting Mitt Romney at this time in this process, and no that's not accurate.
Fox Nation, of course, is a potion of the Fox News website where all content is user generated. More than once, it's become the "source" for outrageous stories about the President or other Democrats that turned out to be true, and Fox has ended up getting blamed for them even though they exercise no editorial control over the site. At this point, one would think they'd realize the site is a problem and police it better. In any event, someone with a Fox Nation account took Pappas's story, spun it with a headline that made it appear that Palin was endorsing Romeny in the primary and Palin and her campaign ended up berating Pappas for something he had no control over. Moreover, as Hillyer goes on to report, when they figured out the truth, they didn't even bother to apologize to Pappas for not just getting the facts wrong but having the gall to let Palin berate him over the phone in front of another reporter.
Hillyer concludes:
If Palin wants to get rid of the image of being a difficult diva with a rude streak, she needs to stop acting like a difficult diva with a rude streak.
The thing is, this isn't just an anomaly. In the final days of the 2008 campaign, Palin complained that journalists who were asking questions about her and her record were violating her First Amendment rights and that such journalists were "a threat to democracy." Last year, she essentially said that journalists who printed stories she didn't like were a threat to freedom of the press. Palin's bizarre treatment of Pappas isn't something new, it's part of a pattern since 2008 where she consistent portrays herself as the victim of a media that is out to get her even when, in most cases, the media is merely doing its job. It's a pattern she wears as a badge of honor, and her supporters seem to love it, but it's the kind of paranoia that doesn't belong in a serious political leader.