An Update On The "Pressure Cookers" Google Search Story
Presumably because I blogged about the issue this morning, I just recieved the following email from the public information office of the Suffolk County, New York Police Department: (click to enlarge)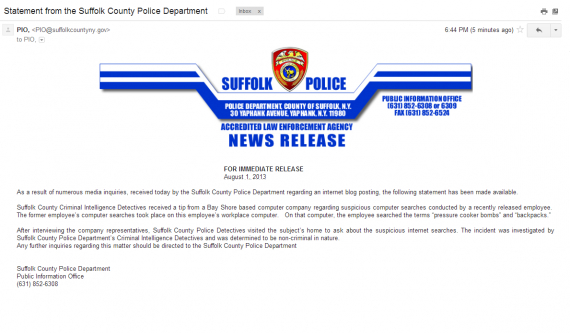 Here's the text of the statement:
FOR IMMEDIATE RELEASE
August 1, 2013

As a result of numerous media inquiries, received today by the Suffolk County Police Department regarding an internet blog posting, the following statement has been made available.

Suffolk County Criminal Intelligence Detectives received a tip from a Bay Shore based computer company regarding suspicious computer searches conducted by a recently released employee. The former employee's computer searches took place on this employee's workplace computer. On that computer, the employee searched the terms "pressure cooker bombs" and "backpacks."

After interviewing the company representatives, Suffolk County Police Detectives visited the subject's home to ask about the suspicious internet searches. The incident was investigated by Suffolk County Police Department's Criminal Intelligence Detectives and was determined to be non-criminal in nature.
Any further inquiries regarding this matter should be directed to the Suffolk County Police Department

Suffolk County Police Department
Public Information Office
(631) 852-6308
So, apparently, it wasn't the FBI. Nonetheless, this raises as many questions as it answers.