Ann Coulter Anti-War ?
Is Ann Coulter's defense of Michael Steele's Afghan War skepticism the beginning of conservative split, or just an attempt to pile on President Obama ?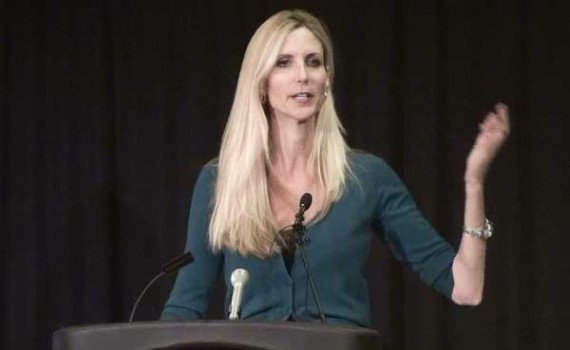 Ann Coulter has, somewhat surprisingly, has come to the defense of RNC Chairman Michael Steele in the controversy that has erupted on the right over his comments about Afghanistan:
Republicans used to think seriously about deploying the military. President Eisenhower sent aid to South Vietnam, but said he could not "conceive of a greater tragedy" for America than getting heavily involved there.

As Michael Steele correctly noted, every great power that's tried to stage an all-out war in Afghanistan has gotten its ass handed to it. Everyone knows it's not worth the trouble and resources to take a nation of rocks and brigands.

Based on Obama's rules of engagement for our troops in Afghanistan, we're apparently not even fighting a war. The greatest fighting force in the world is building vocational schools and distributing cheese crackers to children.

There's even talk of giving soldiers medals for NOT shooting people, which I gather will be awarded posthumously. Naomi Campbell is rougher with her assistants than our troops are allowed to be with Taliban fighters.

But now I hear it is the official policy of the Republican Party to be for all wars, irrespective of our national interest.

What if Obama decides to invade England because he's still ticked off about that Churchill bust? Can Michael Steele and I object to that? Or would that demoralize the troops?

Our troops are the most magnificent in the world, but they're not the ones setting military policy. The president is — and he's basing his war strategy on the chants of Moveon.org cretins.

Nonetheless, Bill Kristol and Liz Cheney have demanded that Steele resign as head of the RNC for saying Afghanistan is now Obama's war — and a badly thought-out one at that. (Didn't liberals warn us that neoconservatives want permanent war?)

I thought the irreducible requirements of Republicanism were being for life, small government and a strong national defense, but I guess permanent war is on the platter now, too.
Coulter wouldn't be the first conservative to express doubts about the Afghan War, of course.  George Will and Joe Scarborough are just two names among the many prominent people on the right who have started to express doubts about what is now America's longest war, and Matt Lewis wonders if this is the beginning of a conservative schism:
Until now, there has been somewhat of an unspoken rule, adhered to by most on the right, that conservative Republicans would vigorously oppose President Obama's liberal domestic policies while supporting his efforts to win in Afghanistan. After all, Republicans had staunchly backed George W. Bush when he made the case for fighting al-Qaeda in Afghanistan. Changing course now would seem craven — playing politics with national security. And so, in foreign policy, Obama was criticized from the right only when he appeared to be showing weakness, not when he displayed toughness.

But recent comments from Steele have sparked a debate that was probably long overdue. Notwithstanding the fact that Steele almost immediately backtracked, some conservatives began defending the substance of Steele's comments. "Republican National Committee Chairman Michael Steele was absolutely right," Coulter wrote. "Afghanistan is Obama's war and, judging by other recent Democratic ventures in military affairs, isn't likely to turn out well."

(…)

One of the ideas advanced by Coulter is that Bush wisely kept a relatively small footprint in Afghanistan, while choosing instead to invade Iraq — terrain more hospitable for a traditional ground war. There is some revisionism at work here, and it must be said that prominent voices, like Liz Cheney's (not to mention Gen. David Petraeus'), were raised in support of the surge in Afghanistan. Still, it's fair to broach the question raised by Michael Steele and Ann Coulter: Would George W. Bush be doing anything differently today in terms of Afghanistan?

Or is Coulter's position a less high-minded one: After a decade of defending Bush's actions, and getting beat up for it, are Republicans now saying it's time for a Democratic president to get the Bush treatment?
Coulter being Coulter, I have to believe that there is more of the second motivation than the first behind her recent, and somewhat surprising, conversion to Afghan War skepticism, and that we wouldn't be hearing stuff like this from her if there was a Republican in the White House.
As for Lewis's other question, it's worth noting that, two years ago, both Barack Obama and John McCain were calling for a "surge" in Afghanistan, and that the current policy in Afghanistan is essentially the application of the Counter-Intelligence theories behind the Iraqi surge to Afghanistan. If George W. Bush, or John McCain, were in the White House today, I don't doubt that our Afghanistan policy would be largely the same as it is today, and I have to wonder if people like Coulter would be as vocal in their criticism of the policy.
So, is Ann Coulter now a principled anti-war conservative, or a political opportunist ?
I'll let you decide.