Another Appalling Display Of Trumpidian Ignorance
Just when you think the President has hit rock bottom, it gets worse.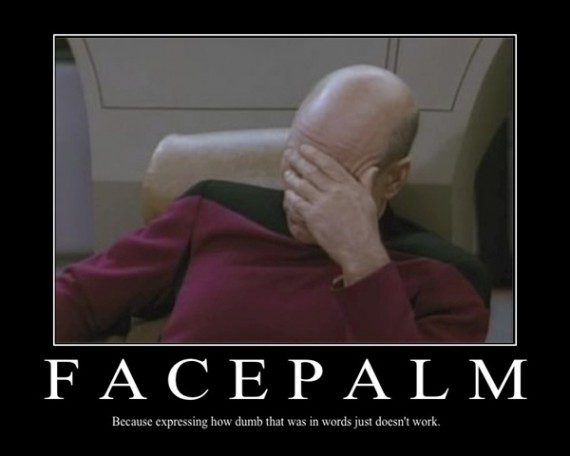 Microsoft founder and philanthropist Bill Gates recently told an audience he was speaking to about the difficulties he's encountered in meeting with the President:
Bill Gates discloses in newly revealed footage that President Trump twice asked him to clarify the difference between HIV and human papillomavirus (HPV).

MSNBC's "All in With Chris Hayes" aired footage Thursday night of the Microsoft founder speaking at a Gates Foundation event, telling the crowd about two meetings he had with Trump, one at Trump Tower during the presidential transition and another at the White House last year.

"Both times he wanted to know if there was a difference between HPV and HIV," Gates said. "So I was able to explain that those were rarely confused with each other."

Gates also said that at both meetings Trump had asked him about the negative effects of vaccines.

"In both of those two meetings, he asked me if vaccines weren't a bad thing, because he was considering a commission to look into the ill effects of vaccines," Gates said.

"And I said, 'No, that's a dead end. That would be a bad thing, don't do that.'"
Hayes posted two clips from the footage on his Twitter feed before the show aired last night:
Exclusive footage obtained by All In… Bill Gates dishes on his meetings with Donald Trump. More tonight at 8PM ET. #inners pic.twitter.com/Zoehj1WTfk

— All In w/Chris Hayes (@allinwithchris) May 17, 2018
Coming up: More exclusive footage of Bill Gates talking about avoiding the president, bizarre questions about vaccines, and Trump-style stunts. #inners pic.twitter.com/Z40RgqFvCq

— All In w/Chris Hayes (@allinwithchris) May 18, 2018
As any person who is even modestly informed should know, HIV stands for Human Immunodeficiency Virus, which is the virus that causes AIDS. HPV, on the other hand, stands for Human Papilloma Virus, a virus which has been linked to cervical cancer and other conditions. Unlike HIV, there is a vaccine for HPV which many doctors recommend be given to patients as young as thirteen given the fact that HPV can be spread via sexual contact and that there can be a long time between infection with the virus and the occurrence of cervical cancer or other diseases. The only real similarity between HIV and HPV is that both can be spread via sexual contact. The fact that a President of the United States is apparently unaware of this is, to say the very least, alarming.
As for the part of his discussion with Gates about vaccination generally, it's worth noting that Trump has a long history of repeating demonstrably false claims made by the anti-vaccination movement and has continued to support those claims as President:
Among the conspiracy theories in regular rotation by President Trump is his insistence there is a connection between autism and vaccines.

He's made this discredited link — a theory based and popularized on a now-debunked and retracted study by Andrew Wakefield — via speeches, tweets, even the Republican debate stage.

On Tuesday, in a conversation with educators and Secretary of Education Betsy DeVos, Trump reiterated these concerns. "So what's going on with autism?" he asked a teacher in the audience. "When you look at the tremendous increase, it's really — it's such an incredible — it's really a horrible thing to watch, the tremendous amount of increase."

"Maybe we can do something," he added.

It's not surprising that Trump continues to suggest that vaccinations can cause autism — he's been saying as much for years. But as president, Trump's position carries outsized weight, and has the power to significantly impact autism research and treatment, as well the number of preventable outbreaks of viral-borne diseases such as measles and mumps.

There are indications Trump plans to set up a "vaccine safety commission" headed by Robert F. Kennedy Jr., a vocal proponent of the theory that vaccines cause autism. Kennedy told Politico as much, adding that he has met with Trump's staff and transition team "many times" since the election to discuss the issue, hinting that a formal announcement from the White House is forthcoming.

For its part, the medical community has been consistent and adamant on this point: There is no proven connection between vaccines and autism. While autism diagnoses have risen noticeably over the couple decades — climbing from one in 150 in 2000 to one in 68 today, according to the CDC — experts attribute much of this to better diagnosis techniques and increased awareness.
This is the President you elected America.