Another Example of the Competition Narrative
Focusing just on a given election is missing the big picture.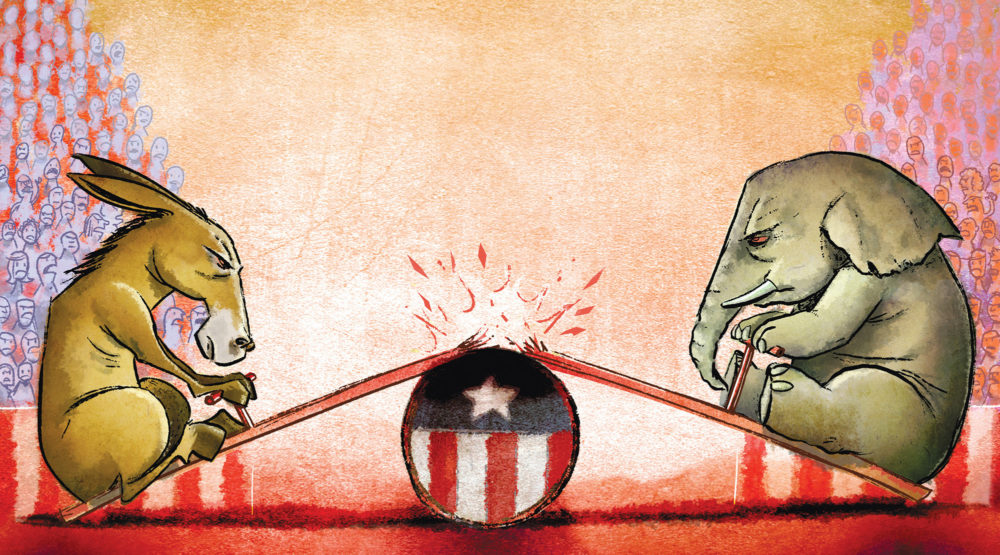 I have noted on multiple occasions (such as here about a week ago) that there is a dominant narrative in American politics that suggests that we have a level playing field, despite all of the challenges to democracy we are facing, and therefore the solution is simple: go out and vote and may the best party win, and all that. This is reinforced by constant talk about messaging as if the main way to win on the aforementioned level playing field is to have the best message.
I need a better name for this phenomenon, but I will call it here the "competition narrative." This narrative can manifest in a variety of ways, but the main defining characteristic is a focus on the notion that the solution is just winning at the ballot box. Now, to be clear, that is the main solution in theory, but practice is more complicated. We find ourselves in an era wherein a lot of politicians and their allies are explicitly denying election results and running for office on the promise that they would be willing to subvert future elections, and so we need more action to safeguard the future beyond hope that rousing rhetorical spurs positive results.
I am not talking about my normal hobby horse of electoral reform or structural change. I am talking about basic actions by Congress to safeguard election outcomes. I am talking about things like the defunct HR1, the defunct John Lewis Voting Rights Act, or other actions along these lines that would make it more difficult for state-level actors to make voting more difficult/negatively impact the electoral process. While the likely reform of the Electoral Count Act is better than nothing if it passes it will literally be the difference between something and nothing in this general realm of elections and democracy reform passed by this Congress.
So while I agree with the sentiment expressed by Biden in his recent speech, the call to action seems to be "go out and vote." Now, I am all for that, but it is a sentiment that assumes things are basically normal. However, when there are at least 6 competitive races for Secretary of State in key states wherein the Republican candidates have made problematic claims about the 2020 election and many of whom are promising to make voting more difficult, it should behoove Congress to look into improving national voting rights instead of just hoping 2022 voters reject election deniers.
I have been thinking this for months, if not almost two years now, but I was struck by an interview yesterday morning on Weekend Edition with White House press secretary Karine Jean-Pierre wherein she basically was giving a call to get Democrats to the polls without saying it that way given her role.
JEAN-PIERRE: Well, you know, I can't get into politics from here from this particular position that I am as a government official. But what we believe is that if he used that moment to call that out – right? – he used that moment – the importance of free and fair elections and how that is very much part of our democracy and telling people, you know, there's a – it's time to stand up. It's time to make sure that folks make their voices heard.
I will start with a bemused pet peeve of mine, which is the idea that something is only "political" if you evoke party labels or explicitly say "vote for X." I mean, come on, she didn't get on the radio early on a Sunday morning for apolitical reasons. Indeed, the position of "White House Press Secretary" is decidedly not an apolitical position. I mean, sure, I understand that she isn't supposed to say "vote for Democrats" but well, that is what she is saying.
But I digress a bit.
I was struck by the fact that while she clearly was stating that American democracy is facing major challenges, the that the White House had not policy proposals on the table to address the issue, but instead simply wants people to make sure their voices are heard.
JEAN-PIERRE: Well, the actual plan to protect it is to make sure that our voices are loud and clear. It was a – the way to see that speech was it was a powerful call to action, a powerful call to make sure that people understand what is at stake, a powerful call to protect our democracy, to protect our freedoms, to protect equality. And who else can have a bigger megaphone, a bigger, powerful place to do that than the president? And as we have seen, it was well-received. Americans watched. They listened. And majority of Americans understand that. So we have to use this moment. We have – and he believes he has to use this moment to make that clear. And I think asking people to use their voice is a powerful action. We think that.
All well and good, and not wrong in a general sense, but given that some of the people whose voices will be heard in November will be on behalf of new governors and secretaries of state who appear willing to subvert democracy, maybe the administration should have a better pro-democracy strategy than simply hoping for certain outcomes in November?
To me, her appearance sounded largely like sunshine happy talk when really it is whistling past the graveyard.
Ultimately, the vibe* I get from the Biden administration, as well as from leadership in Congress is that while there are challenges to democracy, the system will produce needed outcomes at the ballot box because reasons. This seems an inadequate approach, especially given the rhetoric we are hearing in these elections (rhetoric that led Biden himself to deploy the term "semi-fascist").
I realize at this stage of the calendar, even modest pro-democracy reform isn't going to happen, and I will say that I think Biden is correct to point out the threat of MAGAism. But protections are unlikely to be instituted from 2023-2025**, leaving the 2024 process open to manipulation by MAGAist governors and secretaries of state.
At the root of it all, and really my main point is that we as a country continue to want to talk like everything is largely normal and that we have competitive elections wherein the truth will win out if it is spoken widely and forthrightly. This, however, ignores the structural elements that I constantly write about and undercuts, substantially, competitiveness in our elections. But it also ignores what some politicians are promising on the campaign trail and it may be too late to fix what how those promises are likely to manifest.
---
*I recognize the decidedly unscientific nature of this assessment.
**The probability remains the House will go Republican and while the Senate is looking Democratic, even if the Ds retain control, it is going to be by a slim margin–and the current slim margin was unwilling to set aside the filibuster for democratic reforms of even the modest variety. It seems unlikely that a new slim majority would behave much differently, especially since Manchin and Sinema will remain the key votes in such a hypothetical.