Another Judge Rejects 14th Amendment Solution
It's going to be up to the American people to keep Trump out of the White House.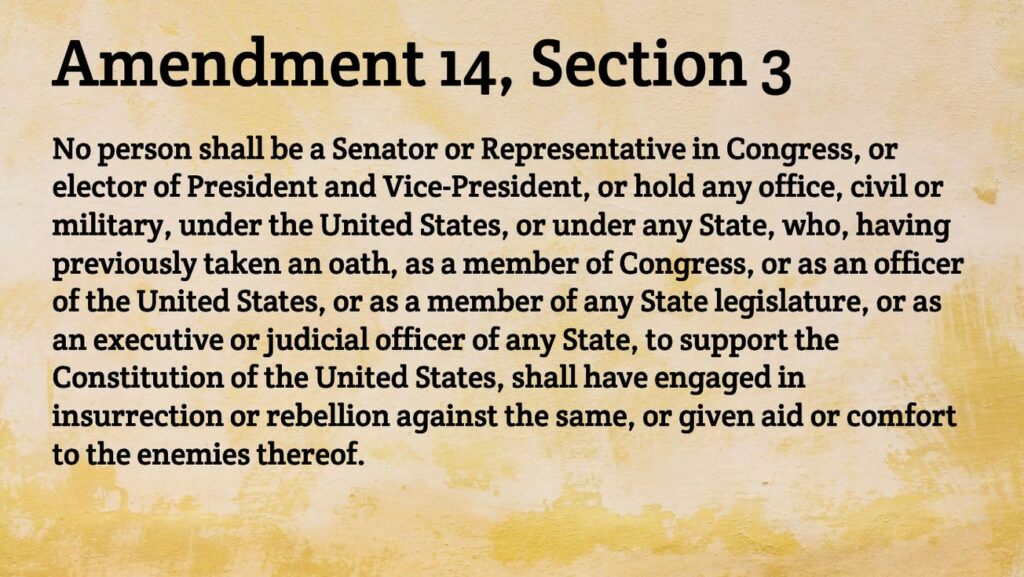 CNN ("Trump to remain on Michigan ballot after judge rejects another 14th Amendment challenge"):
A Michigan judge on Tuesday dismissed a lawsuit that tried to use the 14th Amendment's "insurrectionist ban" to remove Donald Trump from the state's 2024 ballot.

The judge separately ruled that Michigan's secretary of state doesn't have the power under state law to determine the former president's eligibility for office based on the 14th Amendment, which says anyone who took an oath to uphold the US Constitution is banned from office if they "engaged in insurrection."

The rulings mark a major victory for Trump, who recent polls show has a commanding lead in the 2024 Republican presidential primary race, as he fends off lawsuits in key states that argue he fueled the January 6, 2021, attack on the US Capitol and is therefore disqualified.

Last week, the Minnesota Supreme Court rejected a related constitutional challenge against Trump in that state. A similar anti-Trump challenge is pending in Colorado, where a ruling is expected by the end of this week. Regardless of the initial rulings in these closely watched cases, most experts anticipate appeals that go all the way to the US Supreme Court, which could settle the issue for the entire nation.

Indeed, the liberal advocacy group involved in the Michigan case said Tuesday that it was filing an "immediate appeal" and would also ask the state Supreme Court to step in and hear the case.

The 14th Amendment, ratified after the Civil War, says US officials who take an oath to uphold the Constitution are banned from future office if they "engaged in insurrection." But the Constitution doesn't say how to enforce the ban, and it has only been applied twice since 1919, which is why many experts view these challenges as a long shot.

These lawsuits have been filed by left-leaning advocacy groups, but a bipartisan array of legal scholars and former jurists have endorsed their attempts to disqualify Trump from office. Some of the cases have been filed by well-funded advocacy groups, and others were brought by little-known candidates or concerned citizens – but none of them have succeed yet in removing Trump from any ballot.
This outcome and reasoning has struck me as obvious from the moment the "14th Amendment solution" was first raised. While I think Trump rather clearly engaged in fomenting an insurrection—and has even been indicted on related Federal criminal charges—he has yet to be convicted. It would be absurd, indeed, it a state election official or judge could simply willy-nilly ban him from the ballot.
I also agree with this:
Michigan Court of Claims Judge James Redford said in his decision Tuesday that questions about Trump's role in the January 6, 2021, insurrection – and whether it constitutionally bars him from returning to the White House – should be addressed by elected representatives in Congress.

He ruled that the matter was a "political question" that shouldn't be decided by the judicial branch. The judge also said he didn't have the authority under state law to force election officials to examine Trump's eligibility based on the 14th Amendment.

A court disqualifying Trump would've taken that decision away from "a body made up of elected representatives of the people of every state in the nation, and gives it to but one single judicial officer, a person who no matter how well intentioned, evenhanded, fair and learned, cannot in any manner or form possibly embody the represented qualities of every citizen of the nation," Redford wrote.
It seems reasonable to me that, pursuant to the findings of the January 6 Committee, Congress could declare Trump ineligible under the 14th Amendment. But that would require bipartisan consensus, which rather obviously does not exist.
UPDATE: Regular commenter @Sleeping Dog reminds me in the comments that the House impeached Trump for his part in the Capitol Riots but the Senate failed to convict. Not that I'd forgotten this, of course, but had Congress done its part through the impeachment route the 14th would be irrelevant: they could simply have disqualified him.
UPDATE II: Some of the discussion below reminds me that I should highlight longer treatments of this issue from previous posts. (Those reading on a laptop or similar device will see them in the Related Posts sidebar but this doesn't show on mobile devices and the like.)