Why Did Clinton Lose The Election? Perhaps The Blame Lies With Her Own Campaign
Hillary Clinton's national campaign wasn't nearly as well-organized as we'd been led to believe.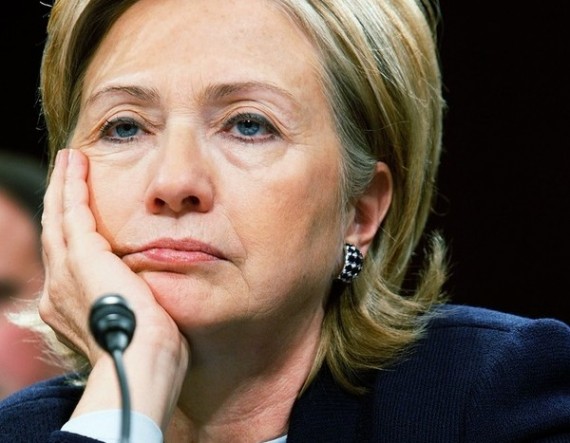 Edward-Isaac Dovere has an interesting look at the Hillary Clinton campaign in Michigan, a story which arguably demonstrates one of the primary reasons how it is that Clinton ended up losing the industrial Midwest and, with it, the election:
Everybody could see Hillary Clinton was cooked in Iowa. So when, a week-and-a-half out, the Service Employees International Union started hearing anxiety out of Michigan, union officials decided to reroute their volunteers, giving a desperate team on the ground around Detroit some hope.

They started prepping meals and organizing hotel rooms.

SEIU — which had wanted to go to Michigan from the beginning, but been ordered not to — dialed Clinton's top campaign aides to tell them about the new plan. According to several people familiar with the call, Brooklyn was furious.

Turn that bus around, the Clinton team ordered SEIU. Those volunteers needed to stay in Iowa to fool Donald Trump into competing there, not drive to Michigan, where the Democrat's models projected a 5-point win through the morning of Election Day.

Michigan organizers were shocked. It was the latest case of Brooklyn ignoring on-the-ground intel and pleas for help in a race that they felt slipping away at the end.

"They believed they were more experienced, which they were. They believed they were smarter, which they weren't," said Donnie Fowler, who was consulting for the Democratic National Committee during the final months of the campaign. "They believed they had better information, which they didn't."

Flip Michigan and leave the rest of the map, and Trump is still president-elect. But to people who worked in that state and others, how Clinton won the popular vote by 2.8 million votes and lost by 100,000 in states that could have made her president has everything to do with what happened in Michigan. Trump won the state despite getting 30,000 fewer votes than George W. Bush did when he lost it in 2004.

Politico spoke to a dozen officials working on or with Clinton's Michigan campaign, and more than a dozen scattered among other battleground states, her Brooklyn headquarters and in Washington who describe an ongoing fight about campaign tactics, an inability to get top leadership to change course.

Then again, according to senior people in Brooklyn, Clinton campaign manager Robby Mook never heard any of those complaints directly from anyone on his state teams before Election Day.

In results that narrow, Clinton's loss could be attributed to any number of factors — FBI Director Jim Comey's letter shifting late deciders, the lack of a compelling economic message, the apparent Russian hacking. But heartbroken and frustrated in-state battleground operatives worry that a lesson being missed is a simple one: Get the basics of campaigning right.

Clinton never even stopped by a United Auto Workers union hall in Michigan, though a person involved with the campaign noted bitterly that the UAW flaked on GOTV commitments in the final days, and that AFSCME never even made any, despite months of appeals.

The anecdotes are different but the narrative is the same across battlegrounds, where Democratic operatives lament a one-size-fits-all approach drawn entirely from pre-selected data — operatives spit out "the model, the model," as they complain about it — guiding Mook's decisions on field, television, everything else. That's the same data operation, of course, that predicted Clinton would win the Iowa caucuses by 6 percentage points (she scraped by with two-tenths of a point), and that predicted she'd beat Bernie Sanders in Michigan (he won by 1.5 points).

"I've never seen a campaign like this," said Virgie Rollins, a Democratic National Committee member and longtime political hand in Michigan who described months of failed attempts to get attention to the collapse she was watching unfold in slow-motion among women and African-American millennials.

(…)

Michigan operatives relay stories like one about an older woman in Flint who showed up at a Clinton campaign office, asking for a lawn sign and offering to canvass, being told these were not "scientifically" significant ways of increasing the vote, and leaving, never to return. A crew of building trade workers showed up at another office looking to canvass, but, confused after being told there was no literature to hand out like in most campaigns, also left and never looked back.

"There's this illusion that the Clinton campaign had a ground game. The deal is that the Clinton campaign could have had a ground game," said a former Obama operative in Michigan. "They had people in the states who were willing to do stuff. But they didn't provide people anything to do until GOTV."

The only metric that people involved in the operations say they ever heard headquarters interested in was how many volunteer shifts had been signed up — though the volunteers were never given the now-standard handheld devices to input the responses they got in the field, and Brooklyn mandated that they not worry about data entry. Operatives watched packets of real-time voter information piled up in bins at the coordinated campaign headquarters. The sheets were updated only when they got ripped, or soaked with coffee. Existing packets with notes from the volunteers, including highlighting how much Trump inclination there was among some of the white male union members the Clinton campaign was sure would be with her, were tossed in the garbage.

The Brooklyn command believed that television and limited direct mail and digital efforts were the only way to win over voters, people familiar with the thinking at headquarters said. Guided by polls that showed the Midwestern states safer, the campaign spent, according to one internal estimate, about 3 percent as much in Michigan and Wisconsin as it spent in Florida, Ohio and North Carolina. Most voters in Michigan didn't see a television ad until the final week.

Most importantly, multiple operatives said, the Clinton campaign dismissed what's known as in-person "persuasion" — no one was knocking on doors trying to drum up support for the Democratic nominee, which also meant no one was hearing directly from voters aside from voters they'd already assumed were likely Clinton voters, no one tracking how feelings about the race and the candidates were evolving. This left no information to check the polling models against — which might have, for example, showed the campaign that some of the white male union members they had expected to be likely Clinton voters actually veering toward Trump — and no early warning system that the race was turning against them in ways that their daily tracking polls weren't picking up.

People involved in the Michigan campaign still can't understand why Brooklyn stayed so sure of the numbers in a state that it also had projected Clinton would win in the primary.

"Especially given what happened in the primary," said Michigan Democratic Party chairman Brandon Dillon. "We knew that there was going to have to be more attention."

With Clinton's team ignoring or rejecting requests, Democratic operatives in Michigan and other battleground states might have turned to the DNC. But they couldn't; they weren't allowed to ask for help.

(…)

On the morning of Election Day, internal Clinton campaign numbers had her winning Michigan by 5 points. By 1 p.m., an aide on the ground called headquarters; the voter turnout tracking system they'd built themselves in defiance of orders — Brooklyn had told operatives in the state they didn't care about those numbers, and specifically told them not to use any resources to get them — showed urban precincts down 25 percent. Maybe they should get worried, the Michigan operatives said.

Nope, they were told. She was going to win by 5. All Brooklyn's data said so.

In at least one of the war rooms in New York, they'd already started celebratory drinking by the afternoon, according to a person there. Elsewhere, calls quietly went out that day to tell key people to get ready to be asked about joining transition teams.

But an hour-and-a-half after polls closed, Clinton aides began making rushed calls, redrawing paths to 270 through the single electoral vote in Maine and Nebraska. Still assuming wins in Wisconsin and Pennsylvania, Michigan suddenly looked like the state that was going to decide the presidency.
And the rest, of course, is history.
If you're going to do a post-mortem on Clinton's campaign and how a campaign that just days before Election Day seemed like a sure winner ended up losing in the Electoral College notwithstanding the fact that they would end up with the majority of the meaningless popular vote, there are few better places to start than Michigan. Along with its sister states in the industrial Midwest, this is a state that Democrats had won consistently and strongly ever since the Election of 1992 even while Republicans managed to win at the state level and much of the union base that formed the core of Democratic support faded away along with the businesses they had once worked in. Indeed, if you take just three states in this region — Michigan, Wisconsin, and Pennsylvania — you find that Clinton only lost by a combined 77,744 votes, or just 0.60% (rounded) of the combined votes cast in all three states. That difference was enough, though, to give these states, and their forty-six Electoral Votes, to Trump and that was enough for him to win the election. Had the results in just these states been different even by a small margin, then those votes would have gone to Clinton and we'd be talking about the Clinton transition team and her incoming Administration, and Donald Trump would have been relegated back to being just another guy with a Twitter account. Given all of that, exploring what went wrong in these traditionally Democratic states could be a good guide to figuring out how it is that Hillary Clinton lost an election that seemed perfectly aligned for her to win and make history as the first female President of the United States.
Reading through the Politico article in full, which I highly recommend to anyone interested in the issue of how on-the-ground campaigning can impact election outcomes, one sees the story of a national campaign that wasn't nearly as organized as it appeared to be from the outside. The candidate failing to show up for an important United Auto Workers event in the state, for example, seems like a dumb mistake in light of the fact that both the UAW and AFSCME, traditionally supporters of Democratic candidates, were also not enlisted in get out of the vote efforts. Turning down help from SEIU and other allies who were actually on the ground and could see signs of trouble in the state that weren't evident in the polling, for example, seems incredibly foolish on the part of the national campaign, but it pales in comparison to the reports of piles of campaign literature for get out the vote efforts that was never handed out and disorganization at local campaign offices to such an extent that lists of potential supporters to target in those efforts. If there was one area where it seemed all along as though Clinton's campaign was far superior to Trump's, it was in the get out the vote (GOTV) effort and the ability to get people to the polls. Supposedly, this effort had its roots in the GOTV campaigns that Barack Obama's campaign used in 2008 and 2012, which proved to be far superior to the efforts of John McCain and Mitt Romney in both of those elections. Additionally, the reporting seems to indicate that the Clinton campaign actually believed that the fact that Donald Trump was visiting states like Michigan more frequently than Clinton was during the course of the campaign was somehow working to their advantage, a calculation that seems puzzling even if you ignore the fact that Trump ended up winning the state. By October, it should have been clear to everyone that the election was going to end up being far closer than anyone believed when it started and, in such an environment, making sure you hold on to your base states would seem to be a wise strategy. Instead, though, the national campaign office in Brooklyn decided that Michigan was nothing to worry about and seemed to spend more time late in the campaign trying to pull off a win in traditionally red states such as Georgia, Arizona, and North Carolina.  Most importantly, if these mistakes were being made in Michigan then it's probable that they were being made in other states as well and that Clinton's narrow losses in three states she clearly should have won is attributable as much to the fact that Clinton lost due to a campaign that didn't do what it took to win.
The outcome of the 2016 Presidential election is one that is likely to be studied and debated for years to come, of course, and it's likely that there will be many hypotheses for what happened and why Clinton lost a perfectly winnable election. To be sure, when the results are narrow enough that a flip of a small number of voters in three states could have changed the outcome, there are likely a number of factors that had a marginal impact on the race that added up to a major impact nationwide. These factors include, but aren't necessarily limited to, the extent to which the fact that President Obama was not on the ballot impacted voter turnout among traditionally Democratic African-American voters and younger voters of all races, the impact of the James Comey letter regarding the possible discovery of additional emails related to Clinton's server in the closing week of the campaign, the overall impact of the negative approval ratings for both candidates, and the impact of even minor changes to state election laws on turnout. In considering what happened, though, one should always start by looking at the campaigns themselves, and in that regard, it does appear that Clinton's campaign was far less organized and professional than it appeared to be from the outside. Whether that's the fault of the candidate, her top advisers such as people such as Huma Abedin, or the top campaign staff, or a combination of all three, is unknown, but with Clinton supporters still nursing their wounds from November 8th and looking for an explanation of what went wrong, it is perhaps time to look in the mirror if they want to find the party(ies) responsible for that.