Anthony Weiner Acknowledges New Sexting Scandal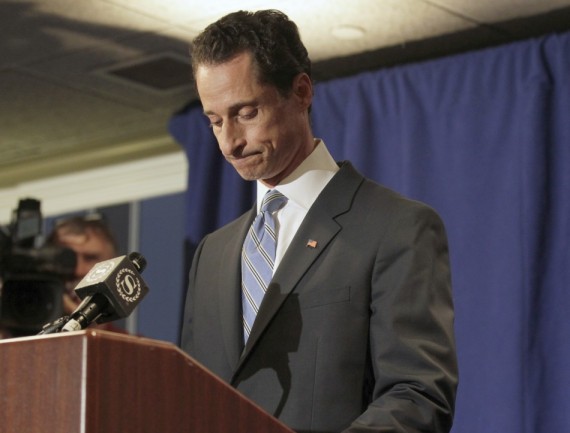 Former Congressman Anthony Weiner, currently running for Mayor of New York City, finds himself in the middle 0f a new sexting scandal that apparently dates to well after his June 2011 departure from Congress:
New York mayoral candidate Anthony Weiner said again Tuesday that sexual Internet conversations are behind him, after a Web site posted screencaptures of what it claimed were explicit Facebook exchanges between the former congressman and a young woman.

Not everything published Tuesday is accurate, Weiner said in a statement, but some of it is. He and his wife, Huma Abedin, "have worked through these issues" and "are focused on moving forward," he added.

The conversations, posted on gossip site The Dirty, allegedly took place after Weiner resigned from Congress, some time last year. They were posted under the alias "Carlos Danger."

"I said that other texts and photos were likely to come out, and today they have," Weiner said. "As I have said in the past, these things that I did were wrong and hurtful to my wife and caused us to go through challenges in our marriage that extended past my resignation from Congress. While some things that have been posted today are true and some are not, there is no question that what I did was wrong. This behavior is behind me. I've apologized to Huma and am grateful that she has worked through these issues with me and for her forgiveness. I want to again say that I am very sorry to anyone who was on the receiving end of these messages and the disruption that this has caused. As my wife and I have said, we are focused on moving forward."

The Dirty editor Nik Richie writes that, according to the woman who sent him the messages, the online relationship took place last year and lasted six months. Weiner resigned from Congress over sexual online exchanges in the summer of 2011.
The exchanges in question, which you can find here (Warning that some of the content is NSFW), is not dated but Weiner does not appear to be denying the allegation that they took place within the last year rather than being part of the exchanges that came to light prior to his 2011 resignation. Whether they'll impact his Mayoral campaign, though, is another question. Despite everything the public already knew about him, Weiner quickly vaulted into the top tier of candidates for the Democratic nomination for Mayor and current polling shows him still remaining there. Whether he will remain there after these new revelations and the inevitable New York tabloid jabs that will come starting tomorrow morning remains to be seen.