Anti-Harris Backlash After Debate Attacks on Biden?
POLITICO reports that some Democratic activists think she went too far.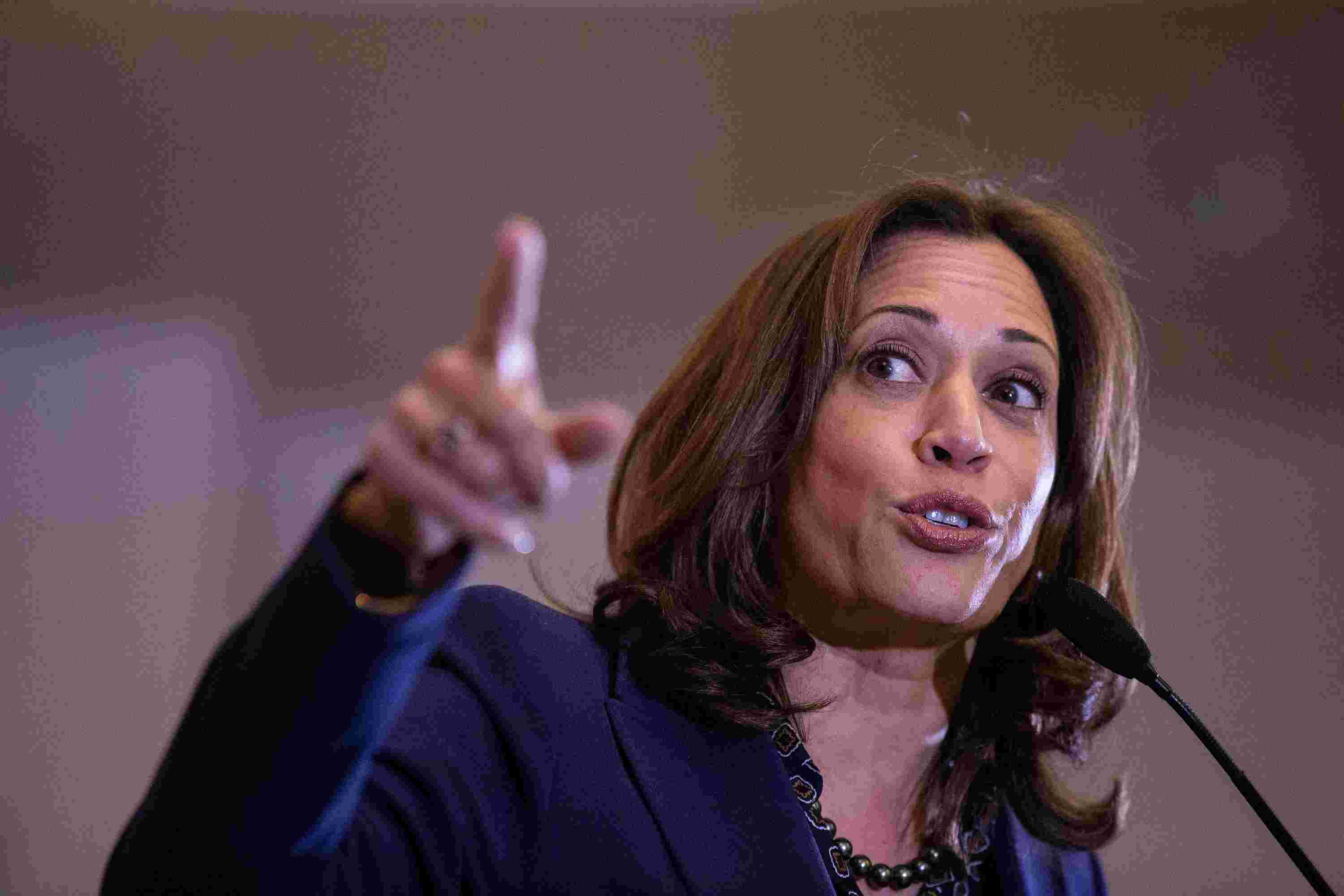 Senator Kamala Harris garnered the lion's share of attention after the second night of Democratic debates by going after the clear front-runner. Some aren't happy with her.
Kamala Harris might be reveling in her sudden burst of attention after roasting Joe Biden over racial issues on the debate stage last week, but a backlash is already brewing.

Biden supporters and Democrats who have attended the former vice president's events in the days after the first nationally televised debate, are describing Harris' assault on Biden as an all-too-calculated overreach after she knocked him on his heels in a grilling over busing and his remarks on segregationist senators.

"She played low ball, which was out of character. And he didn't expect it, nor did I," said Lee White, a Biden supporter who attended his remarks at the Jesse Jackson Rainbow PUSH Coalition. "She should not have gone that route. She's much too intelligent, she's been able to be successful thus far, why do you have to do that."

One major Biden supporter from California who declined to be named for publication said Harris' direct attack on Biden was a mistake that would haunt her.

"It's going to bite her in the ass," the supporter noted. "Very early on there was buzz … Biden-Kamala is the dream ticket, the best of both worlds."

After this week, "That shit ain't happening."

The criticism of Harris over her rough treatment of Biden is among the first signs of backlash — including in her home state — against the California Democrat who had a breakout moment in the first presidential debate. It's also a sign of the goodwill and loyalty that many still feel toward that the vice president, who has managed to keep many of his backers in his camp, even amid criticism of what was roundly viewed as a subpar debate performance. Indeed, sources say Biden walked away with a $1 million haul after two fundraisers in San Francisco alone this weekend.

"We can be proud of her nonetheless, but her ambition got it wrong about Joe," said former Illinois Sen. Carol Moseley Braun, the first African American woman to serve in the Senate who has endorsed Biden in the 2020 primary. "He is about the best there is; for her to take that tack is sad."

Harris stunned Biden in the debate, knocking him back on his heels by noting his past "hurtful" efforts to work with segregationists and what she defined as his opposition to school busing. Harris' emotional recounting of her own experience in the Berkeley school district as a child who was bused to more segregated schools — "that girl was me," she said — became a defining debate moment, and bruised Biden's status as the Democratic front-runner.

But one of Biden's supporters called the attack by Harris "too cute by half" after her campaign tweeted out — and quickly began merchandising — a photo of Harris as a young girl. "Couldn't they at least pretend that it was semi-organic?" the Biden supporter asked, referring to the planned nature of Harris' debate night ambush.

Some Biden loyalists said they thought it was misleading of Harris to attack Biden on civil rights, given what they said was his lifelong advocacy on that front.

White, who is African American, said of the underlying segregationist issues Harris attacked: "I thought it was old news."

Sam Johnson, a Columbia, S.C.-based public affairs consultant who represents many minority clients, accused Harris of "desperately overreaching."

"I don't think a lot of folks are saying, 'well, there's a lot of credibility of her going after Biden,'" said Johnson, who has not backed a 2020 candidate. "I don't think it was received by the majority of folks as an attack that is going to move the needle. Most folks aren't looking at that as something where, hey, 'Biden was against civil rights carte blanche.'"

"It was planned, and it was staged and it was rehearsed — and they were ready to raise money on it," another Bay Area Biden supporter said of Harris' roundhouse punch.

—-POLITICO, "'Her ambition got it wrong about Joe': Harris faces debate backlash"
This is a rather silly story. It's beyond anecdotal. We have three people (Carol Moseley Braun and two random folks who attended an event), all of whom are Biden supporters, who think Harris' attack on Biden was too mean.
As a person who likes Biden but think he's too old to be President and has no strong opinion on Harris, I found the exchange to be juvenile grandstanding of the sort trailing candidates routinely use against frontrunners in order to gain traction. It's the essence of what passes for "debate" in American primaries.
Was Harris really "hurt" that Biden said that he pined for the days when rabid segregationists in Congress were at least civil with junior Senators? Of course not. But it was based on an error on Biden's part that points to both his tendency for own-goals and how goddamned old he is. And it allowed Harris to gain some traction with African-American voters who are heavily favoring Biden because of his association with Barack Obama. Politics ain't beanbag and this was well within the pale.
And, while I'm no Lee White as a political prognosticator, it strikes me that Biden is a seasoned pro. If he gets the nomination, this would be no means rule out his running with Harris if he thinks she gives him the best shot at beating President Trump in November. Running mates have certainly said worse things about the winner and still wound up on the ticket.