Apple Launching Controversial News and Video Service
Is 50 percent too high a take? Or the best deal in town?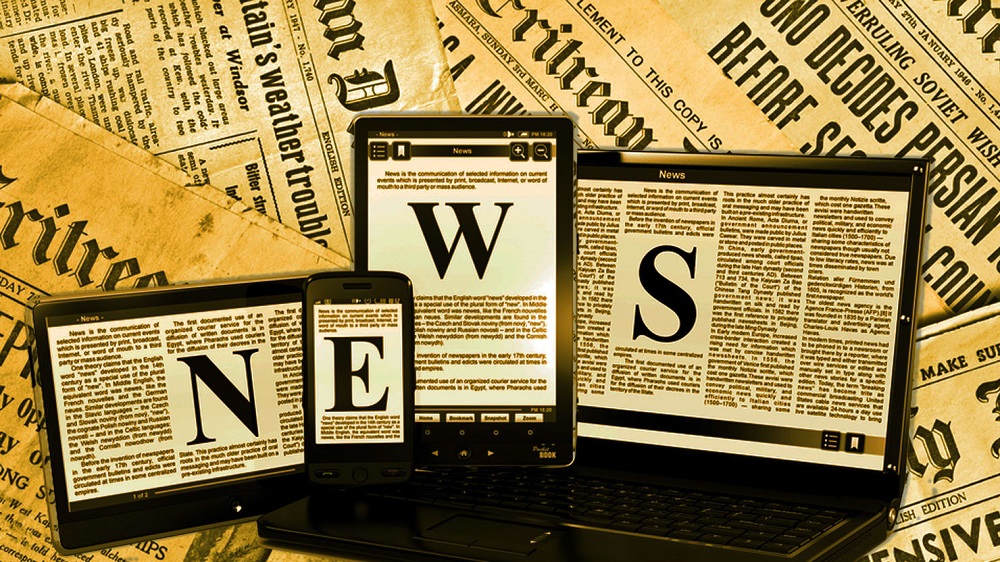 The company behind the iPhone is rolling out a new media service next month.
Bloomberg ("Apple Invites Hollywood Stars to Video Service Launch"):
Apple Inc. is planning to unveil video and news subscription offerings next month, the first major new digital services from the company since 2015.

[…]

The video service is similar to Amazon.com Inc.'s Prime Video and Netflix Inc. products, and will include TV shows and movies either acquired or funded by Apple. The company has created dozens of original programs so far, but hasn't wrapped them in a subscription yet. The paid service will launch by the summer, the people said. They asked not to be identified discussing private plans.

The company's premium news service will be integrated into the Apple News app, letting consumers subscribe to a bundle of titles for a monthly fee. Some publishing executives are wary of taking part, Bloomberg News reported in December.

[…]

With iPhone sales slowing, Apple is turning to digital services to keep revenue growing. Apple Music is already a hit with more than 50 million subscribers. Wall Street is speculating that the company will eventually roll many of these offerings into one bundled monthly subscription, similar to Amazon's successful Prime program.

Apple has been working on its streaming video service for a number of years under the guidance of former Sony Pictures executives Zack Van Amburg and Jamie Erlicht. Bloomberg News reported last year that Apple would begin rolling out the shows in 2019.

The content is likely to be integrated into Apple's TV app on iPhones, iPads, and Apple TVs, which launched in 2016. Along with an Apple subscription, there will be some free content. Users will also be able to pay to access shows from other providers, such as Starz, as is possible with Amazon's video service. Today, Apple offers a handful of free shows, such as "Carpool Karaoke" and "Planet of the Apps."

The magazine subscription service, which has been in testing with Apple employees for months, will launch as part of an iOS 12.2 update scheduled for release this spring. The updated Apple News app will include a Magazines tab similar to the app Texture, which Apple acquired last year.
Some are unhappy about the terms of the arrangement.
recode ("The logic behind Apple's give-us-half-your-revenue pitch to news publishers"):
Apple says it wants to help save journalism.

All it wants in return is half of all the revenue journalists make when they sell their stuff through a forthcoming new Apple subscription service.

Cue internet outrage.

The argument, made by everyone from my colleague Casey Newton to Apple blogger John Gruber: 50 percent is way, way too high — "insane," in Gruber's words — given that Apple normally takes 15 percent to 30 percent of the revenue it generates when someone buys something from its App Store. Insult to injury: Apple's new arch-enemy Facebook takes zero percent when it helps someone subscribe to a publication.

So what is Apple thinking now?

Here's the short answer, which I've cobbled together by talking to industry sources: Apple has already signed many publishers to deals where they'll get 50 percent of the revenue Apple generates through subscriptions to its news service, which is currently called Texture and will be relaunched as a premium version of Apple News this spring.

And some publishers are happy to do it, because they think Apple will sign up many millions of people to the new service. And they'd rather have a smaller percentage of a bigger number than a bigger chunk of a smaller number.

In the words of a publishing executive who is optimistic about Apple's plans: "It's the absolute dollars paid out that matters, not the percentage."

That argument seems unlikely to persuade the big newspapers, including the New York Times and the Washington Post, that Apple is trying to add to its service. Both of them have built their own digital subscription businesses over the past few years, and they may feel that they're better owning 100 percent of a product they control than a piece of a collective run by a giant tech company.
What's happening in the world of text-based journalism has been almost the exact opposite of what's happened in the world of video entertainment. In the case of the latter, the decades-old model of cable and satellite companies selling bundled packages has been collapsing as people "cut the cord" in favor of à la carte packages. In the case of the former, the model for generations was that people subscribed to their local newspaper, perhaps a national newspaper, plus a variety of magazines that suited their tastes and interests. But the Internet broke that model: people came to expect to be able to read any newspaper and magazine in the world on their computers, and eventually their mobile devices, for free. A handful of prestige or niche outlets were able to break free, putting their content behind paywalls forcing reluctant consumers to pay up. Everyone else either walled off their content and got no takers for subscriptions or put their content out in the wild hoping in vain to generate revenue from advertising or the kindness of strangers. Bundling is the obvious solution.
Something like the Apple News model has long been the dream of both publishers and consumers alike. I pay for the New York Times, Washington Post, ESPN Plus, and a handful of magazines and niche national security websites. But I can't justify paying the cost of subscribing to the Wall Street Journal, the Los Angeles Times, or the Times of London to access the few stories a month I'd want to read in those outlets. I'd be happy, though, to pay a reasonable flat fee and support the work of those outlets and the dozens of others I happen to access.
Just this morning, for example, I read an article in something called the Nikkei Asian Review, having followed a link from the same aggregator (Techmeme) where I found the two Apple stories excerpted for this post. I'd literally never heard of the outlet before. Yet, on my very first visit, I was greeted with a pop-up telling me that I'd read one of my two free articles for the month and urging me to subscribe! While I truly get their desire to generate revenue to pay their journalists for their work, I'm obviously not a candidate for subscribing. But I'd be happy to pay, say, $20 a month for an all-you-can-read plan that helps support the likes of NAR as well as the better-known outlets that I read routinely but not as much as I do NYT or WaPo.
As the whether 50 percent is too high a cut, I haven't the foggiest. My instinct tells me that it's too much in the case of WSJ or LAT and too little in the case of NAR and that rates will, therefore, have to be negotiated on a case-by-case basis.