Apple Strikes A Blow For Privacy
A recent change by Apple is good news for advocates of privacy and civil liberties in the Internet Age.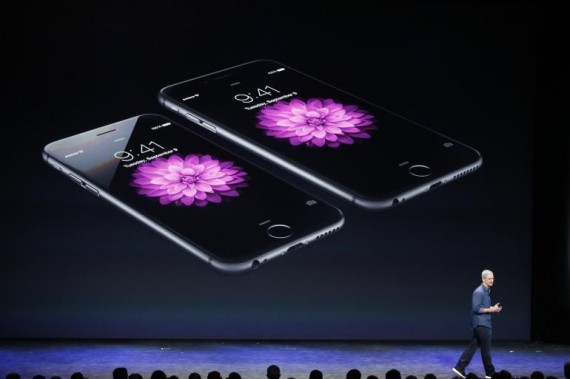 Apple is announcing a new change in its privacy policy, as well as changes to the operating system for iPhones and iPads that will make it impossible for government agencies to force the company to unlock user's phones and tablets, even with a search warrant:
Apple said Wednesday night that it is making it impossible for the company to turn over data from most iPhones or iPads to police — even when they have a search warrant — taking a hard new line as tech companies attempt to blunt allegations that they have too readily participated in government efforts to collect user information.

The move, announced with the publication of a new privacy policy tied to the release of Apple's latest mobile operating system, iOS 8, amounts to an engineering solution to a legal quandary: Rather than comply with binding court orders, Apple has reworked its latest encryption in a way that prevents the company — or anyone but the device's owner — from gaining access to the vast troves of user data typically stored on smartphones or tablet computers.

The key is the encryption that Apple mobile devices automatically put in place when a user selects a passcode, making it difficult for anyone who lacks that passcode to access the information within, including photos, e-mails and recordings. Apple once maintained the ability to unlock some content on devices for legally binding police requests but will no longer do so for iOS 8, it said in the new privacy policy.

"Unlike our competitors, Apple cannot bypass your passcode and therefore cannot access this data," Apple said on its Web site. "So it's not technically feasible for us to respond to government warrants for the extraction of this data from devices in their possession running iOS 8."

As the new operating system becomes widely deployed over the next several weeks, the number of iPhones and iPads that Apple is capable of breaking into for police will steadily dwindle to the point where only devices several years old — and incapable of running iOS 8 — can be unlocked by Apple.
As the article goes on to note, this move does not affect Apple's legal duty to turn over user data that is stored on third party services that it has control over such as iCloud, but that is merely a recognition of long-standing Fourth Amendment law that says that material that an individual does not have a Fourth Amendment expectation of privacy in information and material stored with a third party. While there have been some indications that the Federal Courts may be revising that ruling as it applies to technology, such as a December ruling on the N.S.A's metadata collection program and the Supreme Court ruling on police searches of smartphones, that principle has been a part of Fourth Amendment law for decades.  This means that anything storied in "the cloud" is capable of being acquired by law enforcement without the knowledge of the person who "owns" the data, and in some cases even without a search warrant.  Nothing that Apple announced Wednesday changes their legal responsibility in this situation, so anything you store in the cloud is capable of being obtained by the state and there's really not much that you can do about.
The new privacy policy, along with the engineering changes that were apparently made to iOS 8, however, are significant because it will mean that the police will no longer be able to force Apple to assist them in unlocking a locked iPhone or iPad in order to access the data that might be on the device. Now, even if it is served with a subpoena, Apple can report to law enforcement that there's nothing that it can do because it is technologically impossible for it do what the search warrant is requesting. Obviously, how you feel about that depends on where you stand in the civil liberties v. law enforcement debate:
Although the company's security took a publicity hit with the leak of intimate photos of celebrities from their Apple accounts in recent weeks, the move to block police access to the latest iPhones and iPads will thrill privacy activists and frustrate law enforcement officials, who have come to rely on the extensive evidence often found on personal electronic devices.

"This is a great move," said Christopher Soghoian, principal technologist for the American Civil Liberties Union. "Particularly after the Snowden disclosures, Apple seems to understand that consumers want companies to put their privacy first. However, I suspect there are going to be a lot of unhappy law enforcement officials."

Ronald T. Hosko, the former head of the FBI's criminal investigative division, called the move by Apple "problematic," saying it will contribute to the steady decrease of law enforcement's ability to collect key evidence — to solve crimes and prevent them. The agency long has publicly worried about the "going dark" problem, in which the rising use of encryption across a range of services has undermined government's ability to conduct surveillance, even when it is legally authorized.

"Our ability to act on data that does exist . . . is critical to our success," Hosko said. He suggested that it would take a major event, such as a terrorist attack, to cause the pendulum to swing back toward giving authorities access to a broad range of digital information.
This doesn't mean that a locked phone is beyond law enforcement's reach, of course. Wired's Andy Greenberg notes that it would still be possible for law enforcement to attempt to unlock the phone itself by cracking the passcode, and that would not violate Fourth Amendment as long as they obtained custody of the phone legally. Additionally, police and prosecutors faced with this dilemma will no doubt attempt to obtain court orders forcing users to unlock their phones.  As I've noted in the past, however, that is an area of law that is still quite undeveloped. Some courts have ruled that requesting a passcode to an electronic device is akin to being required to unlock a locked storage box, which is something that Courts have held that can be required under the Fourth Amendment provided that there is a proper warrant for the contents of the box, and therefore that a Defendant must comply with such a request. Others have held that it is similar to being asked to provide the combination to a safe, which Courts have held would be covered by the Fifth Amendment right against self-incrimination, and thus that a suspect cannot be compelled to unlock an electronic device secured by a passcode. To date, that issue has not made it to the Supreme Court, so this is an area of the law that remains uncertain. With this move by Apple, which is likely to be followed by other smartphone manufacturers if, as suspected, it proves to be a marketing success, those types of cases are likely to become more prevalent.
Law enforcement will complain that this move by Apple makes it more difficult to do their job, but it strikes me that this argument has little merit. In some sense, all of the civil liberties protections that the Fourth And Fifth Amendments protect make it more difficult for law enforcement to do their job. After all, it would be a lot easier to investigate crimes if you could search people's homes without warrants, confiscate their property without probable cause, coerce confessions out of them without the presence of counsel, and force them to testify against themselves in Court. That, however, is the entire point of these protections. On some level, we have made the decision that it is worth hamstringing law enforcement to some degree in order to protect the liberties of the people, even if that means that, sometimes, a "guilty" person go free. In the end, that is a small price to pay for the freedoms that are protected. In this case, while Apple's actions aren't a Constitutional Law matter per se they are likely to go a long way toward resetting the balance between privacy and surveillance in the age of technology, and that's a good thing.
Good job, Apple. Now, the ball is in your court, Google.