April Jobs Report Brings Very Good News
Good news.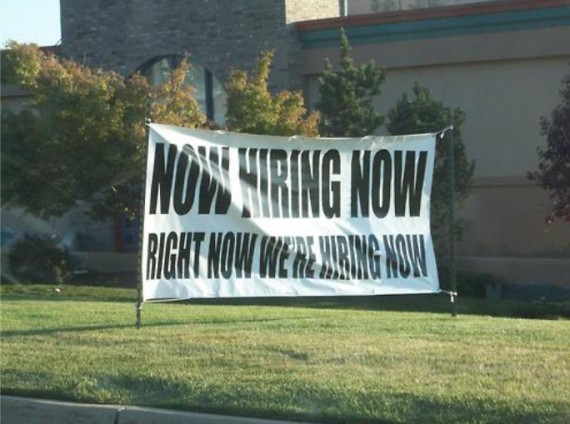 Heading into today's release of the April Jobs Report, the consensus forecast called for roughly 200,000 new jobs created and, perhaps a small drop in the unemployment rate. While the First Quarter GDP number released earlier this week was disappointing to say the least, other economic indicators released over the past several weeks seemed to indicate that the economy had started to revive itself after an unusually cold, stormy, winter. The biggest such number was released yesterday and showed that consumer spending had jumped a much higher than expected .9%% in March, perhaps indicating that the economy was waking up from a winter slumber. Those optimistic assumptions are likely to be reinforced by the release of the Jobs Report today, which showed that 288,000 jobs were created in the month of April:
Total nonfarm payroll employment rose by 288,000, and the unemployment rate fell by 0.4 percentage point to 6.3 percent in April, the U.S. Bureau of Labor Statistics reported today. Employment gains were widespread, led by job growth in professional and business services, retail trade, food services and drinking places, and construction.

In April, the unemployment rate fell from 6.7 percent to 6.3 percent, and the  number of unemployed persons, at 9.8 million, decreased by 733,000.  Both measures had shown little movement over the prior 4 months. Over the year, the unemployment rate and the number of unemployed persons declined by 1.2  percentage points and 1.9 million, respectively. (See table A-1.)

(…)

The number of long-term unemployed (those jobless for 27 weeks or more) declined by 287,000 in April to 3.5 million; these individuals accounted for  35.3 percent of the unemployed. Over the past 12 months, the number of long-term  unemployed has decreased by 908,000. (See table A-12.)

The civilian labor force dropped by 806,000 in April, following an increase of 503,000 in March. The labor force participation rate fell by 0.4 percentage point to 62.8 percent in April. The participation rate has shown no clear trend in recent months and currently is the same as it was this past October. The employment-population ratio showed no change over the month (58.9 percent) and has changed little over the year. (See table A-1.)

(…)
Total nonfarm payroll employment increased by 288,000 in April. Job growth had averaged 190,000 per month over the prior 12 months. In April, employment  growth was widespread, led by gains in professional and business services, retail trade, food services and drinking places, and construction. (See
table B-1.)

Professional and business services added 75,000 jobs in April. Employment in this industry had increased by an average of 55,000 per month over the prior
12 months. In April, employment growth continued in temporary help services (+24,000), in management of companies and enterprises (+12,000), and in
computer systems design and related services (+9,000).

Retail trade employment rose by 35,000 in April. Over the past 12 months, employment in this industry has grown by 327,000. Within retail trade, job
growth over the month occurred in food and beverage stores (+9,000), general merchandise stores (+8,000), motor vehicle and parts dealers (+6,000), and
nonstore retailers (+4,000). Electronics and appliance stores lost 11,000 jobs in April. Wholesale trade added 16,000 jobs over the month and has added
126,000 jobs over the year.

In April, employment rose in food services and drinking places (+33,000), about in line with its prior 12-month average gain of 28,000 per month.

In April, employment in construction grew by 32,000, with job growth in heavy and civil engineering construction (+11,000) and residential building (+7,000). Construction has added 189,000 jobs over the past year, with almost three-fourths of the gain occurring in the past 6 months.

Health care employment increased by 19,000 in April, about in line with the prior 12-month average gain of 17,000 per month. Employment in other services,
which includes membership associations and personal and laundry services, rose by 15,000 over the month.

Mining added 10,000 jobs in April, with most of the gain in support activities for mining (+7,000).

Employment in other major industries, including manufacturing, transportation and warehousing, information, financial activities, and government, changed
little over the month.
In what it likely to be a common, and perhaps correct, interpretation, CNBC attributes the strong numbers to the economy waking up from winter:
Job creation accelerated in April as the U.S. economy shook off its winter doldrums to add 288,000 new positions, while the unemployment rate plummeted to 6.3 percent.

Economists had been anticipating 210,000 new jobs and a 6.6 percent rate.

(…)

The report comes amid economic growth of 0.1 percent in the first quarter that consensus expects to reverse higher for the rest of 2014. Friday's number added to those hopes.

"Weather, sequestration, a significant buildup of inventory and other factors have helped bottle up some (economic) strength," Bart van Ark, chief economist at The Conference Board, said in a statement. "Now, it would appear, the absence of these factors is finally allowing the economy's underlying strength to come to the surface. The result is not just a relatively strong gain in jobs in April but probably more of the same in May and June and perhaps right through the summer."

Employment surged across sectors, with professional and business sectors adding 75,000 and retail gaining 35,000. Food and drinking establishments rose 33,000 while construction added 32,000 positions, according to the report from the Bureau of Labor Statistics.

"Over the prior 10-year period, the second quarter has always been the most robust for job growth; so it was critical we have a pop in April," said Todd Schoenberger, managing partner at LandColt Capital. "This figure bodes well for the rest of the quarter. Challenges may appear in the second half of the year due to slower GDP rates, but today's report is reason to celebrate."
The New York Times is similarly upbeat:
The American economy gained steam in April, adding 288,000 jobs, while the unemployment rate fell to 6.3 percent, the lowest rate since September 2008.

After a sharp slowdown in December and January, and a modest improvement since then, economists had been forecasting a healthy gain for April as consumer and business activity rose in tandem with temperatures in many parts of the country.

The consensus among economists polled by Bloomberg before the Labor Department's announcement Friday morning called for an increase of 218,000 in nonfarm payrolls, with the unemployment rate falling by 0.1 percent to 6.6 percent.

To be sure, month-to-month swings in hiring are a snapshot of the economy, rather than a portrait, and frequently blur.

For example, government statisticians on Friday revised upward the number of jobs added in March, suggesting the economy was stronger than first assumed. And the April data could be significantly revised upward — or downward — next month.
There are some caveats in this report, of course. The drop in the labor force participation rate by some 800,000 workers, for example, is the main reason we saw such a large drop in the Unemployment Rate. If those 800,000 workers had not left the labor force last month, then the unemployment rate would have actually gone up in April to 6.85%. This drop in labor force participation has been a concern virtually since the beginning of the recession, because of what it potentially portends about that segment of the American public that fell into the category of "long term unemployed" in recent years. Obviously, some portion of the numbers of people who leave the labor force are people who have retired, or retired early. From an employment perspective, that's not really a problem. However, it seems pretty clear that some significant potion of the dropouts that have led to the lowest labor force participation rates since the early 1980s is made up of people who lost their jobs in the recession and were never able to find employment. Those people are still going to need to support themselves somehow, though, and they likely end up either on public assistance or disability. The fact that we've seen a sharp increase in people on Social Security Disability over the past several years may indicate where some of these people have ended up. Obviously, it would be better, for the economy as a whole and for these people individually, is they were gainfully employed rather than on public assistance.
The other caveats are the fact that average hours worked remained steady at 34.5 hours while average hourly earning remained steady at $24.31. Obviously, it's better when both of those numbers are increasing.
That being said, though, there is no denying that this is a good jobs report. The job creation numbers, which are unaffected by the labor force participation issue, are the highest we've seen in two years and the fact that we're seeing job growth in areas like manufacturing and construction bodes well for the economy heading into the rest of the year. Over the last three months, job growth has averaged 238,000 jobs per month, and that includes the three months of winter from January through March. Over the past six months, job creation has averaged roughly 202,000 jobs per month. These are both increases from the running averages for the same period a year ago, and a year before that, which would seem to indicate that the job creation engine isn't going to sputter out like it has in previous years of this "recovery." If we can continue improving those numbers, then we may finally reach the point where we should have been at a long time ago.
Even Calculated Risk's "Scariest Jobs Chart Ever" is starting to look good: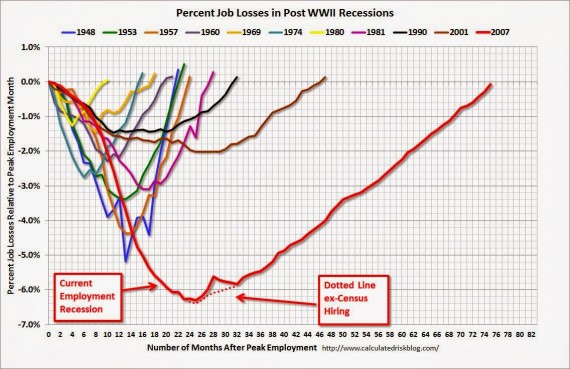 The jobs report has teased us in the past, of course, giving us good numbers for awhile and then pulling the rug out from under us. Hopefully, that won't happen this time because we could use about six or seven months of numbers like these, at least.