Are There Limits To DNA Testing By the State?
The state of Mississippi is going to use DNA evidence to track down statutory rapists. Why not deadbeat dads?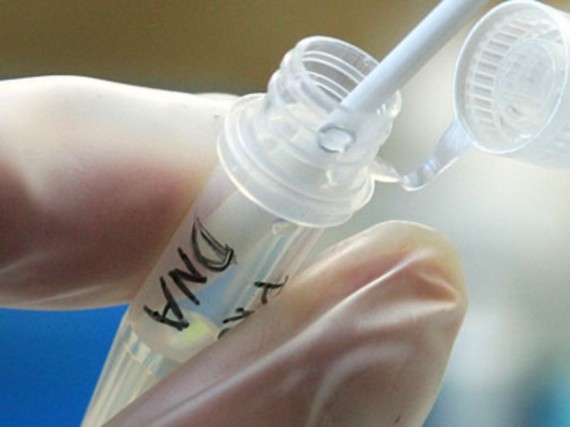 While I'm inclined to side with the dissenters in yesterday's Supreme Court ruling allowing suspicionless DNA taking from anyone arrested, I don't feel particularly strongly about it. It strikes me that the infringement on liberty is incidental–surely, less so than the arrest itself. To the extent it helps investigators find guilty people and eliminates the innocent from suspicion, that's all to the good.
I'm actually surprised we don't collect DNA samples at birth, school enrollment, drivers license issue, and various other times when citizens interact with the state in order to build a national database given the value it would have in not only criminal investigation but such things as identifying kidnapped children, allowing adopted children to investigate their family health background, and the like. I'm hard pressed to conjure a civil liberties argument against it.
The state of Mississippi is going to use DNA evidence to track down statutory rapists.
Starting in July, doctors and midwives in the state will be required by law to collect samples of umbilical cord blood from babies born to some girls under the age of 16. Officials will analyze the samples and try to identify the fathers through matches in the state's DNA database.

"It is our hope that we can deter men over the age of 21 from having sex, particularly with girls 16 years and younger, particularly if they know we are going to pursue them," said Jim Hood, the state's Democratic attorney general who helped draft the bill.

Officials said Mississippi is the first state in the country to try the approach.

Gov. Phil Bryant, a Republican, is also a supporter of the effort. Previously a deputy sheriff, Bryant said it's necessary to protect young women who might be victimized by older men, even if the teenagers say they consented to having sex. Too many of these young teens are becoming pregnant against their will, he said.
Now, I'm queasy about Mississippi's statutory rape law itself, which makes an 18-year-old having consensual sex with his 16-year-old girlfriend a felon. It's pretty common for teenage boys to date girls a couple years younger. Still, that's the state of the law and it makes perfect sense to seek to enforce it through available information technology.
Some in the medical community are protesting that they are effectively being deputized into law enforcement. But that strikes me as silly; we make licensed professionals comply with all manner of civic requirements in order to practice. And this is far less intrusive than, for example, requirements to report suspicions of child abuse to the authorities.
Still, I wonder how far this goes. Statutory rape leading to pregnancy is statistically a small problem:
While Mississippi's teen pregnancy rate is about 60 percent above the national average, it is near a 40-year low. Of the 6,100 births to teenagers in 2012, 111 were babies born to girls under the age of 15.

Roughly 65 percent of teenage pregnancies in the state occur between teens who are one or two years apart in age.
So, 111 cases in Mississippi, 72 of which are the sort of technical violations of the statutory rape laws that many of us think shouldn't be illegal. But why couldn't the same evidence be used to track down deadbeat dads to collect child support payments that might keep the mother and child off the welfare rolls?