Are You Better Off Than You Were Two Years Ago?
As things stand right now, the dynamics don't look good for President Obama in 2012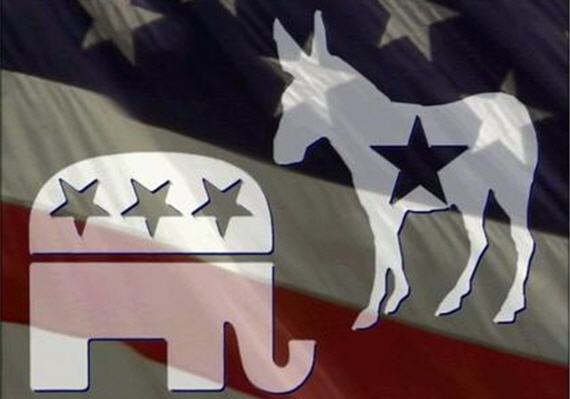 According to a new poll, most Americans say that the answer is no:
More than 50 percent of Americans say they are worse off now than they were two years ago when President Barack Obama took office, and two-thirds believe the country is headed in the wrong direction, a Bloomberg National Poll shows.

The survey, conducted Dec. 4-7, finds that 51 percent of respondents think their situation has deteriorated, compared with 35 percent who say they're doing better. The balance isn't sure. Americans have grown more downbeat about the country's future in just the last couple of months, the poll shows. The pessimism cuts across political parties and age groups, and is common to both sexes.

The negative sentiment may cast a pall over the holiday shopping season, according to the poll. A plurality of those surveyed — 46 percent — expects to spend less this year than last; only 12 percent anticipate spending more. Holiday sales rose by just under a half percent last year after falling by almost 4 percent in 2008.

"It's definitely different this year than it's been," says poll respondent Larry Deyo, a 38-year-old father of two in Marlton, New Jersey. "I can't really do too much with spending." He says he lost his job at a kitchen and bath design center when the company closed, and he's now working at a Home Depot Inc. store with a "significant decrease" in pay.
Given the state of the economy, the unemployment rate, and the state of the housing market, this really shouldn't come as a surprise, of course. We've seen similar results in the bellwether "right track/wrong track" poll, which has grown steadily more pessimistic since the third month of President Obama's term: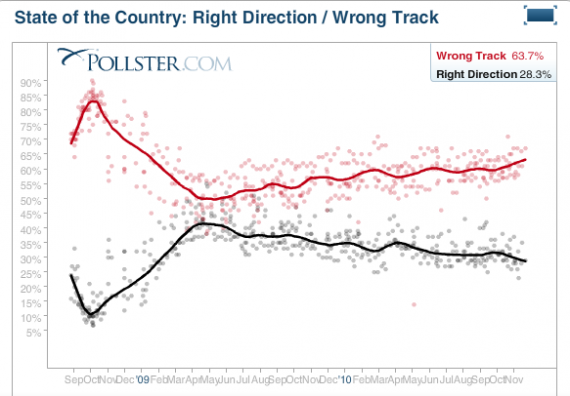 None of this bodes well for the President as we head toward 2012. While it's possible that the economy will start turning around before then and that people will become more optimistic about their personal financial situation, it's extremely unlikely that things are going to improve all that much between now and then. The latest Federal Reserve forecast, for example, puts unemployment still in the high 8% range by Election Day 2012, and Ben Bernanke's recent comments on 60 Minutes give even more cause for concern about the future. As Ed Morrissey notes, this is very bad news for Barack Obama:
Bloomberg also notes that Reagan's post-midterm results were worse on the same question, which the press reported with glee at the time.  They saw it as a petard-hoisting moment, and they would have been right — had Reagan not laid the groundwork for an end to the stagflation of the 1970s and the beginning of the greatest economic expansion in modern American history.  By the end of 1982, most of the stagflation poison had been worked out of the system, and Reagan's pro-growth policies had already begun to spark real growth unhindered by inflation.  In 2010, even the Fed says that we're years away from any significant net job creation.

This time, most people seem to realize that Obama hasn't made things any better, and in fact has made them worse, based on their own experience.  That won't change with just a little hope & change rhetoric, and if it takes 4-5 years before things start to improve on employment under current economic policies, Obama won't be in office to see it.
While I am not willing to make a prediction two years out, especially since it's entirely possible that the GOP will snatch defeat from the jaws of victory by nominating a candidate who cannot possibly win, I tend to agree with Ed here. If the economy doesn't improve significantly between now and 2012, Barack Obama is going to have a tough time getting re-elected.
Ronald Reagan famously asked this question at his one and only debate with Jimmy Carter on October 28, 1980:
The American people answered with a resounding no seven days later. When 2012 rolls around and some Republican asks the same question, what will you say?