What Newt Gingrich Really Thought Of Ronald Reagan
He may be praising Ronald Reagan now, but Newt Gingrich was singing a different tune in the 1980s.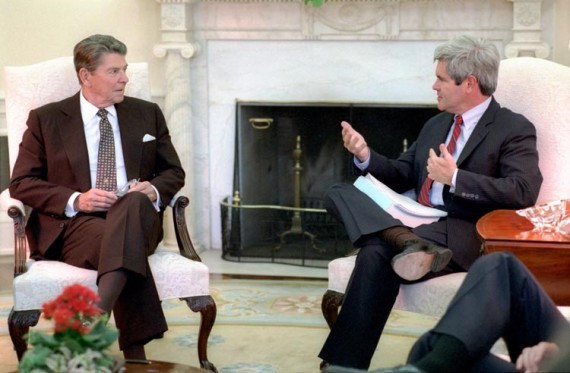 Nate Silver reports today that Newt Gingrich has mentioned the name of the 40th President of the United States more than any other Republican candidate during the debates that have occurred this election cycle. He's called himself a "Reagan conservative." He's said that he helped Ronald Reagan defeat the Soviet Union, a revelation that would no doubt come as a great shock to Margaret Thatcher, Pope John Paul II, and Reagan himself. He's said that he was the architect of the 1981 Reagan Tax Cuts along with Jack Kemp and William Roth, again something I'm sure Kemp, Roth, and Reagan would find surprising. I've already noted that Gingrich is no Ronald Reagan in any sense of the word, and today at National Review, Elliot Abrams, who served  in President Reagan's State Department for the entirety of his eight years in office reveals that Gingrich didn't really think much of Reagan while he was in office:
In the increasingly rough Republican campaign, no candidate has wrapped himself in the mantle of Ronald Reagan more often than Newt Gingrich. "I worked with President Reagan to change things in Washington," "we helped defeat the Soviet empire," and "I helped lead the effort to defeat Communism in the Congress" are typical claims by the former speaker of the House.

The claims are misleading at best. As a new member of Congress in the Reagan years — and I was an assistant secretary of state — Mr. Gingrich voted with the president regularly, but equally often spewed insulting rhetoric at Reagan, his top aides, and his policies to defeat Communism. Gingrich was voluble and certain in predicting that Reagan's policies would fail, and in all of this he was dead wrong.

(…)

The best examples come from a famous floor statement Gingrich made on March 21, 1986. This was right in the middle of the fight over funding for the Nicaraguan contras; the money had been cut off by Congress in 1985, though Reagan got $100 million for this cause in 1986. Here is Gingrich: "Measured against the scale and momentum of the Soviet empire's challenge, the Reagan administration has failed, is failing, and without a dramatic change in strategy will continue to fail. . . . President Reagan is clearly failing." Why? This was due partly to "his administration's weak policies, which are inadequate and will ultimately fail"; partly to CIA, State, and Defense, which "have no strategies to defeat the empire." But of course "the burden of this failure frankly must be placed first on President Reagan." Our efforts against the Communists in the Third World were "pathetically incompetent," so those anti-Communist members of Congress who questioned the $100 million Reagan sought for the Nicaraguan "contra" rebels "are fundamentally right." Such was Gingrich's faith in President Reagan that in 1985, he called Reagan's meeting with Soviet leader Mikhail Gorbachev "the most dangerous summit for the West since Adolf Hitler met with Neville Chamberlain in 1938 in Munich."

Gingrich scorned Reagan's speeches, which moved a party and then a nation, because "the president of the United States cannot discipline himself to use the correct language." In Afghanistan, Reagan's policy was marked by "impotence [and] incompetence." Thus Gingrich concluded as he surveyed five years of Reagan in power that "we have been losing the struggle with the Soviet empire." Reagan did not know what he was doing, and "it is precisely at the vision and strategy levels that the Soviet empire today is superior to the free world.
Gingrich's attacks on Reagan were actually quite common among members of the hard-line right in the late 80s, especially once the President began pursuing a new relationship with the Soviet Union upon the rise to power of Mikhail Gorbachev. I recall reading some of that criticism the pages of National Review itself at the time, and hearing it on the airwaves from the likes of Rush Limbaugh. Reagan was a patsy, they said. He was letting himself be deceived by a man with a nice smile who was still, at heart, the same kind of Communist that his predecessors were. Some conservatives were even suggesting in the late 80s that Reagan's openings to the Soviet Union and willingness to negotiate were signs of oncoming senility. Even the words of their British hero Margaret Thatcher, who described Gorbachev was "a man we can do business with" after meeting him for the first time, were not enough to mollify these critics, who seem to have gotten themselves so wrapped up in 45 years of Cold War that they couldn't recognize real change when it appeared before them, or that the President they supposedly had all rallied behind knew something that they didn't.
Like many other conservatives who criticized Reagan in those days, Gingrich has conveniently forgotten the manner in which he threw the President of the United States under the bus. To listen to them today, you would think that they were cheering on the sidelines for the entire eight years of the Reagan Presidency. Of course, as we've noted here at OTB before, conservatives tend to have a very selective memory of the Reagan years. They forget that Reagan compromised with the opposition, raised taxes when they needed to be raised, and, yes, negotiated with the Soviet Union to reduce the world's stockpile of nuclear weapons. They forget that, like Gingrich, they weren't constant cheerleaders, especially when Reagan insisted on pursuing peace rather than eternal conflict starting across a nuclear divide. They romanticize an era that was both good and bad, perfect and imperfect, and they ignore their role in undercutting their own President's agenda.
Abrams continues:
There are two things to be said about these remarks. The first is that as a visionary, Gingrich does not have a very impressive record. The Soviet Union was beginning to collapse, just as Reagan had believed it must. The expansion of its empire had been thwarted. The policies Gingrich thought so weak and indeed "pathetic" worked, and Ronald Reagan turned out to be a far better student of history and politics than Gingrich.

The second point to make is that Gingrich made these assaults on the Reagan administration just as Democratic attacks were heating up unmercifully. Far from becoming a reliable voice for Reagan policy and the struggle against the Soviets, Gingrich took on Reagan and his administration. .
One wonders what Republican voters would think if they knew the real story about Newt Gingrich and Ronald Reagan, and the extent to which he and other conservatives were stabbing the President in the back just has he was working on what would ultimately become his biggest foreign policy achievement, the end of the Cold War.