Army Not Investigating Vindman
Tweets aren't policy, unless they are.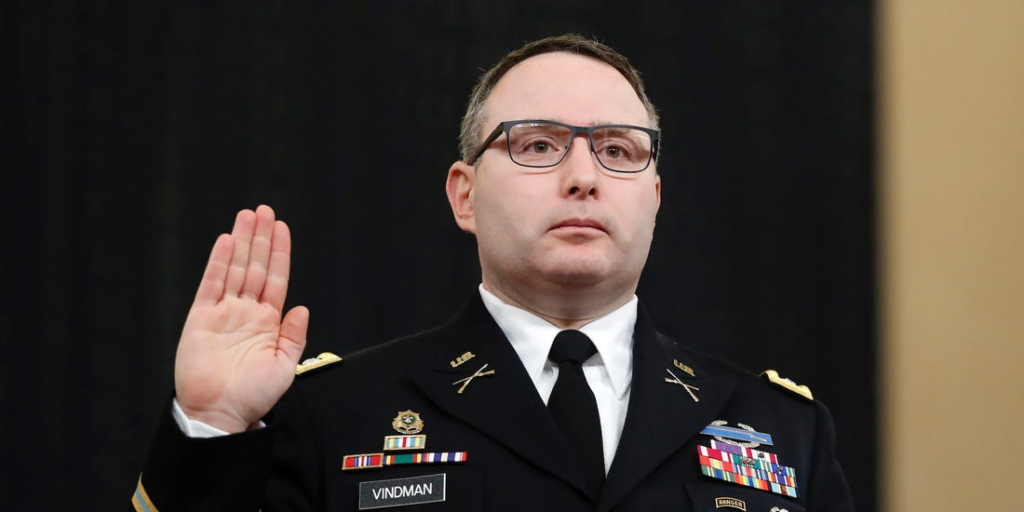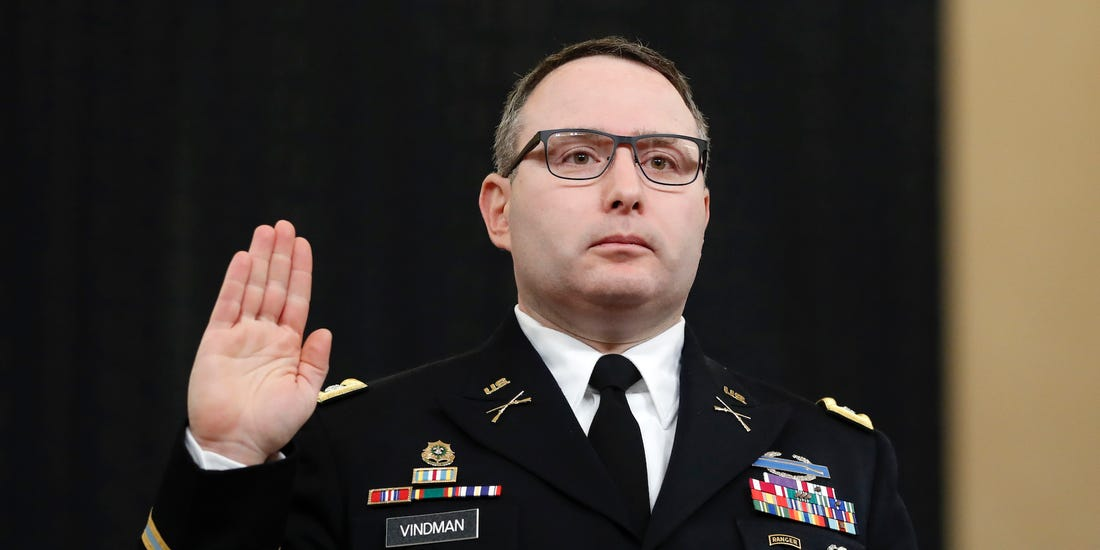 People were rightly outraged when President Trump removed LTC Sandy Vindman from his post on the National Security Council staff for having the temerity to testify truthfully in the impeachment hearings. And even more so when he suggested that the military should go after Vindman.
Thus far, the Army is holding fast. WaPo:
The top civilian official in the U.S. Army said the service isn't investigating Lt. Col. Alexander Vindman, days after President Trump told reporters that the military may look into disciplining the former National Security Council official and key impeachment inquiry witness.

Army Secretary Ryan McCarthy said Friday there is no investigation into Vindman, who had been detailed to the White House National Security Council as Ukraine director and was due to return to the Army for a new assignment when Trump dismissed him early from the post last week. The president also removed his twin brother from his job as a lawyer for the NSC.

McCarthy, in response to a question during an event at the National Press Club in Washington, noted that Vindman was currently in a "bridging" assignment at the Department of the Army headquarters and would be heading to a senior service college for study this summer.

"There's no investigation," McCarthy said.

[…]

On Tuesday, when asked about Alexander Vindman's dismissal from the White House, Trump said that "the military can handle him." Asked what that meant, Trump replied, "If you look at what happened, they're going to certainly, I would imagine, take a look at that."

[…]

David Pressman, a lawyer for Vindman, rejected the notion that Vindman did anything wrong, noting in a statement last week that his client spoke publicly only once, pursuant to a subpoena from the U.S. Congress, and served in his post honorably.

"There is no question in the mind of any American why this man's job is over, why this country now has one less soldier serving it at the White House," Pressman said. "LTC Vindman was asked to leave for telling the truth. His honor, his commitment to right, frightened the powerful."

"The truth has cost LTC Alexander Vindman his job, his career, and his privacy. He did what any member of our military is charged with doing every day: he followed orders, he obeyed his oath, and he served his country, even when doing so was fraught with danger and personal peril," Pressman added.
It's doubtless true that Vindman's life has changed forever, including a loss of his privacy, because of the fame his testimony brought and the acrimony sent his way by the President. And that's shameful.
But, thus far, there's no reason to think his career is in jeopardy. He is going to go to a war college this summer, as was the plan all along. There's an excellent chance, therefore, that he'll be promoted to full colonel. And that's as far as his career as a Foreign Affairs Officer was ever likely to go. Indeed, retirement at his current rank of lieutenant colonel was far more likely.
I had started to blog this story late yesterday afternoon but the first story I found on it was Spencer Ackerman's Daily Beast report "Army Isn't Investigating Lt. Col. Vindman, Despite Trump's Tweets"—dated two (now three) days earlier. So, I naturally assumed McCarthy's speech was old news and not worth blogging. But, no, the speech was in fact at a luncheon yesterday.
Ackerman had just gotten unofficial confirmation two days before. But his report is more ominous.
A former senior Army officer who would not speak for the record cautioned that just because Vindman is not under investigation does not mean his career is safe. In the military's "up or out" culture, being denied a promotion to colonel by the next Army promotions board will spell the end of Vindman's service. And the ex-officer specified that the inherent subjectivity of the officer board will make it impossible to determine precisely if it was the ire of the president that prevents Vindman from ever having birds pinned on his shoulders.

"There's so much bias that can seep into these promotion boards that all it takes is someone to have an issue with his testimony to tank his promotion possibility," the retired officer said.
First off, being passed over for colonel on the first look wouldn't end Vindman's career. Not only can he serve 27 years before mandatory retirement even if he's not promoted, many officers get selected for colonel on their third look.* And, while I don't know where Vindman is on his career trajectory, it's quite possible that he's not even up for his first look yet.
Regardless, presuming Vindman doesn't simply retire, going to a senior service college would mean he's in for at least another two years—the year in-residence at school and a payback tour after. Attendance at a war college is a strong indicator that an officer is expected to be selected for colonel but not a guarantee.
Additionally, just because Vindman isn't under investigation now doesn't mean the Army's decision will hold. Just months ago, the Navy sought against Trump's wishes to strip accused war criminal Eddie Gallagher of his affiliation with the Navy SEALs. Trump persisted, prompting the departure of Navy Secretary Richard V. Spencer. 
Yes. But those are actually the opposite case: the Navy was trying to punish wrongdoers over the objection of the President and was of course not going to get away with that. (Trump was wrong to intervene as he did and he did so for the wrong reasons; but he absolutely had the authority as commander-in-chief to do so and the Navy was obligated to follow his legal orders.) Here, the Army is not punishing Vindman for doing what his oath obligated him to do. An order to punish him, even from the commander-in-chief, would be unlawful and would have to be disobeyed. My guess is Trump will not issue it.
Several in national-security circles have been disturbed that no military or civilian leaders within the Defense Department have spoken up for Vindman, a decorated Iraq war veteran whose testimony subjected him to an onslaught of denunciation from Trump's allies.
That concern has now been overtaken by events. The Secretary of the Army—a Trump appointee—has done so.
It's true that other senior leaders have kept their mouths shut. While Ackermann quotes several people—who, ironically, refuse to be quoted by name—excoriating them for "careerism" for remaining silent—I think that's the best course of action.
Vindman is a bit player. He is, sadly, just one among many dedicated career professionals who have come under fire from their President for doing their jobs faithfully. But I see no value—and, in fact, see the possibility of further institutional damage—for senior uniformed officers or even senior political appointees to publicly excoriate the President over childish tweets in this instance.
___________________
*Under DOPMA, the law that governed officer career management since 1982, officers in the field grades go up with their commissioning year cohort before boards at the same time. In the Army, roughly 10 percent are selected to major/lieutenant colonel/colonel one year early—"below the zone." Most are selected "in-zone," the year they are "due." And another handful are selected the following board, "above-the-zone." The Air Force used the below-zone most aggressively and the Army less so. The Navy and Marine Corps essentially didn't use it. Following the most recent National Defense Authorization Act, this process has changed somewhat. The Marine Corps and Air Force have both changed to a rank-ordered cohort and officially done away with the below-zone. I have not seen indication that the Army has followed suit, but it's possible.