N.S.C. Aide Gives Damning Testimony About Trump-Zelensky Phone Call
Yesterday's testimony by Lt. Colonel Alexander Vindman including information particularly damaging to the President and his defenses to the charges against him in the Ukraine matter.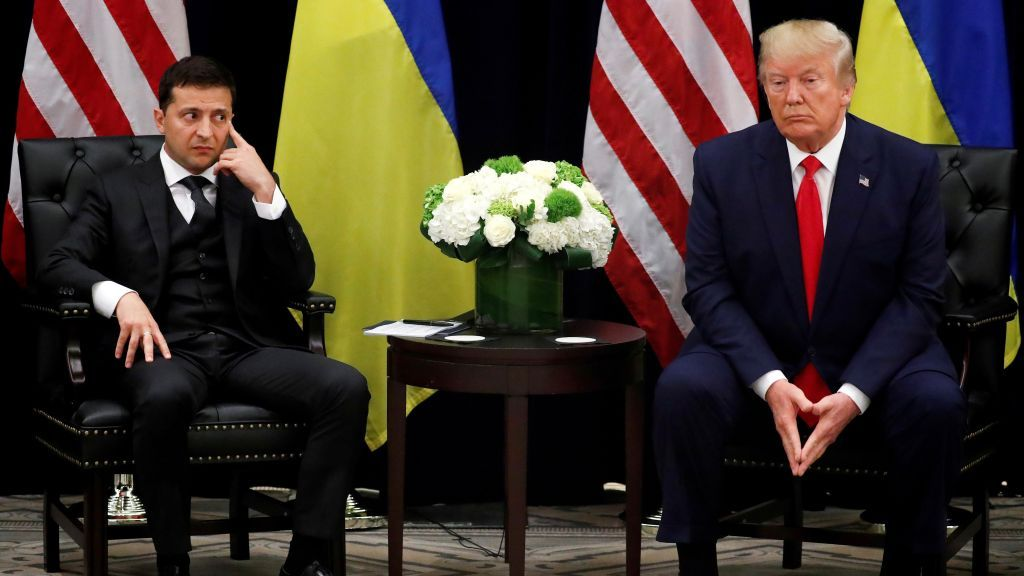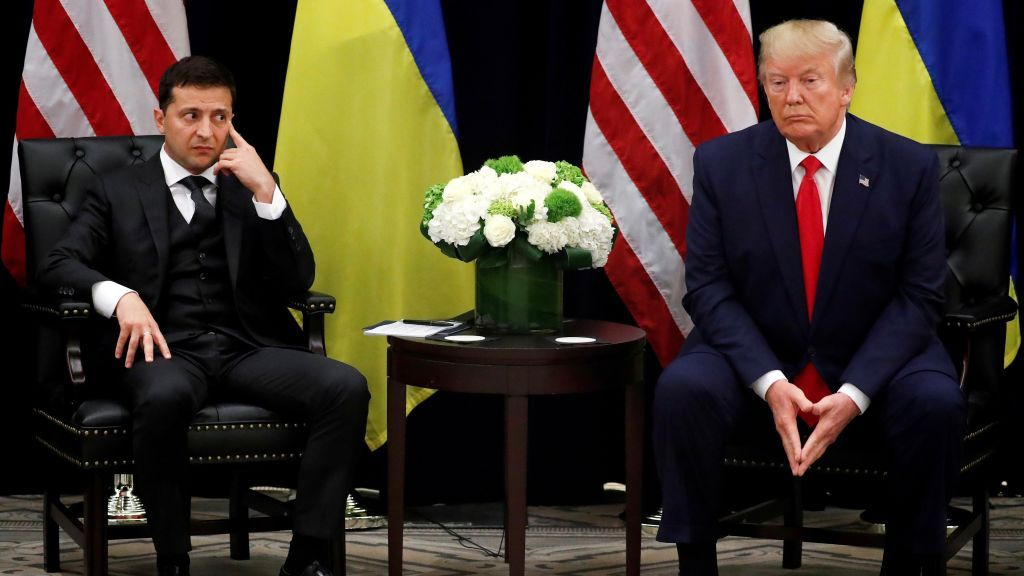 A top National Security Council Aide who was involved in the now-infamous July 25th phone call that started off the allegations surrounding Trump Administration pressure on the government of Ukraine to investigate the President's political rivals testified behind closed doors yesterday. Suffice it to say that the day did not go well for President, Congressional Republicans, and others who have been attempting to defend the President over the past month-and-a-half:
A top National Security Council official on Tuesday delivered a firsthand account of President Trump pressuring Ukraine to investigate his political rivals, putting congressional Republicans in a bind and emboldening Democrats as they moved toward their first impeachment vote Thursday.

Trump and his allies on TV lashed out at Lt. Col. Alexander Vindman, who said his concerns about what he heard in Trump's July 25 call with Ukrainian President Volodymyr Zelensky drove him to notify his superiors. Trump dismissed Vindman as a "Never Trumper," while some of his allies questioned the patriotism of the Army combat veteran because his family emigrated from the Soviet Union when he was 3.

Trump's attack on the Purple Heart recipient unnerved Republicans in Congress, with several pushing back, albeit without naming the president. Sen. Mitt Romney (R-Utah) called the offensive "misplaced and very unfortunate," and said he had "full confidence" in Vindman "as an individual and his patriotism."\

The response from Trump's party created an unusual dynamic in which Republicans were defending a man who was simultaneously accusing the president of undermining national security for his own political purposes. Privately, several Republicans found Vindman's testimony to be damaging and lamented that once again they were forced to defend the president.

The GOP reaction to Vindman comes as the party faces frontal attacks on two of its major talking points in Trump's defense. Vindman's account of the phone call deprives Republicans of the complaint that the witnesses called by Democrats have relied on hearsay when discussing the president's interactions with Zelensky.

(…)

In his testimony over more than 10 hours, Vindman said he was listening in on the summertime call between Trump and Zelensky from the Situation Room, along with other NSC officials and members of Vice President Pence's office.

Vindman said he was so worried about Trump's request that Zelensky investigate his political foes that he reported it to the NSC's lead counsel, just as others at the NSC did at the direction of John Bolton, the former national security adviser who found the Ukraine pressure unsavory.

"I did not think it was proper to demand that a foreign government investigate a U.S. citizen, and I was worried about the implications for the U.S. government's support of Ukraine," Vindman told lawmakers. "I realized that if Ukraine pursued an investigation into the Bidens and Burisma, it would likely be interpreted as a partisan play which would undoubtedly result in Ukraine losing the bipartisan support it has thus far maintained. This would all undermine U.S. national security."

Vindman also testified that the rough transcript of the July 25 call released by the White House is slightly different than what he remembers transpiring. For example, Vindman recalled Zelensky specifically referencing the Ukrainian natural gas firm Burisma when Trump pushed him to investigate a company related to Biden's son Hunter, who had served on its board. Vindman also remembers Trump going on about how Joe Biden was on tape boasting about Ukraine funds — most likely referring to comments Biden made in January 2018 that the United States held up $1 billion in loan guarantees until the nation fired a corrupt former prosecutor, Victor Shokin.
More from The New York Times, which goes into further detail about the extent to which the transcript of the July 25th phone call:
WASHINGTON — Lt. Col. Alexander S. Vindman, the top Ukraine expert on the National Security Council, told House impeachment investigators on Tuesday that the White House transcript of a July call between President Trump and Ukraine's president omitted crucial words and phrases, and that his attempts to include them failed, according to three people familiar with the testimony.

The omissions, Colonel Vindman said, included Mr. Trump's assertion that there were recordings of former Vice President Joseph R. Biden Jr. discussing Ukraine corruption, and an explicit mention by Ukraine's president, Volodymyr Zelensky, of Burisma Holdings, the energy company whose board employed Mr. Biden's son Hunter.

Colonel Vindman, who appeared on Capitol Hill wearing his dark blue Army dress uniform and military medals, told House impeachment investigators that he tried to change the reconstructed transcript made by the White House staff to reflect the omissions. But while some of his edits appeared to have been successful, he said, those two corrections were not made.

Colonel Vindman did not testify to a motive behind the White House editing process. But his testimony is likely to drive investigators to ask further questions about how officials handled the call, including changes to the transcript and the decision to put it into the White House's most classified computer system — and whether those moves were meant to conceal the conversation's most controversial aspects.

The phrases do not fundamentally change lawmakers' understanding of the call, which was first reported by the C.I.A. whistle-blower whose complaint set off the impeachment inquiry. There are plenty of other examples of Mr. Trump referring to Ukraine-related conspiracy theories and asking for investigations of the Biden family. But Colonel Vindman's account offered a hint to solving a mystery surrounding the conversation: what Mr. Trump's aides left out of the transcript in places where ellipses indicated dropped words.

In hours of questioning on Tuesday by Democrats and Republicans, Colonel Vindman recounted his alarm at the July 25 call, saying he "did not think it was proper" for Mr. Trump to have asked Mr. Zelensky to investigate a political rival, and how White House officials struggled to deal with the fallout from a conversation he and others considered problematic.

(…)

Colonel Vindman told House investigators Tuesday that he twice registered internal objections about how Mr. Trump and his inner circle were pressuring Ukraine to undertake inquiries beneficial to the president, including of Mr. Biden. After the July 25 call, the colonel reported what happened to a superior, explaining that "I did not think it was proper to demand that a foreign government investigate a U.S. citizen, and I was worried about the implications for the U.S. government's support of Ukraine," according to his opening remarks. He added, "This would all undermine U.S. national security."

He also described confronting Gordon D. Sondland, the United States ambassador to the European Union, after the envoy pressed Ukrainian officials to help the Trump administration by investigating the Biden family. The colonel said he acted out of a "sense of duty," and emphasized his military service in his remarks. "I am a patriot," he said, "and it is my sacred duty and honor to advance and defend our country irrespective of party or politics."
Not surprisingly, while the news of Vindman's testimony came out over the course of the day, Republicans in Congress and conservative Trump supporters in the media sought to attack him. The most bizarre attacks were prompted, apparently by comments from the hosts on Fox & Friends, who pointed out that Vindman's parents had come to the United States from Soviet-controlled Ukraine and that Vindman himself had long been an advocate for closer ties to the government in Kyiv on the part of the United States and other western nation. This led to the bizarre claim that Vindman, an Iraq War veteran whose decorations include a Purple Heart for wounds sustained in battle, was either a man with dual loyalties or an outright spy for the Ukrainian government operating inside the Trump Administration. While some Republicans, such as Senator Mitt Romney, Senator John Thune, Congresswoman Liz Cheney, and others, pushed back against and condemned these attacks on a man who appears to be the very definition of a patriot, most of them either remained silent or, like House Minority Leader Kevin McCarthy, joining in on the attack. If nothing else it was a demonstration that they had no basis for attacking the facts that Vindman was testifying to, so they went to the strategy of attacking the messenger.
Among other things, Vindman's testimony pushes back against the claim that the White House had released an "exact transcript" of the July 25th phone call, something that President Trump has repeated several times over the course of the past month and a half. In some cases, the omissions that Vindman testified to seem to be rather innocuous and could be blamed on either transcription errors or the fact that NSC notetakers may have simply missed a word or two in the course of exchanges between President Trump and President Zelensky. Others, though, were far more substantive and include language that makes clear that there was a clear and explicit link between the White House releasing frozen military aid and agreeing to a meeting between the two Presidents and Ukrainian cooperation in investigating the President's political rivals, including former Vice-President Joe Biden.
Of course, we already knew that the memorandum that the White House provided of the Trump-Zelensky phone call was not an exact transcript, because it says so right in the text of the memorandum:
"A Memorandum of a Telephone Conversation.· (TELCON) is not a verbatim transcript of a discussion. The text in this document records the notes and recollections of Situation Room Duty Officers and-NSC policy staff assigned to listen.and memorialize the conversation in written form as the conversation takes place."
Vindman's testimony just makes that more clear and raises the question of whether or not there is a more exact transcript of the call, or even a recording, and why they have not been released if they exist.
Vindman's testimony is significant for several reasons. First of all, it is the first time that we've heard, albeit indirectly due to the closed-door nature of the testimony, directly from someone who was on the line for the July 25th phone call as well as someone that was directly involved in discussions about U.S policy toward Ukraine as a close aide to former National Security Adviser John Bolton, who appears likely to become a witness in this matter sooner rather than later. It also provides further confirmation to the extent to which the Administration, including officials such as Energy Secretary Rick Perry and, potentially, Vice-President Mike Pence, was intent on delivering this message to Ukrainian officials who were eager to move forward with the military aid and to schedule a meeting between the two Presidents. The link between both issues and the investigations was made clear, even as officials such as Bolton openly objected to the linkage.
To a large degree, of course, what Vindman apparently testified to does not come as a surprise. At least as a matter of deduction, much of it was already "known" or had been testified to by others. The most significant thing that Vindman testified to, though, is that the memorandum that was released by the White House of that phone call omitted direct references to former Vice-President Biden and his son and made clear the linkage that President Trump wanted to make between the relationship between the United States and Ukraine and investigations of the Bidens. None of this is good for Trump and only seems to guarantee that this is only going to get worse for the President as time goes on.
Here is Lt. Colonel Vindman's Opening Statement, which summarizes much of what he testified to: