Atlantis Lands For The Last Time, Shuttle Program Comes To An End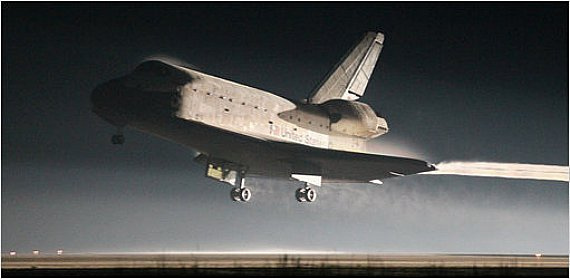 After 135 flights the Space Shuttle program officially came to an end today as Atlantis touched down at Kennedy Space Center:
The last space shuttle flight rolled to a stop at 5:58 a.m. on Thursday, closing an era of the nation's space program.\

"Mission complete, Houston," said Capt. Christopher J. Ferguson of the Navy, commander of the shuttle Atlantis for the last flight. "After serving the world for over 30 years, the space shuttle has earned its place in history, and it's come to a final stop."

It was the 19th night landing at the Kennedy Space Center in Florida to end the 135th space shuttle mission. For Atlantis, the final tally of its 26-year career: 33 missions, accumulating just short of 126 million miles during 307 days in space.

A permanent marker will be placed on the runway to mark the final resting spot of the space shuttle program.

The last day in space went smoothly. Late Wednesday night, the crew awoke to the Kate Smith version of "God Bless America." With no weather or technical concerns, the crew closed the payload doors at 2:09 a.m. Thursday.

At 4:13 a.m., Barry E. Wilmore, an astronaut at mission control in Houston, told the Atlantis crew, "Everything is looking fantastic, there you are go for the deorbit burn, and you can maneuver on time."

"That's great, Butch," replied Captain Ferguson. "Go on the deorbit maneuver, on-time."

Thirty-six minutes later, as it was passing over Malaysia, the Atlantis fired its maneuvering engines for 3 minutes, 16 seconds, slowing it down by 225 miles per hour and beginning the fall back into the Earth's atmosphere.

The shuttle, which travels backward while in orbit, flipped around to a nose-first position. In the clear, windless predawn, sonic booms announced the shuttle's impending arrival, a wide turn and then the final approach to landing.

During the 13-day mission, the Atlantis ferried 8,000 pounds of supplies and spare parts to the International Space Center. With the retirement of the shuttles, the space station will now rely on Russian, European and Japanese rockets to bring up supplies.
Job well done.
Photo via New York Times
Update: Here's the video, via NBC News:
Visit msnbc.com for breaking news, world news, and news about the economy