Attackwatch: It's Just Politics, Folks
The Obama campaign's new "Attackwatch" site is the latest Outrage Of The Day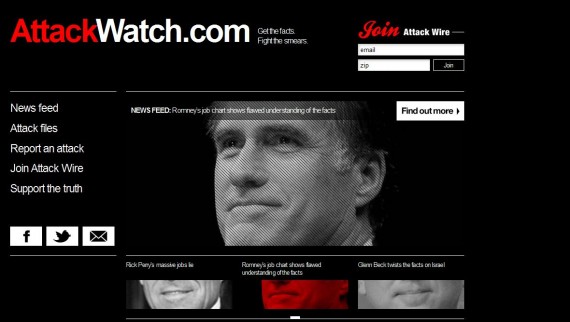 The Obama 2012 re-election campaign is returning to an idea that they launched during the 2008 campaign with a program and website called "Attackwatch" that is apparently designed to respond to rumors and other such stories about the President and the Administration:
It's not easy being an Obama for America volunteer, especially when you feel ill-equipped to respond to the waves of attacks from his critics, says Jennifer Kickliter, a Tennessee college student who's signed up for the 2012 campaign.

"What do I tell people who point out that the Affordable Care Act isn't helping people, and that the  "don't ask, don't tell" repeal was accompanied by a court order Obama plans to fight?" she said in July during an online chat with several Obama campaign aides at Chicago headquarters.

"It's great to say 'talk about his accomplishments,' but we need to be able to address people's legitimate concerns, too," she said.

Now, Kickliter, and other Obama supporters like her, could get some help in the new campaign-sponsored website AttackWatch.com.

Obama for America national field director Jeremy Bird said the site offers "new resources to fight back," including policy issue pages that fact check statements by Obama's Republican opponents with links to "evidence" to back them up.   Its slogan is "Get the facts. Fight the smears."

According to the site, Obama volunteers can also help campaign headquarters keep track of attacks on the president by submitting "reports" via mailform and tweeting about them using the Twitter hashtag #attackwatch.
This effort is similar to what was done during the 2008 campaign under the name "Fight The Smears." That website came into existence, of course, mostly to combat the rumors that had sprung up about then-candidate Obama ranging from the allegation that he was not born in the United States to the suggestion that he was a "Secret Muslim." Though I wasn't an Obama supporter, it struck me at the time as a smart use of new media by the campaign and quite likely absolutely necessary given the extent to which rumor and innuendo can easily spread on the Internet. In fact, I figured it was something we'd see other campaigns adopt in the future, although that hasn't been the case so far.
That seems to be exactly what Attackwatch is all about. The name is different, but the idea strikes me as being exactly the same, utilizing the Internet and Social Media to respond quickly and effectively to charges made by the Republican candidates for President during the course of their campaign for the GOP nomination. The Daily Caller's Matt Lewis makes a similar observation:
In my estimation, the Obama team is probably wise to take the attacks made by GOP primary debaters seriously. As I noted months ago, George W. Bush's precipitous drop in popularity coincided almost precisely with the beginning of the Democratic primary debate season in 2003.
That hasn't stopped many on the right from viewing the website as something sinister, if not entirely improper. Michelle Malkin and Jim Hoft are in full freak-out mode, and Seth Mandel at Commentary argues that there's a difference between a response site run by a candidate for President and one run by a President running for re-election:
That was a senator running for office. As odd as it was then, he's now the president. Who in the administration thinks this is the appropriate way for a president to act? We've heard countless references-from conservatives and liberals-to the administration of Richard Nixon. But in truth, Nixon had a better grasp on politics than Obama. Most of the hubristic overreaches that got Nixon in trouble were things he tried to hide. Obama is openly promoting a program to "report" on private citizens.
The difference, of course, is that the Nixon Enemies List was being run out of the White House, while this website is being run by the Obama re-election campaign in Chicago. Now, it's always true that the line between governing and politics gets pretty fuzzy when a sitting President is running for re-election, but those lines are far more firmly established today than they were in 1971-72 when the Committee To Re-Elect The President was essentially being run right out of the White House. Additionally, Nixon actually did use the FBI and intelligence services to spy on political rivals. There's absolutely no indication that Attackwatch is anything like that. Instead, what we've got here is a campaign effort to respond to allegations made by the opposition and to utilize crowd-sourcing to do it. I really don't see what's wrong with that.
Ed Morrissey thinks the entire effort is silly and that the Obama camp is wasting time giving attention to the rumor mill:
The categories for passing along an "attack" include significant events like a TV interview or broadcast ad, but also include such trivial categories as "forwarded e-mail" and "rumor."  Presumably, the campaign would then debunk the "rumor," which would then give it a lot more attention and oxygen than it otherwise might receive.  In fact, it's not inconceivable that people who really wanted to spread "rumors" would do so by reporting them through AttackWatch and waiting for the campaign to publicize rumors through their response.

This President and his team still haven't learned the problems that come with punching below one's weight.  Besides, their big problems don't come from rumors; they come from the record of abject failure that Barack Obama carries into this campaign.
These points are well-taken, and it would be a waste of campaign resources to respond to every stupid rumor out there about the President. However, the continued prevalence of things like the Birther myth and the the "Secret Muslim" nonsense, along with the ease with which rumors of any kind can be spread on the Internet, lead me to think that investing a few campaign resources (in reality, probably not very much is needed to run a site like this) to bat those rumors down is a good idea. Moreover, based on the announcement about the site (set forth in an email relayed in this post by Tommy Christopher), it seems that it will also be used to counter Republican claims about policy matters as well, so it won't be limited to just dealing with the crazy stuff.
This is politics. In fact, it's smart politics. It isn't the Gestapo and it's not Big Brother. People ought to calm down, take a deep breath, and return to the task of that they are primarily concerned with, winning the election in 2012, rather than going into panic mode over something that is, in the end, much ado about nothing. It worked very well for Obama during the campaign, so it's not at all surprising they would do it again.
It was smart politics then, and it's smart politics now. Rather than complaining about it, Republicans ought to think about copying it, and welcoming themselves to the new world of Online Campaigning.