Auction Of Reagan's Blood Called Off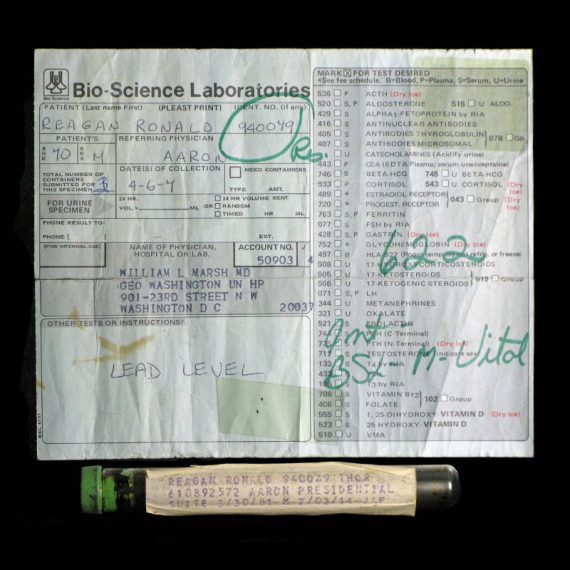 The plan to auction a sample of Ronald Reagan's blood, taken the day of his attempted assassination in 1981, has been called off:
An online auction house canceled the sale of a medical vial purportedly containing dried blood of President Ronald Reagan, announcing the seller would instead donate the item to the late president's foundation.

PFCAuctions.com, based in the Channel Islands between England and France, had been promoting the auction this week, with bidding reaching about $30,000 before it was suspended.

The auction had drawn outrage from the Reagan's family and foundation.

"Whatever's in the vial – could be mouse blood – it's certainly not Reagan blood," son Michael Reagan said in a telephone call with the Associated Press earlier this week. "And what an outrageous thing to do to (Reagan's widow) Nancy and the family. I hope the world calls on this organization to cease and desist because it's so bogus."

"Even if it were true, how dare they, how dare they do such a thing?"

The Reagan Presidential Foundation executive director John Heubusch described the auction as a "craven act."

(…)

Reagan's foundation said in a statement it was pleased at the auction's cancellation.

"We are very pleased with this outcome and wish to thank the consignor and PFC Auctions for their assistance in this matter. While we contend that the removal of the vial from the hospital laboratory and the U.S. auction sale in February 2012 were not legal acts in our opinion, we are grateful to the current custodian of the vial for this generous donation to the Foundation, ensuring President Reagan's blood remains out of public hands," Heubusch said in a statement.
Assuming they verify its authenticity, I doubt the Foundation will ever actually display this sample.