Vial Of Reagan's Blood For Sale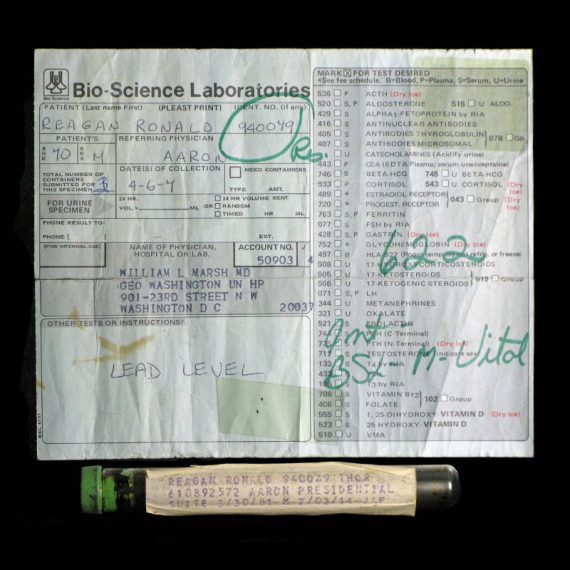 This has to be one of the oddest auction items I've seen in quite awhile:
Thirty-one years after Ronald Reagan was shot and nearly killed by a would-be assassin, an online auction house on the island of Guernsey (an autonomous British protectorate and controversial tax haven just off the northern coast of France) is making available to the highest bidder a glass vial it says once held the president's blood.

Sixty-nine days after being sworn in, Reagan was attacked outside a Hilton Hotel in Washington by John Hinckley, Jr., a schizophrenic young man who later said he was trying to impress the actress Jodie Foster. The Secret Service rushed the president to George Washington University Hospital, where he underwent emergency surgery. Despite significant internal injuries and bleeding, Reagan recovered and was back at work at the White House only weeks later.

Reagan, of course, went on to become one of conservative America's most beloved figures.

Now fans can put in a bid for a 5-inch long, plasma-stained glass tube and an accompanying medical form listing Reagan's patient identification number, age, sex, and the name of the hospital's chief cardiovascular and thoracic surgeon. None of the boxes on the form indicating which tests should be done are ticked off, but instructions are written onto the page requesting the sample's "lead level" be examined.

The anonymous seller provided online auctioneers with a "letter of provenance," claiming that his mother, then a technician at Bio Science Laboratories in nearby Columbia, Md., was given permission by a supervisor to take the vial home at the end of the week Reagan was shot. When his parents died, the seller writes, the vial was passed on to him.

"About 3 to 4 months ago," he continues, "I contacted the Reagan National Library (sic) and spoke to the head of the library, a Federal Agent. I told him what I had, how I came across it and so on. We spoke for about 45 minutes. The reason that I contacted the Reagan National Library was to see if they would like to purchase it from me. He indicated that if I was interested in donating it he would see to it that he would take care of all of the arrangements."

But he wanted to sell it, and after finding that the "National Archives was not interested in what I had, nor was the Secret Service, the FBI and other agencies," he decided to put it on the block.
So, far it appears to be going well. As of this writing, bidding was up to £8,346.00 which at current conversion rates comes to roughly $13,160.81. What one does with a vial of blood that is 31 years old is beyond me.
Update: Reuters is now reporting that the Ronald Reagan Presidential Foundation is objecting to the sale, though I am not certain what they could do to stop it.
Photo via PFC Auctions