Australia To Deny Some Benefits To Parents Who Refuse To Vaccinate Their Kids
Australia has an interesting new idea about how to encourage parents to vaccinate their children.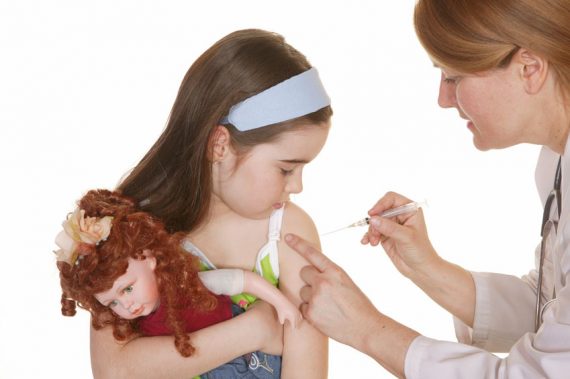 Australia is about to take an interesting approach toward encouraging parents to vaccinate their children:
Australian Prime Minister Tony Abbott announced Sunday that the country is to adopt a "no jab, no pay" policy to deny some government benefits to parents who refuse to vaccinate their children.

The policy change comes amid a debate over immunization for children, with some parents believing — despite overwhelming medical evidence to the contrary — vaccines against deadly diseases are dangerous.

The anti-vaccination movement has coincided with the resurgence of measles, a preventable disease, in some European countries as well as in U.S. states such as Colorado and California.

"It's essentially a 'no jab, no pay' policy from this government," Abbott told reporters in Sydney. "It's a very important public health announcement. It's a very important measure to keep our children and our families as safe as possible."

Under current Australian laws, parents who have conscientious objections about immunization can claim child care and welfare payments.

If the measures are passed, those parents would be denied the payments — which include child care rebates, benefits and family tax benefit supplements — reportedly missing out on up to $11,500 per child annually.

Parents unwilling to vaccinate the children on medical or religious grounds would still be allowed to tap into the benefits, although under tighter eligibility requirements.

Social Services Minister Scott Morrison said there were no mainstream religions that had registered vaccination objections with the government.

The new measures, supported by the Labor opposition, have to be passed by Parliament and would come into force at the start of 2016.

Australia has vaccination rates of over 90 percent for children ages 1 to 5 years.

But the government said more than 39,000 children under 7 were not vaccinated because of parental objections. That's an increase of more than 24,000 children in the past decade.

Abbott said his government was "extremely concerned" about the risks such actions posed to the rest of the population.

"The choice made by families not to immunize their children is not supported by public policy or medical research, nor should such action be supported by taxpayers in the form of child care payments," Abbott said in a joint statement with Morrison.
There will be some who might argue that cutting off or limiting public benefits for families based on decisions that the parents make, even decisions as ill-informed and dangerous as refusing to vaccinate their children from preventable and dangerous diseases, is a hard-headed approach that unfairly punishes children for decisions that their parents make. While there might arguably be some merit to that argument, it strikes me that the Australian government is on to something here when it comes to policies that are obviously designed to incentivize parents to follow recommended vaccination schedules rather than actually punish anyone. After all, the ideal outcome from a policy like this would be that vaccination rates will go up and nobody would lose the benefits they can claim under Australian law. In some sense, then, this policy isn't really any different from the many restrictions that government's here in the United States put on recipients of Federal or State dollars, and the manner in which government spending is often used to influence private behavior.
Here in the United States, the most common way that governments use to try to encourage parents to vaccinate through the school system. As a general rule, and unless the parents have been granted an exemption if one is permitted by the law, an unvaccinated child will either be denied admission to public school or, more commonly, required to stay home in the event that there is an outbreak of disease in a school they are attending. Those policies have been consistently withstood court challenges, most recently in New York City where a Federal Judge upheld a Board of Education policy that barred unvaccinated children from attending school during documented outbreaks. Additionally, the general authority of state and local governments to either quarantine those infected with a dangerous and easily communicable disease has been consistent upheld by the courts could back to the 1905 Supreme Court case Jacobson v. Massachusetts. Even with these policies, though, there are still people who fail to vaccinate their children, sometimes for supposed religious reasons but more recently because of their reliance of pseudoscientific nonsense, including the entirely discredited claim of a link between childhood vaccinations and autism. That suggests that some other means may be necessary to deal with the public health issues that these parents create, which has manifested itself most recently in the form of a spike in measles cases despite the fact that the disease had been essentially eradicated thanks to aggressive vaccination policies.
I'm not aware of any jurisdiction in the United States where something similar to what Australia is planning to do has even been suggested, but perhaps it's worth considering. After all, if a parent discovers that they'd lose their child tax credits and other benefits if they insist on taking medical advice from the likes of Jenny McCarthy, then perhaps they'll realize that their is a price for their stupidity. Although, one would have thought that their concern for their child's health would have been enough of an incentive for them.