Barack v. the Robot (Musings on Polls and Etch-a-Sketches)
Why isn't Obama doing better in the polls and did we just see a Kinsey Gaffe in the wild?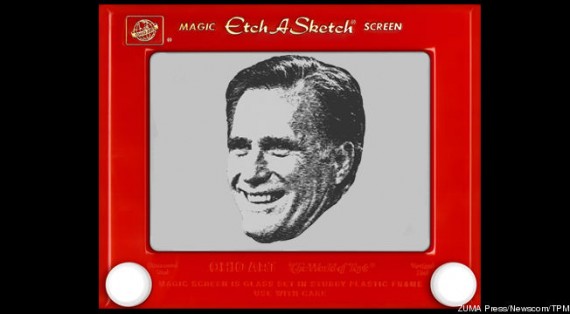 Andrew Sullivan wonders:
what does it say about Obama's strength that he's still polling only four or five points over this gaffe-prone robot?
Now, for those who just have returned from outer space, the "gaffe-prone robot" is Mitt Romney.
To answer the question, I would note the following (in no one particular order):
1.  The economy (which includes gas prices).
2.  There is a set percentage of the public that will vote Republican (and likewise Democratic) no matter what.  Indeed, I am not even sure what the max gap between a Rep and Dem would be these days.  The Obama-McCain gap was only 7 points and that was considered a huge victory.  Bush-Kerry was 3 points.
3.  The question is not in the context of an actual contest yet.  While voters can make a comparison from afar at the moment, the candidates have not fully engaged one another yet.  The numbers will shift once Romney is the actual nominee (they may even go up—although I have my doubts).
4.  Despite the fact that most of us political junkies have been paying attention to the 2012 campaign since 2008, most people (even likely voters) have hardly been paying all that much attention yet so the numbers are tenuous at best.
In other words, I am not sure that the current numbers say anything about either candidate as yet.
Regardless of all that, I do agree with Sullivan and Joe Klein that the Etch-a-Sketch sound bite matters.  Klein:
I've been thinking about this all night: Eric Fehrnstrom's Etch A Sketch gaffe yesterday may go well beyond a momentary embarrassment and become a campaign-defining disaster, much as John Kerry's "I voted for it before I voted against it" gaffe — which came at almost exactly the same point in that campaign, as Kerry locked down the nomination — was in 2004.
Indeed, I have thought something like this since I saw the clip yesterday.  It struck me as a Kinsey Gaffe (which Klein notes as well).  At a minimum it was the kind of thing that plays right into a prevailing stereotype of Romney.  To have a member of his staff seemingly confirm everyone's suspicions is pretty big—and whether he meant it that way or not isn't the issue.  Kerry, to go back to that example, had a point with the "I voted for it before I voted against it" bit insofar as legislators frequently vote for one version of legislation only to vote against another version later (and they may have legitimate reasons to do so).  But, Kerry was already being pegged as "flip-flopper" and he went off and provided a sound bite that confirmed it!  Likewise, it is assumed by some that Romney is a malleable pol who will say whatever is needed to win office.  And Fehrnstrom just confirmed it! (Of course, the exclamation points are there to underscore that both for Kerry an Romney's proxy it doesn't matter what they meant, but how it sounds).
As such, I have a somewhat different interpretation from my co-blogger, Doug Mataconis, insofar as I agree some of the focus on the Etch-a-Sketch itself may be a bit frivolous, the sound bite itself matters. There is, I will allow, a discount to be had, of course, that Kerry was the speaker in 2004 and a Romney functionary is the the current sound bite producer.
BTW:  I don't think, that this can derail Romney's nomination.  I do think that this theme (that Romney is a political chameleon) will have legs.