"Etch A Sketch" Was An Inside The Beltway Meme
Once again, the punditocracy seems to have misread the voting public.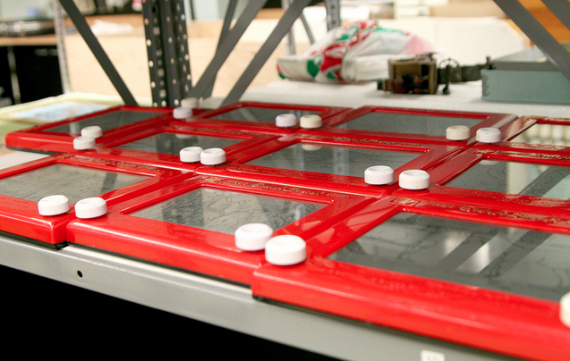 Remember the media storm that erupted last week after Romney campaign aide Eric Fehrnstrom used that great old children's the Etch-A-Sketch to analogize how the Romney campaign might shift focus from the primary campaign to a General Election. Romney's opponents, the Democratic Party, and political pundits everywhere immediately jumped upon the comment and turned into the a three day media firestorm. As I noted at the time, I found the whole thing to be rather silly, although the comments to my post on the subject seemed to suggest that others disagreed. In any event, there was much speculation about how powerful this meme might be and whether it would pose a threat to Romney. My own assessment was that it would be another one of those short-lived political memes that the pundits obsess with for several days and then forget about fairly quickly. Again, others disagrees.
Based on a new poll from the Pew Research Center, it may turn out that the Romney campaign might not have to worry being followed around by Etch A Sketches from now until November:
In the wake of a comment by senior Mitt Romney aide Eric Fehrnstrom on Wednesday comparing the children's toy to how his candidate would address some of the more conservative positions if he became the GOP presidential nominee, the political world exploded. (This blog posted two long-ish analyses on what Etch a Sketch might mean.

The whole world was watching. Or not.

A new Pew Research Center poll shows that 55 percent of people were entirely unaware of the Etch a Sketch incident. Among the 44 percent who had heard about Fehrnstrom's remark, 29 percent said it would have no effect on their feelings about Romney while 11 percent said it would make them less likely to support him and three percent said they were now more likely to back the former Massachusetts governor.

The numbers serve as a reminder — for the umpteenth time — that simply because 100 percent of people who do politics for a living (the Fix included) are closely following a story, it's no guarantee that the story is penetrating nearly as broadly among the general public.

That's true even for a story like this one that drew wall-to-wall media coverage for days as Democrats and Romney's Republican rivals sought to capi­tal­ize on Fehrnstrom's slip. Most people just have better things to do than follow every twist and turn of a presidential race.
Granted, the 44% of respondents who say that they had heard about the story is not an insignificant number of people, but of that group 29% percent said that it would have no impact on their opinion of Romney, while only 11% said it would make them think less of him. Yes, this is only one poll but I don't think we're going to find much of anything different from other sources.
As I said last week, those of us who follow politics intently and comment on it passionately tend to be just a a little bit different from average Americans. For one thing, many of them have better things to do than pay attention to a Presidential campaign with the same level of intensity for an entire year. When they do watch television its more likely to be CSI or American Idol than any of the cable news channels. Moreover, when they are paying attention to news, the Pew poll shows that they are paying to attention to things other than politics:
The growing controversy over the shooting death of 17-year-old Trayvon Martin in Florida was the public's top story last week, though African Americans express far greater interest in news about the killing than do whites.

Overall, a quarter of Americans (25%) say they followed news about the African American teenager killed by a community watch volunteer more closely than any other story. Smaller percentages say they followed news about the presidential elections (16%) or the economy (15%) most closely, according to the latest weekly News Interest Index survey, conducted March 22-25, 2012, among 1,003 adults by the Pew Research Center for the People & the Press.
The fact that the Martin story was garnering more attention than the election at this point in time isn't entirely surprising. Not only does that story stir up a wide variety of issues and passions, but we're now in the phase of the election season where things have essentially become predictable and, as the Etch a Sketch meme shows, we're entering the silly season (if we ever actually left it). Is it any surprise that people kind of tune out when pundits and politics start holding up Etch A Sketch's as if they're making some profound political point?
More often than not, the things that pundits think are important in an election end up being far less important to the people who actually do the voting. This would appear to be one of those times.