Santorum: People May As Well Vote For Obama If Romney Is The Nominee
Yesterday, Rick Santorum started to demonstrate that his campaign has run out of a logical reason to exist.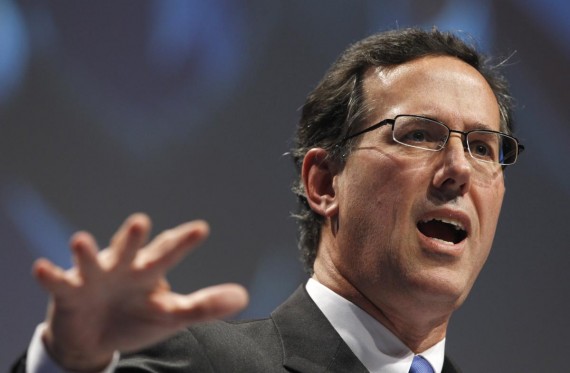 Rick Santorum tossed a live grenade into the Republican Presidential race yesterday and it looks to be causing him more harm than anyone else. It started yesterday during a campaign appearance in Texas where the former Pennsylvania Senator essentially said that voters would choose to re-elect President Obama if his opponent turned out to be Mitt Romney:
Rick Santorum played off of the Mitt Romney campaign's Etch A Sketch gaffe today when he told an audience that the country might be better off with President Obama than with a candidate who will shift his positions with ease and who he believes is not very different from the president.

"You win by giving people a choice. You win by giving people the opportunity to see a different vision for our country, not someone who's just going to be a little different than the person in there. If you're going to be a little different, we might as well stay with what we have instead of taking a risk with what may be the Etch A Sketch candidate of the future," Santorum told a crowd at USAA.

During a press avail following the event, Santorum, who carried the Etch A Sketch during his speech, argued that Romney knows he can't win in the general election.

"All the things that allow Romney to win the primary are unavailable to him to win the general and that's why you see these Etch A Sketch comments because he knows he can't win," said Santorum.
Santorum's comment makes at least some sense if you buy into the view of elections that says that Republicans win by nominating the most conservative candidates and by running a General Election campaign that draws sharp ideological contrasts with the opposition. That's a view that many on the right at least say that they hold, even though it's complete nonsense as I've argued before (see here and here, for example). In fact, Erick Erickson defends Santorum on just those grounds:
I think it was clear from the context of his remarks that Santorum was not expressing his own thinking, but expressing the thinking of general election voters. And I think he is absolutely right, which is also why I think Romney makes such a bad nominee (not that I think Santorum would be any better).

(…)

I think Santorum was spot on in describing how voters would see the race in November. Why would they want to give up a guy many of them like, but who don't much care of his job performance, for a guy they don't like whose own campaign admits is like an Etch-A-Sketch.
That may have been what Santorum intended to communicate, he may even be right. However, that isn't how his comments are being perceived, and they're helping to reinforce a perception about Santorum that has been developing over the past several days that his (and Gingrich's) presence in the race for much longer isn't serving to accomplish anything. As I demonstrated Wednesday, Santorum faces near-impossible odds in a bid to either overtake Romney or even merely prevent him from getting the 1,144 delegates needed to win the nomination. For Newt Gingrich the odds are even longer considering that, right now, his name would not even appear on the ballot at the Republican convention. Even among conservatives who aren't necessarily fans of Mitt Romney, the perception seems to be growing that both men are doing nothing but hurting the party by staying in the race much longer, and that the pressure on both of them to drop out is only likely increase.
Santorum's comments have also given his opponents an opening to attack him not so much on ideology as on party loyalty.
Mitt Romney's campaign, for example, was quick to hit back on Santorum's comment:
"I am in this race to defeat Barack Obama and restore America's promise. I was disappointed to hear that Rick Santorum would rather have Barack Obama as president than a Republican. This election is more important than any one person. It is about the future of America. Any of the Republicans running would be better than President Obama and his record of failure."
And Newt Gingrich also hit Santorum for the comment:
BATON ROUGE, La. – Newt Gingrich spoke up in defense of Mitt Romney Thursday night, insisting any Republican presidential candidate would be a better president than Barack Obama.

"I want to start with something Rick said tonight that I frankly was very surprised that he said and that I hope he's taking back," Gingrich told the Baton Rouge Tea Party event crowd referring to Rick Santorum's comments earlier today.

"I may have some very substantial disagreements with Gov. Romney. There is no doubt in my mind that if the choice was Gov. Romney or Barack Obama, we would have no choice," Gingrich said. "The danger of Obama is so great that I would hope that every candidate running – Ron Paul, Gov. Romney and Sen. Santorum – that we would all agree that whoever becomes the Republican nominee, we have one common goal and that is to defeat Barack Obama."
The reaction across the conservative blosgosphere has been decidedly negative. Glenn Reynolds said it's time for Santorum to go home. Don Surber says that Santorum has lost his credibility. Steven Hayward said Santorum was insulting everyone's intelligence. Jeff Dunetz withdrew the endorsement he had previously given to Santorum. And Ed Morrissey, who had endorsed Santorum, said that the Pennsylvania Senator was coming very close to breaking one the first rules of party politics:
People who enter primary contests should be prepared to support the eventual product of that primary and unite behind that candidate.  If a candidate can't do that, he has no business asking his party for the nomination in a primary contest in the first place.  Santorum didn't explicitly say he wouldn't support Romney if Romney won, but that statement comes pretty close to the mark.
All of this comes at the same time that party leaders seem to be getting ready to nudge Romney's opponents to the side. In addition to the Jeb Bush endorsement, overshadowed as it has been by the ridiculous Etch-A-Sketch meme, yesterday Senator Jim DeMint essentially said that Romney looks to be the nominee and that the other candidates need to start thinking about ending their bids and rallying behind him for the good of the party.
Does anyone honestly believe that Rick Santorum would vote for Barack Obama in November if Mitt Romney is the nominee? I don't and I doubt anyone else does. However, his comment yesterday, along with the way he jumped on the idiotic Etch-A-Sketch meme, are a fairly clear demonstration that there is no logical reason left for him to stay in the race. Santorum is flailing and at this point, and yesterday was a very good demonstration of that fact.