Etch A Sketch And The Permanent Campaign Silly Season
Yesterday, the campaign silly season got particularly silly.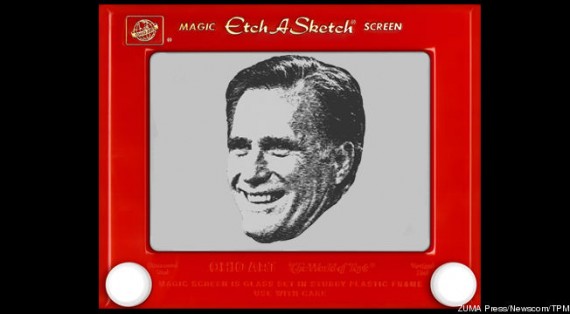 Instead of spending yesterday talking about Mitt Romney's win in Illinois, the fact that there's really no logical reason for Rick Santorum or Newt Gingrich to stay in the race, or even President Obama's Energy Tour campaign swing through the Southwest, the political media spent yesterday talking about a 50 year old toy:
Rick Santorum doesn't care about the unemployment rate. Mitt Romney likes to fire people and doesn't care about the very poor.

And Eric Fehrnstrom thinks he can recreate Romney from zero like an Etch A Sketch drawing, with general election voters none the wiser.

A senior Romney adviser, Fehrnstrom on Wednesday became the latest presidential campaign personality to stumble sideways into a classic 2012 gaffe: saying something that he didn't quite mean to say, which played into a terrible preexisting perception of his candidate.

On national television this morning, Fehrnstrom fumbled by arguing that the 2012 race would reset after the Republican primary, likening it to an Etch A Sketch toy in which pictures get erased and redrawn at will.

Except Fehrnstrom's language wasn't quite so precise and it was unclear whether the Etch A Sketch was supposed to represent the 2012 political landscape or the candidate for which he works. What Fehrnstrom literally said was: "I think you hit a reset button for the fall campaign, everything changes. It's almost like an Etch A Sketch, you can kind of shake it up and we start all over again."

And with that, the Romney adviser triggered a now-familiar 2012 ritual, as opponents piled on with outrage, Romney's staff circled the wagons and the press hyped the gaffe — which reminded the audience of Romney's malleability — to epic proportions. By Wednesday afternoon, Etch A Sketch was a trending topic on Twitter.

Romney's rivals in the Republican primary were especially gleeful over the remark: both Rick Santorum and Newt Gingrich, following large losses to Romney in Tuesday's Illinois primary, brandished Etch A Sketches at campaign events to raise the alarm about Romney's political pliancy.

"Gov. Romney's staff, they don't even have the decency to wait until they get the nomination to explain to us how they'll sell us out," Gingrich declared. "I think having an Etch A Sketch as your campaign model, raises every doubt about where we're going."

Santorum's campaign took things even further, dispatching national press secretary Alice Stewart to hand out Etch A Sketches at a Romney event in Maryland. In Louisiana, Santorum compared Romney unfavorably to the framers of the U.S. Constitution.

"Imagine had Mitt Romney been around at the time we were drafting our Constitution. He would just shake it and just shook it up after it was approved to rewrite it," Santorum said.

Democrats, meanwhile, did everything they could to exploit the controversy. The Democratic National Committee and the independent group American Bridge blasted out web videos reveling in a ready-made metaphor for Romney's political fecklessness.

"While extraordinarily cynical, this candid admission of Gov. Romney's general election strategy to mislead the American people does at least have the benefit of truth," Bill Burton, strategist for the Obama super PAC Priorities USA, said in a statement. "There is no doubt Gov. Romney is going to try to mask his right-wing, anti-middle class agenda in order to win the election."
Here's the video of what Eric Fehrnstrom said yesterday that started this whole controversy:
You can judge for yourself what it was that Fehrnstrom was trying to say, but from my perspective it seems clear that he was talking about the rather obvious fact that once a primary campaign is over and you begin the General Election campaign, you really are talking about a whole new ball game. The issues and message that you concentrate on in appealing to primary voters is going to be very different from the one you refine for the General Election, and the message in a primary election may even vary from state to state as the race progresses. That, it seems to me, is what he was trying to express here, but because it played into the pre-existing meme of Romney as a flip-flopper, and because we live in a digital age where 30 seconds of airtime on an early morning CNN program that hardly anyone watches can go around the world in a minute, we spent all day yesterday on an Etch A Sketch meme.
By later afternoon Twitter and the blogosphere were full of attack ads and mocking tweets featuring Etch A Sketch's some of which were, admittedly, funny. Romney's Republican opponents jumped on the meme fairly quickly too. And everyone was laughing about it on the morning shows this morning. But I have to wonder, why did was an entire day on the campaign trial wasted over a comment by a campaign aide, not the candidate himself, that took up about 7 seconds? Are people really saying that Romney's campaign should be judged by one off-hand remark by this campaign aide which was made during a live television interview, and which is probably being misinterpreted by those with a partisan agenda? And why did the political press and the blogosphere spend an entire day on what is essentially a nonsense story?
There are several obvious answers, of course. With political campaigns at the national level now a 365/24/7 affair that plays out not just on television and in print, but also on the Internet, including websites like Think Progress that quickly picked up the clip and ran with it. Yea, it was a fun little diversion for the afternoon, but it accomplished absolutely nothing, and as I said it really doesn't tell us anything about Romney's campaign. Gaffes happen all the time in campaigns and some are more serious than others, but it seems like now the ones that get the most attention are the ones that are just downright silly, and that's where this one falls in my estimation. It's right up there (or down there) with Obama's "57 states" comment, which people on the right still absurdly point to as if it proves that Barack Obama is dumb enough to think that there are 57 states, some even point to it as proof that he's a Muslim because there are 57 nations in the Organization of Islamic Cooperation. Just as the 57 states comment told us nothing about Barack Obama, this Etch A Sketch comment is just a ridiculously stupid diversion.
There are calls today that Fehrnstrom should be fired. Perhaps it's true that Romney's campaign needs a communications reboot and that means bringing in a new Communications Director. However, firing him over one stupid comment that got stupidly blown out of proportion strikes me as ridiculous. Instead, how about we start focusing on the important issues?
Photo via Talking Points Memo