Further Thoughts On The Resonance And Relevance Of The Etch-A-Sketch Meme
The Etch A Sketch meme isn't nearly as powerful as those pushing it believe it to be.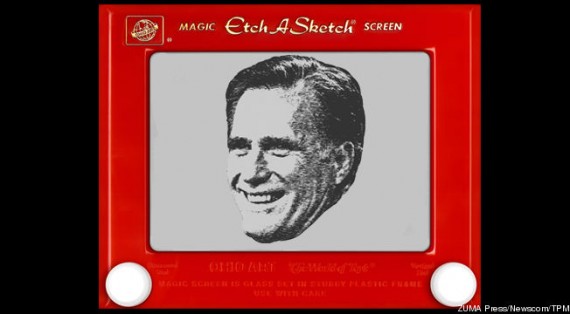 Steven Taylor's post last night pushes back a little bit on the argument I made yesterday that the meme that had developed over a comment by Romney campaign aide Eric Fehrnstrom and his reference to an Etch A Sketch. While I understand where Steven and several of the commentators are coming from, and I can see that the idea of an Etch A Sketch does seem to reinforce the idea of Mitt Romney as a flip-flopper, the entire incident still strikes me as just the latest example of how trivial most political coverage in this country has become and how pundits and bloggers, including yours truly, have far too much of a tendency to focus on momentary gaffes and misstatements by candidates that the voting public as a whole likely doesn't really care about. Additionally, the amount of attention this story has received in such a short period of time has been a fairly good example of how political "news" tends to be about the horse race and about process stories rather than about anything even remotely approaching substance. It doesn't have to be this way, of course, the media could choose to ignore stories like this, or at least not given them nearly as much coverage as they do, and pundits could choose to talk about substance rather than what's getting the latest buzz on Twitter. They don't, of course, because that would require actual work.
In any event, I think the points that were made in Steven's post and the comments about how this comment will somehow resonate because of what we already know about Romney are well placed, but ultimately mistaken. Brendan Nyhan, for example, responds to an argument made by The Washington Post's Chris Cillizza and notes that there's very little evidence that campaign gaffes like this have any influence at all on voters:
[E]ven if the episode is just "one piece of evidence," we should be able to find some indication that campaign gaffes affect voters. In reality, though, the evidence suggests that these types of events have little electoral significance. None of the gaffes that Cillizza highlights—from Swiss cheese on a cheesesteak to uncertainty about how many houses you own—had significant effects on the outcome of those presidential campaigns. (In addition, the grocery store scanner episode is disputedand appears to be false.)

For instance, when George Washington University political scientist John Sides looked at five events from the 2008 campaign identified by the journalists Dan Balz and Haynes Johnson in their book The Battle for America as especially significant, he found they had "basically had no impact on voters nationwide." Likewise, a comprehensive review of pre-election trial heat polls by the political scientists Christopher Wlezien and Robert S. Erickson (gated) found that "During the early campaign—roughly the 100 days preceding the late-summer conventions—campaign shocks are large but temporary; news about the campaign affects voters but is eventually forgotten and thus has little impact on the final outcome."
This, I think, is the most important point. Even in the middle of a contested (although essentially over) Republican primary race, the vast majority of American voters are not paying the kind of daily attention to this race that those of us who are politically engaged have been for months now. To the extent that they are, it's likely on a cursory basis and they aren't really going to tune in to the race until we get closer to the party conventions and, of course, after Labor Day. To pick just one example, Tuesday night's primary coverage garnered a total of roughly 3,574,000 prime time viewers for all three cable news networks, of that roughly 927,000 were in the 25-54 age demographic. That's infinitesimal compared to the number of people who were watching something else, and an even smaller portion of the population as a whole. Cable news ratings on Wednesday night (Day one of the "Etch-A-Sketch" nonsense) were lower than Tuesday nights. So yes, there's been a lot of coverage of this story, but who's been watching it? Mostly people like you and me who have been paying attention to this stuff since way back when people like Herman Cain were still in the race. The idea that it's going to have a huge impact on an election that won't happen for more than seven months seems absurdly silly.
George Washington University Political Science Professor John Sides, meanwhile, argues that the voters who would be impacted by this kind of meme are likely to be supporting Barack Obama already anyway:
The question, however, is whether voters' perceptions of "whose the biggest flipflopper" are as potent as their perceptions of other characteristics of the candidates.  Consider characteristics like "cares about people like me" or "cares about the middle class"—qualities on which Romney is also disadvantaged relative to Obama.   Which of these is the strongest predictor of vote intention in a Romney-Obama race?  Using two January YouGov polls, I estimated the impact of different characteristics—takes positions and sticks by them, is personally wealthy, cares about people like me, cares about the poor, cares about the middle class, and cares about the rich—while controlling for people's party identification.  In particular, I took ratings of each candidate on each dimension and subtracted ratings of Romney from ratings of Obama.  So these measures capture the kinds of comparative assessments that we think voters might make.

Here is the upshot: when people evaluate Obama more favorably than Romney on the flip-flopper dimension, they are also more likely to prefer Obama in a head-to-head match-up.  But this apparent effect pales beside the effect of two other dimensions: cares about people like me and cares about the middle class.  (The other dimensions do not have statistically significant effects.)

Take a political independent who thinks that the term "takes positions and sticks by them" describes Obama "not very well" but describes Romney "somewhat well."  Assume their evaluations on the other dimensions are equal to the average of everyone else in the sample.  Now pretend this person switches their view to one more favorable to Obama: "takes positions and sticks by them" describes Obama somewhat well but describes Romney not very well.  What would happen to their chance of voting for Obama?  According to the model, it would increase by 31%.

But the same shift in perceptions of who "cares about people like me" would produce a much larger shift in Obama's favor—61%.  The same shift in perceptions of who "cares about the middle class" has a similar effect, increasing the chances of voting for Obama by 59%.
More importantly, it strikes me as highly unlikely that the political independents and swing voters who are likely to decide this election are going to be influenced very much by the question of whether or not Mitt Romney is a "flip flopper" or how much of a movement conservative he might be. In addition to the characteristics that influence voting that Sides discusses, it's also fairly clear that these voters are not heavily influenced by ideological considerations. You're more likely to see these voters voting on pocketbook issues, the economy, and the question of which client they believe is better suited to fix the country's problems. Both candidates have positives and negatives in that regard, of course, and how these voters make their choice is more likely to be influenced by how they feel about the state of the  country during that two month period between Labor Day and Election Day than it is over a meme that was popular for a few days in March.
Nyhan concludes his post with this:
We're currently 158 days from the Republican convention, and "Etch a Sketch-gate" will likely prove to be just as inconsequential. By the time the general election rolls around, the incident will most likely be forgotten. And even if it remains salient, it's unlikely to change voters' minds since, as Cillizza concedes, "How you view the Etch a Sketch incident…depends in large part on how you view Romney." Better to rethink how you view the "freak show" aspect of the political press instead.
This is the point I made yesterday. A media that constantly focuses on irrelevancies, as ours does, is doing a huge disservice to the public. Yea it's fun to watch, but in the end it doesn't inform anyone and it doesn't help the country one bit.